Silverstone SUGO SG09 Small Form Factor Chassis Review
---
---
---
Peter Donnell / 10 years ago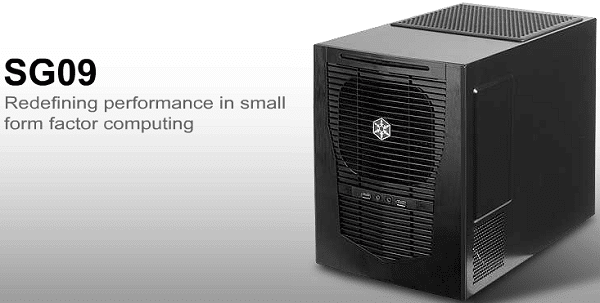 Today we have something a little special and by that I mean it's literally little and it's special, I am of course talking about one the latest small form factor chassis' from SilverStone, the SUGO SG09. SilverStone have already proven time and time again that they are the masters of compact design. This is something we have seen in previous reviews of the SilverStone range such as the PS07 and the FT03-Mini, both of which were worthy of eTeknix awards for their unique design features, performance and build quality, all of which we hope to see in the SG09.

As you can see from the specifications below, the SG09 may be small but it's capable of housing either Micro-ATX, DTX or Mini-ITX motherboards, giving it a wide range of compatible motherboards to choose from. Add to this the fact that it comes equipped with three fans as standard, support for two 3.5″ hard drives, four 2.5″ hard drives, a slim optical drive, large CPU coolers and long graphics cards! All of which is impressive for a chassis of this size.
This feature set addresses something that has been growing in popularity for quite some time now in the system building community, I am of course talking about the craze of putting immensely powerful gaming / work systems into smaller chassis'. This is in part due to the ever increasing popularity of LAN gaming events and the need for systems that can perform like any other desktop, yet still be highly portable. So let's dive right in and take a closer look at what the SG09 has to offer and see just how capable a chassis of this size can or can't be.
The first thing I want to take a look at is this Strider Plus PSU, while its not something that is included with the SG09, you do have to purchase it separately, SilverStone included it with the SG09 to demonstrate the chassis better. Not only will a fully modular PSU aid in the cable management of a small form factor build (or any build for that matter), but this PSU is the standard ATX PSU size of 140mm deep, where as most PSUs in the catagory have grown over the years to make room for more power/performance. The Strider Plus of course is more compact and still packs all the performance of a modern CPU, perfect for this kind of build.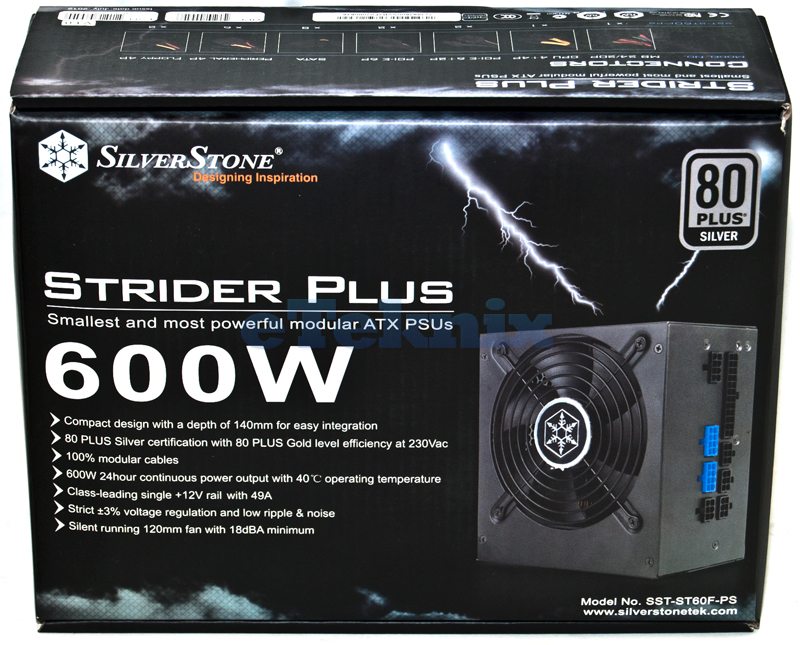 Another treat from SilverStone that was given to aid with this build are the PP05 cables, a complete set of short cables that will once again improve on the cable management of this build. This set completely replaces all the original PSU cables and having less excess cable length within the chassis is no bad thing. Some people are under the belief that cable management is just for show, when in fact it can greatly improve the cooling capabilities of a system by helping to keep airflow unobstructed.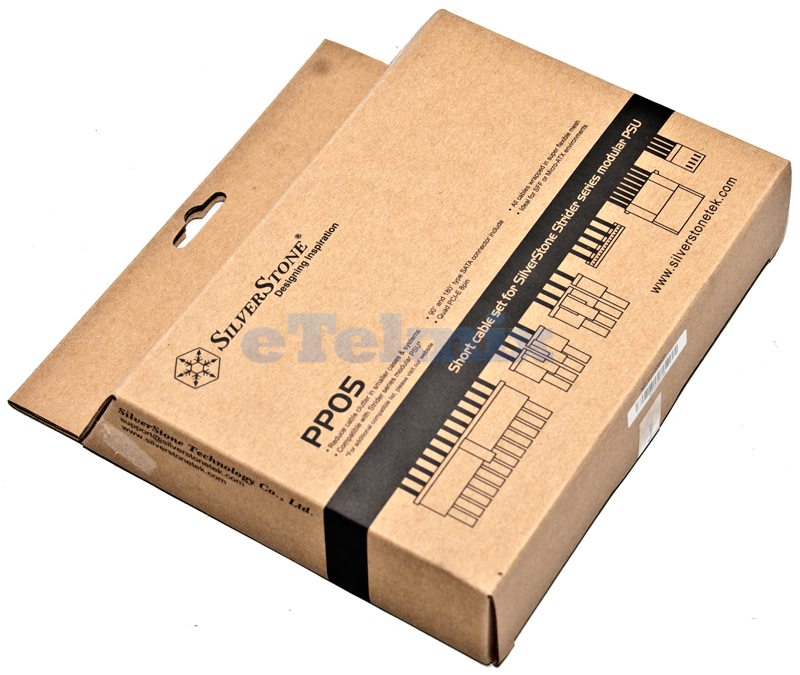 The front of the box features the usual names and logos for the product, as well as a solid run down of the major features of the chassis such as its graphics card, PSU and cooler capabilities, cable routing and fan mounts. The box also comes fitted with a Velcro strap that acts as a handle, while not the best solution ever the box could potentially double as the chassis' own carry case for LAN events. But my absolute favourite part of the packaging is the writing at the bottom "Designed for advanced PC builder – Higher degree of assembly skill recommended", as far as I'm concerned "Challange Accepted".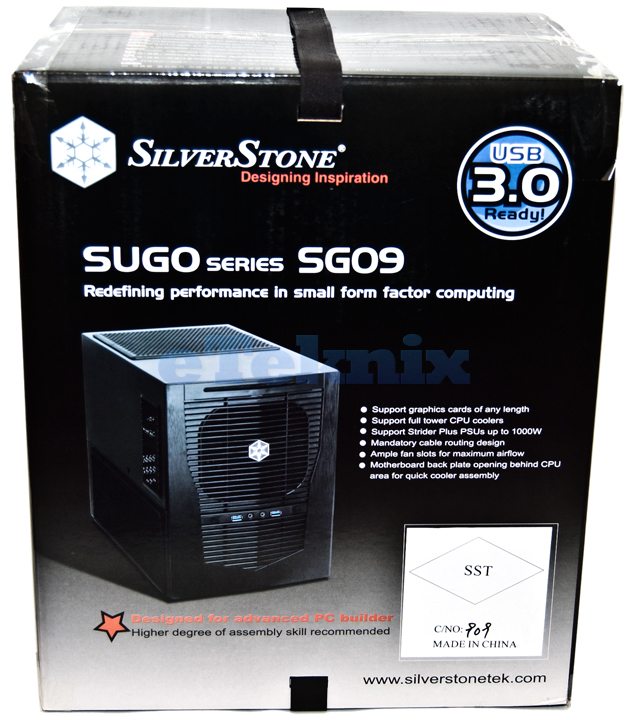 Around the back of the box we have a great tear down image of the chassis that comes well labelled with more details about the chassis capabilities, fan mounts and PSU compatibility, but we'll take a closer look at all of this in just a moment.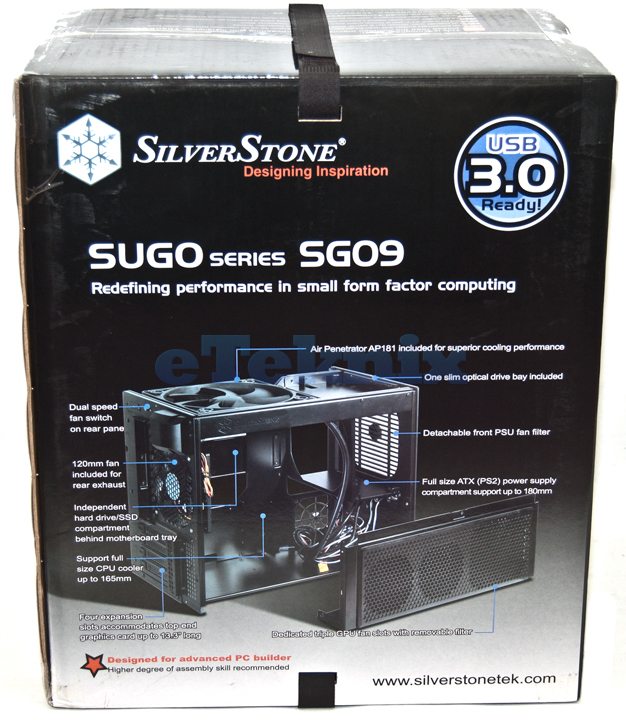 The SG09 comes well equipped with everything you need to install your components; a 4 pin fan power adaptor, USB 3.0 to 2.0 adaptor, sturdy rubber chassis feet and fan mount as well as all the usual screws and an easy to read instruction manual. The manual is most welcome here as the chassis can be quite complex to navigate as you shall see in a moment.