Silverstone Unleash Loads Of New Chassis Products At CES 2014
---
---
---
Peter Donnell / 8 years ago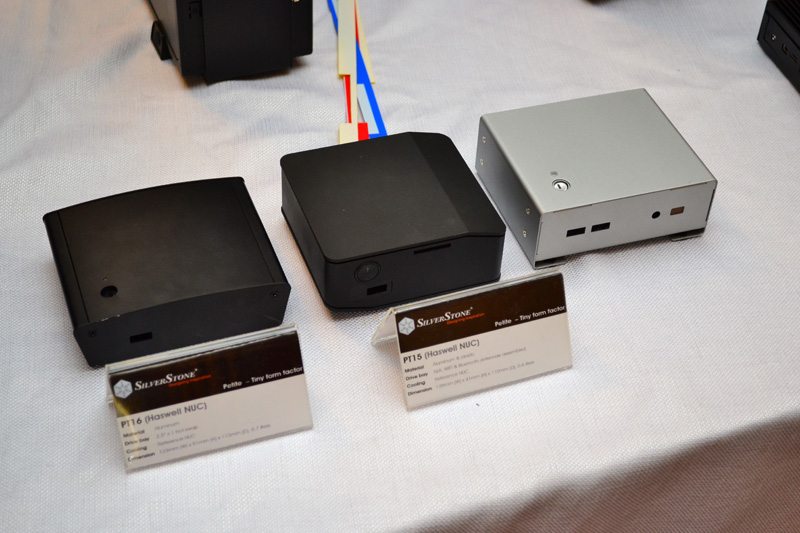 Silverstone love making new products, I struggle to think of any other chassis manufacturer that puts out as many new products as they do! After visiting their suite at CES 2014, it looks like that trend it set to continue in a big way as the company unleashed a massive range of new products of all shapes and sizes.
First up we have a great range of Haswell NUC products, the PT16, PT15 and especially the passive cooled PT21 which features space for a full size 2.5″ SSD, making it an ideal solution for a stealthy media streaming device, HTPC solution or for business use.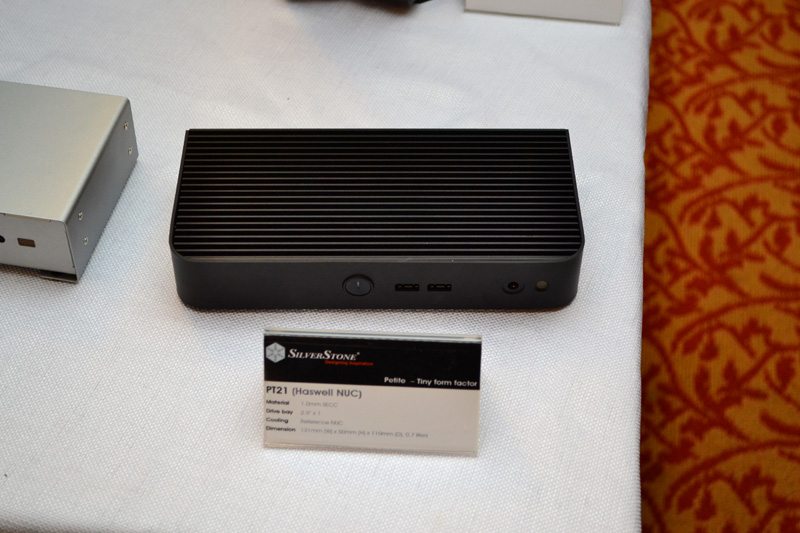 The real star of the show is their latest entries to their popular Raven series, the RV05. The chassis features a 90 degrees rotated motherboard mount, 2 x 180 AP181 fan in the base of the unit will help keep things cooled nicely and they even come fitted with dual 3-speed fan control switches. The 5.25″ bays are gone, instead you can mount a slim-ODD behind the motherboard to take advantage of the vertical slot-load cut-out on the front panel. The chassis is significantly smaller than previous Raven chassis, but you'll still find room for 2 x 3.5″ and 2 x 2.5″ drives, as well as 7 x expansion slots and room for a full size ATX PSU. You'll be amazed if you see this chassis in person, it's compact size and unique form factor make it a modern day Tardis and it'll easily hold a full ATX motherboard and graphics cards of up to 12.3″ expansion cards.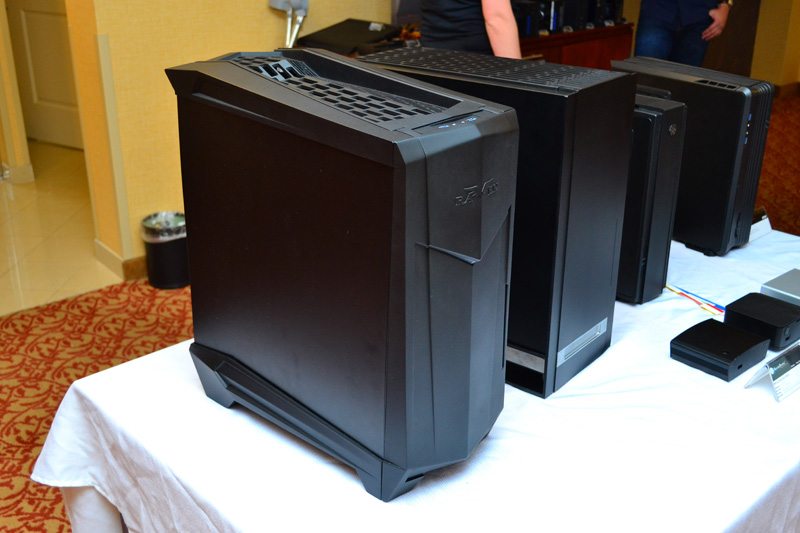 Next up we have the FT05, which features much the same interior of the new Raven chassis, but with clean exterior looks and dual analogue dials for the fan speed controller, as well as a nice touch of style thanks to the anodised steel trim around the bottom.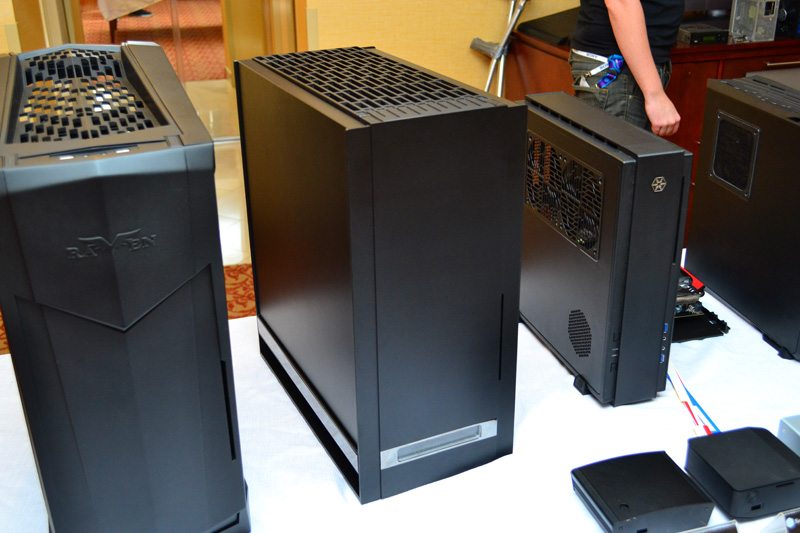 The RV01 looks like the ideal choice for a SteamBox build thanks to its ability to hold large graphics cards such as the R9 290X and GTX 760Ti by using a GPU adaptor bracket. It features a slot loading slim-ODD bay, room for a pair of 2.5″ hard drives, an SFX PSU and can be displayed in either vertical or horizontal format.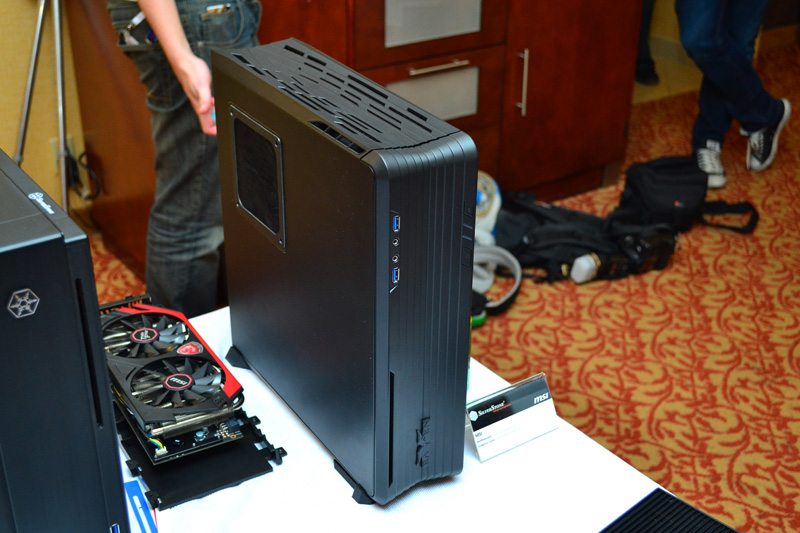 The sleek looking ML04 is much the same as the slim Raven, but features a much cleaner look that may make it more appealing to the HTPC market, but it's still just every bit as capable for a compact gaming build as its aggressive looking Raven counterpart.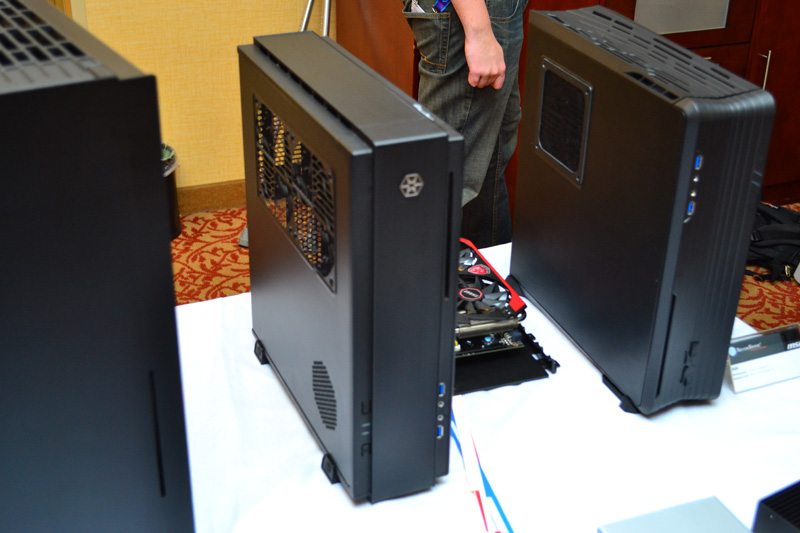 Continuing with the Micro-ATX range, their aluminium fronted ML06 looks super clean and tidy, making it a strong contender for a HTPC build, an area of the chassis market that Silverstone have dominated for a very long time.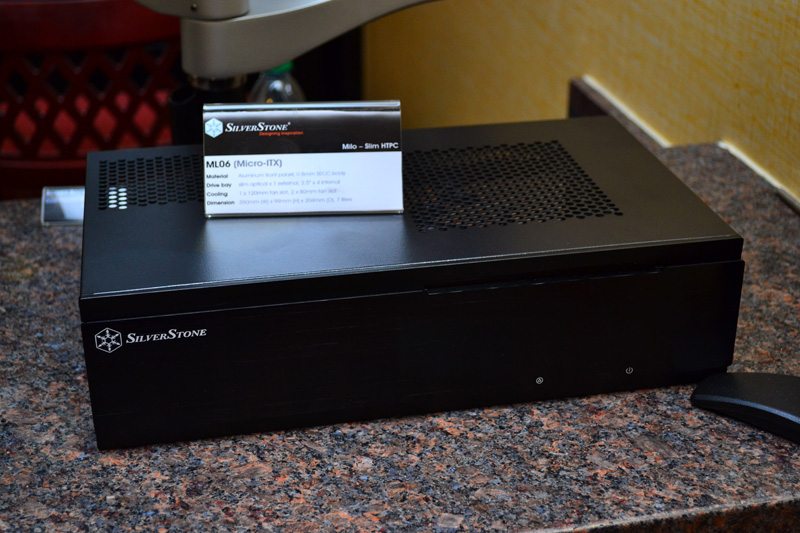 Those needing a HTPC build without any sacrifices will want to check out the new GD10, which features support for full size ATX motherboards, ATX PSU, 7 + 1 expansion bays, and more importantly a lockable front panel door, a great option if you want to stop people from turning the system off/on.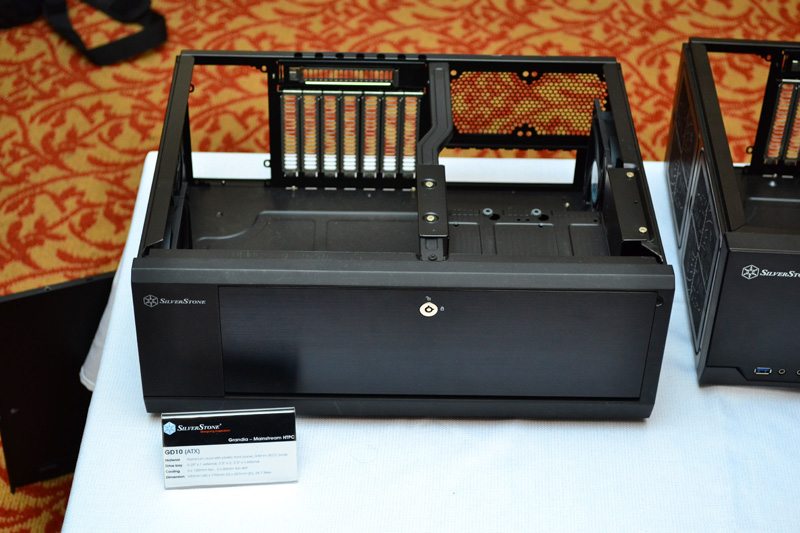 The GD09 is very similar to the GD10, but instead features a more open front panel design, Silverstone are great for making variants of each product that are ideal for different end users.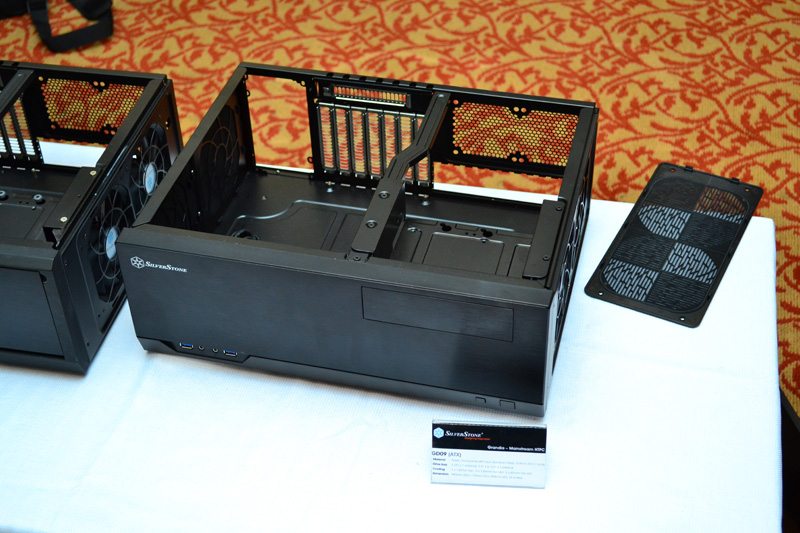 Continuing with the multipurpose theme, here we see the new SG11 and SG12 chassis. OK so we only have the front panel for the SG11, but as with many of the chassis on display here the interior is much the same. Both chassis support a single 5.25″ drive, 2 x 3.5″ drives and a staggering 9 x 2.5″ drives, making them a very desirable choice for NAS, or HTPC builds. the SG11 is to be cheaper thanks to the plastic front panel, but the SG12 features aluminium panels on the front, as well as a very strong handle that make it easy to transport, something that may appeal to the LAN gaming market.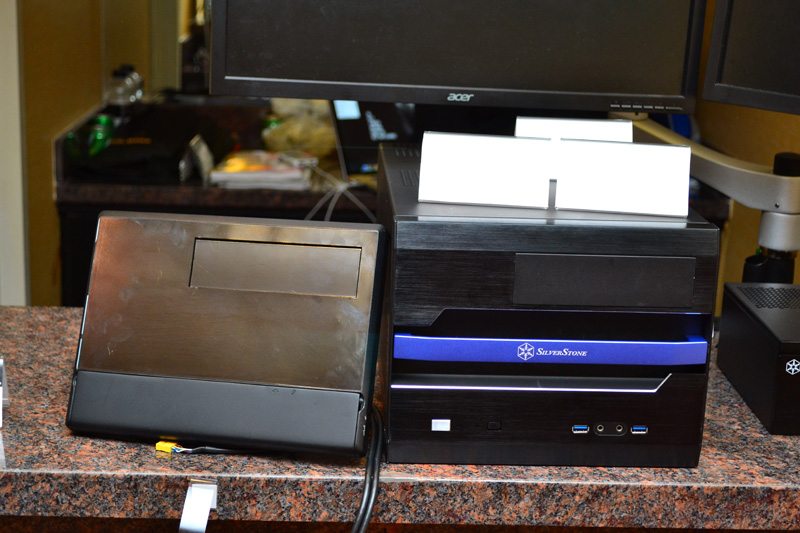 That's everything from the Silverstone suite for today, but check back later as we bring you even more coverage from this years CES.