SK Hynix Details HBM2 Production Timeline
---
---
---
Samuel Wan / 5 years ago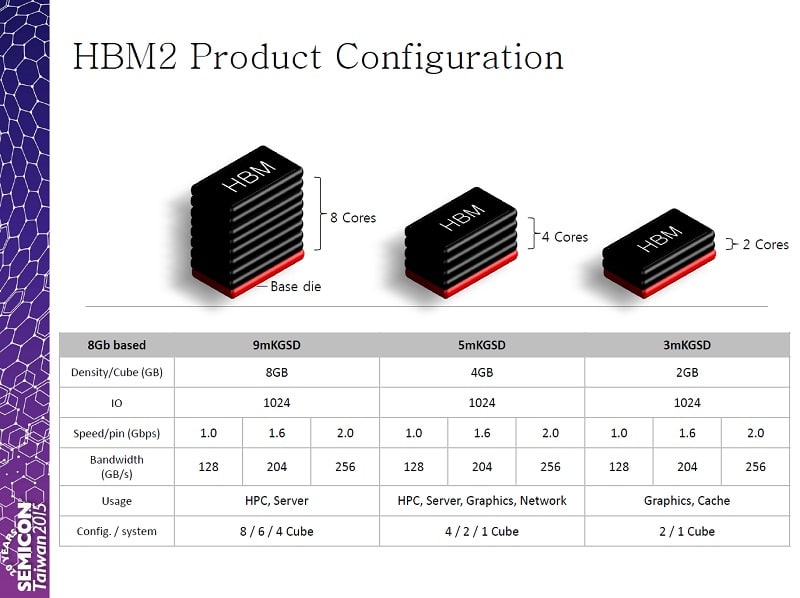 For the upcoming graphics generation, both Nvidia and AMD are set to use HBM2 for their upcoming Pascal and Polaris graphics cards. While Samsung has already revealed that they have kicked off mass production for HBM2, we're getting word on competitor SK Hynix's plans for the new memory technology. According to Golem.de, the 4GB modules will start mass production in Q2 while the 8GB variants in Q3.
With HBM2, the maximum capacity per stack jumps from 1GB in HBM1 to 8GB with HBM2. This will allow GPUs to have up to 32GB of VRAM using the 8GB modules in the Fiji/Fury configuration, 16GB using the 4GB modules and 8GB using the lowest 2GB stacks. Each stack also doubles the bandwidth from 128GBps to 256GBps. Due tot he bandwidth increase all coming from a 1Ghz clock rate boost, we can expect latency to be severely reduced.
Given that SK Hynix along with AMD were the pioneers for HBM1, it is surprising that Samsung was the first one to reach mass production for the 4GB modules. On the other hand, SK Hynix may still have locked in the 2GB stacks first, the ones more likely to be used for consumer GPUs. With 4 stacks, this will allow for 8GB of VRAM, plenty for 4K and VR GPUs, while 2 stacks will do fine with 4GB for mainstream cards. Hopefully, this means that HBM2 cards will arrive sooner rather than later.