Sobieski Vodka Banking on Edward Snowden's Notoriety to Help Sell Vodka
---
---
---
Michael Hatamoto / 7 years ago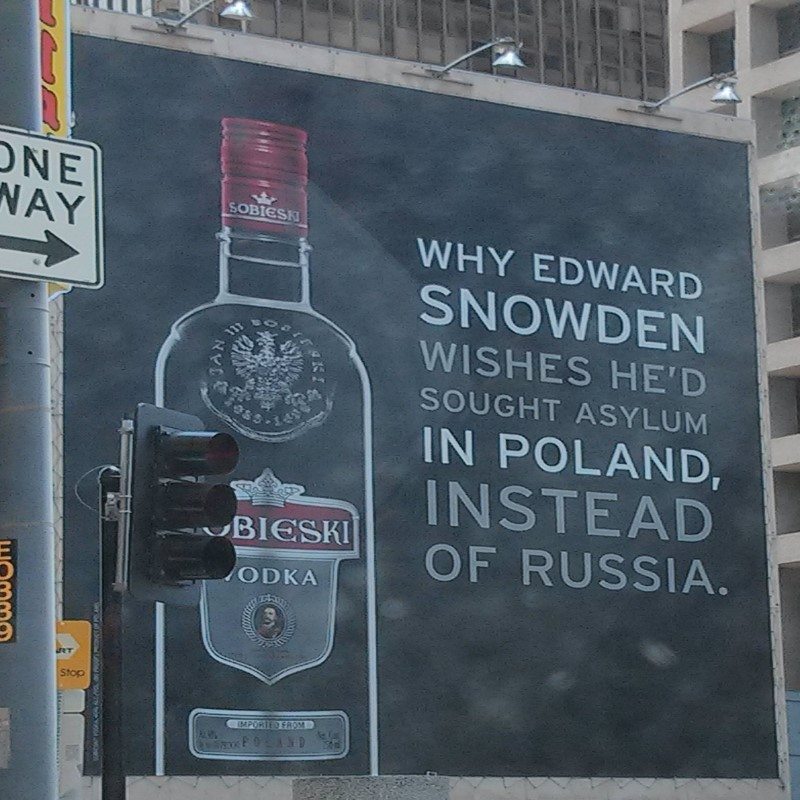 Polish distiller Sobieski Vodka is using former NSA contractor Edward Snowden's international notoriety in its latest marketing campaign.
Advertisements aimed at the United States has the following slogan: "Why Edward Snowden wishes he'd sought asylum in Poland."
It's a clever marketing effort by Sobieski, as Snowden is a recognizable name in the United States following outing organized NSA spying activities. The ads are showing up on billboards, bus stops, wallscapes, taxi ads, and other visible locations.
Imperial Brands imports Sobieski and is part of the company's multi-million dollar marketing campaign that is ongoing.  Here is what Timo Sutinen, Imperial Brands Vice President of Marketing said in an interview with Food & Beverage Magazine:
"Sobieski proudly differentiates itself from the general lack of substance – whether in liquid or marketing campaigns – embraced by so many vodkas today. We offer a superior product at superior value and don't need to generate appeal with contrived gimmicks. Because of that, we have a lot of fun sharing our point of view with the world, and this campaign is a great example."
Snowden is currently living in Russia, after President Vladimir Putin granted him temporary asylum after fleeing the United States.
Thank you to Business Insider for providing us with this information
Image courtesy of imgur