Sony Launches SL-M and SL-C High-Speed External SSDs
---
---
---
Bohs Hansen / 4 years ago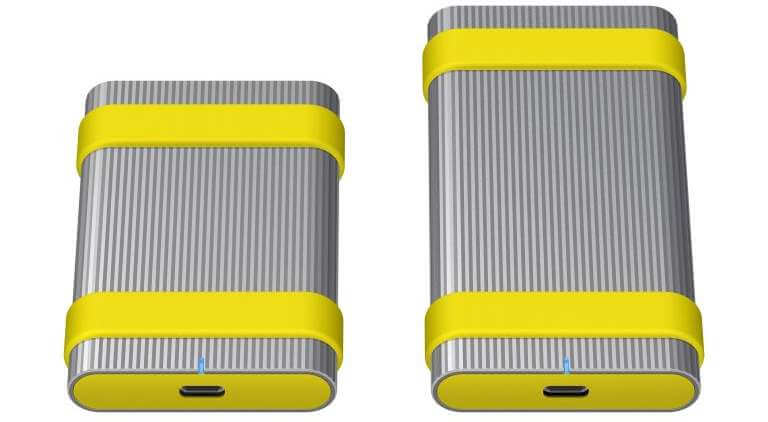 Sony announced two new external SSD drives, the high-performance SL-M series and the standard compact SL-C series. These external SSD drives boast ultra-toughness, high-speed, hardware encryption and new utility software.
The drives are aimed at photographers and videographers, providing them with the peace of mind to know that their data is safe; Even in challenging environments.
Sony SL-M and SL-C SSDs
The SL-M and SL-C's high speeds enable quicker workflow when processing, editing, duplicating and storing data. That's what they're meant to do. At the same time, they're also incredibly tough. The drives are rated with IP67 against dust and water, and they're also able to withstand drops from up to about 2.7 metres (9 feet).
High-performance SL-M series and standard compact SL-C series are designed for photographers, videographers and creators needing to process large data files at higher speed. With the SL-M series, you get up to 1000MB/s read performance. The smaller SL-C only delivers up to 540MB/s which still is great for a portable drive.
Both of the drives have the USB Type-C connector and utilise the 10Gbps speed. Sony also added hardware encryption with intelligent utility software to protect and secure your work.
Both the SL-M series and SL-C series have a stylish wave-surface aluminium body. It provides slip-free grip along with an easy-to-find silver and yellow design.
Both models also feature a conveniently placed LED so it's easy to see, as well as rubber bands to hold ID labels in place and label stickers to identify different drives.
Security Where it Matters
The new SL-M and SL-C external SSDs include four helpful features to make sure that your data is always safe. The main feature is password protection which secures your data with AES 256-bit hardware encryption. Best of all, it does so without any speed decline.
The second step allows for a dual-password setup. The SSD Utility app, which is free, allows the admin to share it with other people without having to reveal his main password. Another bonus is that it's cross-platform compatibel. Users can set a password to lock from a Mac then open from Windows PCs or Android smartphones, and vice versa.
Third, the Lifetime Checker, also available on the SSD Utility app, helps check the condition of the storage drive. Be prepared when your drive reaches its limit and take pre-empt steps.
The fourth and last is the file rescue software. It helps to reduce fear over losing precious data. Accidentally deleted files including RAW or high-resolution videos may be recovered, giving the user greater peace of mind.
Pricing and Availability?
Sony did not announce a price or availability date at this time.