Sony Pictures Brought to a Halt – Hackers Have Taken Over
---
---
---
Chris Smith / 6 years ago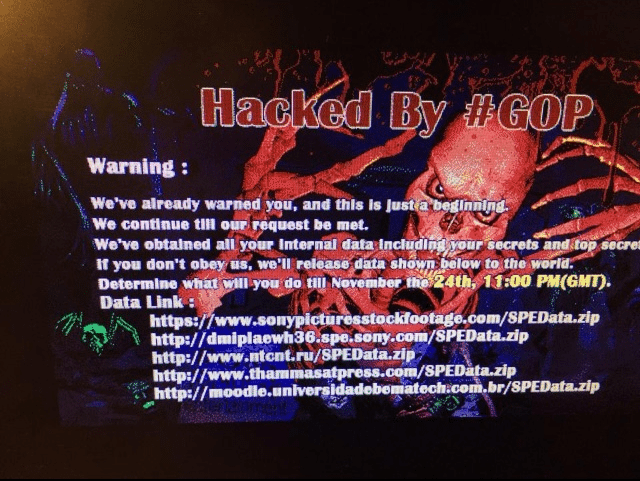 A (now deleted) member of the Reddit community has recently brought to light that all Sony Pictures staff have been locked out of their office systems, with the warning message above being displayed on every single monitor. The original thread can be found here, with various user reports of people who have friends, or friends of friends confirming this information.
We've come to learn that all Sony staff have been sent home until further notice, while the Sony executives figure out what to do with this issue at hand. Sony have shut down all their computers in Los Angeles as a precaution and are working on recovering their functionality.
Here's a quick run down on the data available as shown in the above image, by Reddit user tehrabbit:
"ZIP file contains 3 files, LIST1, and LIST2 followed by a "Readme" file.
The Readme contains a list of e-mails.
the "#GOP" refers to "Guardians of Peace" apparently.

Contents of README.txt:

These two files are the lists of secret data we have acquired from SPE.
Anyone who needs the data, send an email titled ""To the Guardians of Peace"" to the following email addresses.
marc.parker-8t52ebo@yopmail.com
emma.murphy-0ohbp3m1@yopmail.com
lisa.harris-cxkjch3@yopmail.com
john.murphy-7o2h3uh3@yopmail.com
axel.turner-ffqbv9c@yopmail.com
lisa.harris-ezd6e1j@yopmail.com
mike.morris-f2iyqki@yopmail.com
abc@spambog.com
lena@spambog.com
john@spambog.com

In Addition, The two files, LIST1 and LIST2 seem to contain file names of several PDF, DOC, and Excel files related to Internal Financial Reports.

File size information:
638359749 list1.txt
397802180 list2.txt

Rather large text files, mostly just a list of what looks like the contents of a fileserver."
Some members have tested the above email address', but receive no confirmation or immediate response when the special pass-code is sent. This is rumored to be because these hackers will be sending out all of the information in one hit as the deadline is met. What exactly will happen when the deadline is reached? We'll have to wait and find out.
We will continue to report as the story develops here on eTeknix.