Sony PlayStation Remote Play Doesn't Support Windows 7
---
---
---
Samuel Wan / 7 years ago
After dropping the PlayStation 4 System Update v3.50 today, we're now finding out more details about the new feature. Using the new Remote Play functionality, PS4 owners can now stream to PC and Max OSX systems. This expands Remote Play from just certain Sony mobile gaming devices and Xperia phones. However, it looks like Remote Play has been limited certain Windows and OSX versions only.
According to the official blog post from Sony, only Windows 10 and 8.1 are officially supported on the PC side. For OSX, Yosemite or El Capitan will be required. This means for the nearly 50% of PC users still on Windows 7, they won't be able to enjoy Remote Play at all without having to upgrade. Lack of developer resources to target Windows 7 doesn't seem to be the issue nor is hardware compatibility. In fact, even the 32bit versions of Windows 10 and 8.1 are supported.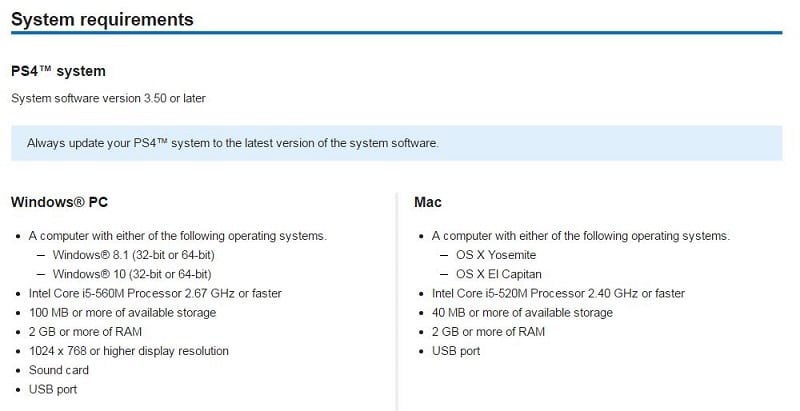 With hardware requirements stretching back to the days of the Windows 7 launch, it seems lacking that Sony is supporting OS's from 2 and a half years ago. Going forward, we may see more and more software dropping Windows 7 support, making the upgrade to Windows 10 ever more necessary. The day that Windows 7 is untenable still remains beyond the horizon for now.