Sony reveals Ice White PSP-E1000
---
---
---
Laurence Howe / 11 years ago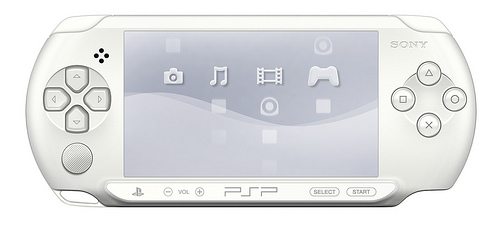 Sony has revealed the Ice White PSP-E1000, due out in July for £90.
That is: £89.99 or €99.99.
"The Ice White PSP-E1000 is a great value summer gaming essential and the best way to access the entire PSP catalogue of games," Sony Computer Entertainment Europe product manager Mayumi Donovan wrote

"With a great range of accompanying PSP Essential titles that will be available for £9.99 / €9.99 (RRP) each, there has never been a better time to game on the go and enjoy immersive high quality gaming experiences at an affordable price."
With PS Vita nearly half a year into its life, Sony has refocused PSP to appeal to a younger audience. The E1000 was announced last summer as its budget PSP, and comes in slightly larger than the PSP-3000 (172.4 × 73.4 × 21.6 mm compared to 169.4 x 71.4 x 18.6 mm) weighing a tad more, (223g including its battery pack, compared with just 189g).
UMD support remains intact however, and its screen size is the same as the existing PSP-3000 model. Sony suggested PSP newcomers try InviZimals, Invizimals: Shadow Zone and EyePet.
Source: Playstation Blog