Stealth 350VR Multi-Format Gaming Headset Review
---
---
---
Peter Donnell / 6 years ago
Introduction
---
There's a huge range of headsets already on the market to choose from, but when it comes to VR gaming, many of the current headsets on the market are too big, or not ergonomically suitable to wear over the top of a VR headset, such as PlayStation VR, Oculus Rift, or Vive, amongst a few others that are kicking around the market right now. The 350VR looks set to change that, with its ultra-comfortable, lightweight and low-profile design.
Time to make your Virtual Reality sound as good as it looks
"Immerse yourself even further in your new Virtual Reality world with the Turtle Beach Stealth 350VR Headset. Created specifically for VR, the 350VR's ergonomic design leaves room for your VR headband and cables, while its 50mm speakers fill your ears with a rich, dynamic sound that is as alive as your screen."
Designed for the VR Gaming World
"The Turtle Beach 350VR headset delivers an unmatched audio experience that lets you fully enjoy your new VR world. Premium audio amplification delivers increased volume and bass while on-board audio controls keep you in the experience for total immersion. The 350VR is also designed specifically to work with VR headsets including PlayStationVR, HTC Vive, and Oculus Rift. An ergonomic over-the-ear design and headband clearance maximizes comfort and ease of use so your entire VR gaming experience is better."
VR comfort is one thing, but the built-in powered amp is a feature I'm eager to test. The headset is still wired, using a common 3.5mm jack for maximum compatibility, but it's also rechargeable, and the battery gives the drivers a much bigger kick, allowing you to get bigger bass, bigger sound, and just better performance in general.
The box is the usual design for Turtle Beach and features details for the VR devices supported on the front.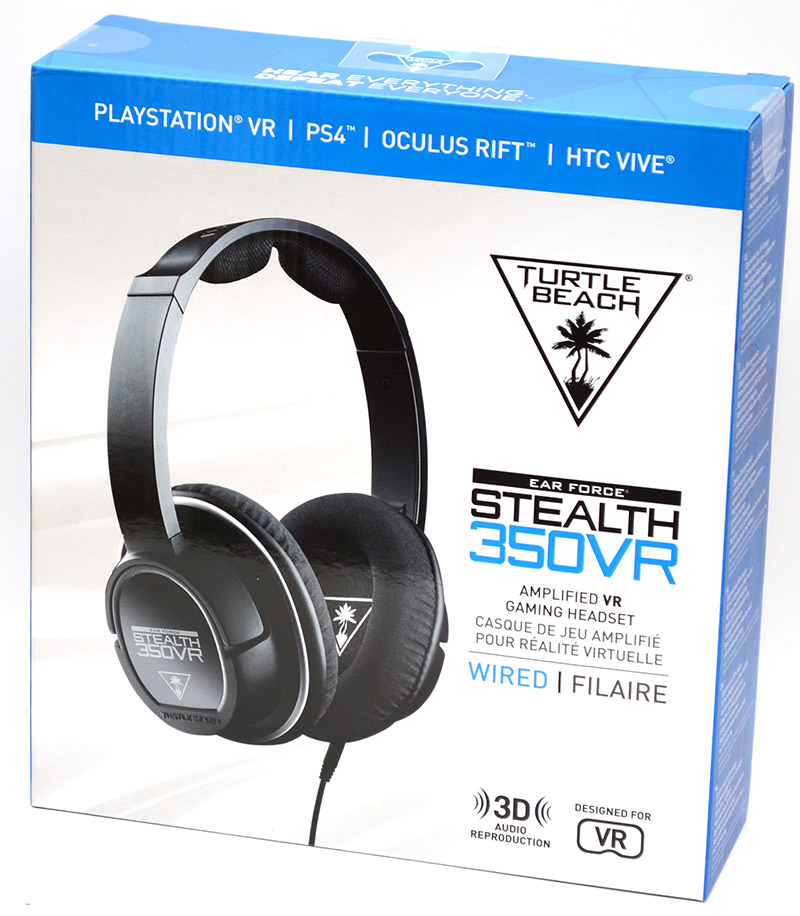 Around the back, a quick rundown of the ergonomic design, 50mm drivers, detachable microphone and the integrated amp. Now let's open that box, and take a closer look at what's on offer.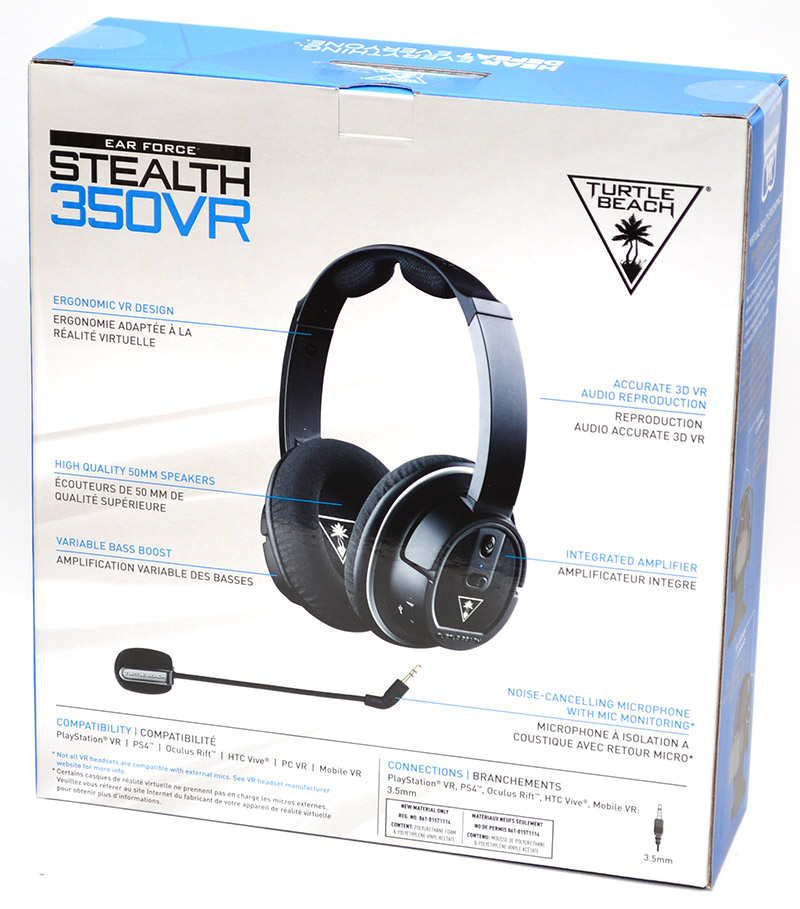 In the box, you'll find some Velcro ties, which should help keep all your VR/Headset cables bundled together, a detachable boom microphone, USB charging cable for the built-in amp, short 3.5mm 4-pole cable, and long Y-split 3.5mm cable.