SteelSeries Aerox 3 Wireless Super Light Mouse Review
---
---
---
Peter Donnell / 2 months ago
A Closer Look & Performance
The SteelSeries Aerox 3 Wireless Super Light Mouse looks absolutely stunning, and while I loved the wired version, cutting that cable takes this exceptional mouse to the next level. What's incredible, however, is that the weight is still in the ultralight category. The wired version clocked in at 57g, but that did not include the weight of its cable.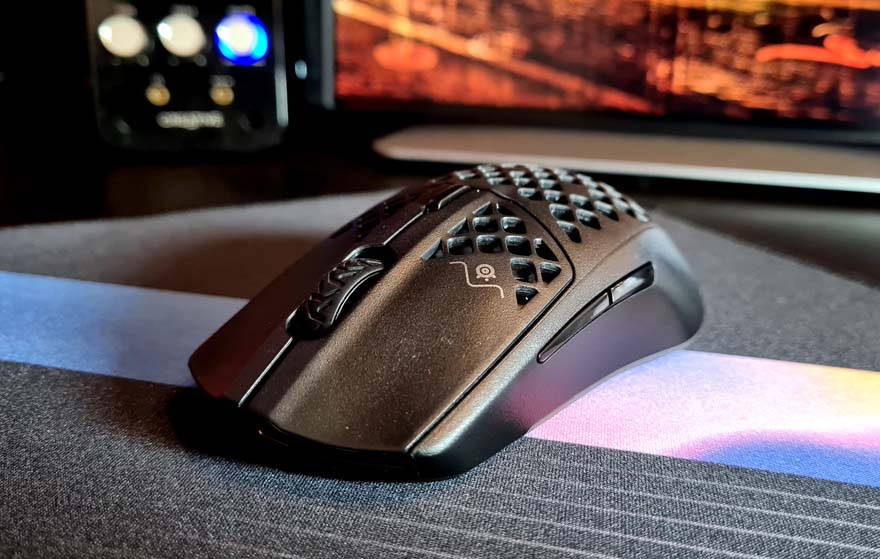 Amazingly, the wireless version is just 66g, despite needing wireless transmitters and a battery inside, which I think is pretty impressive!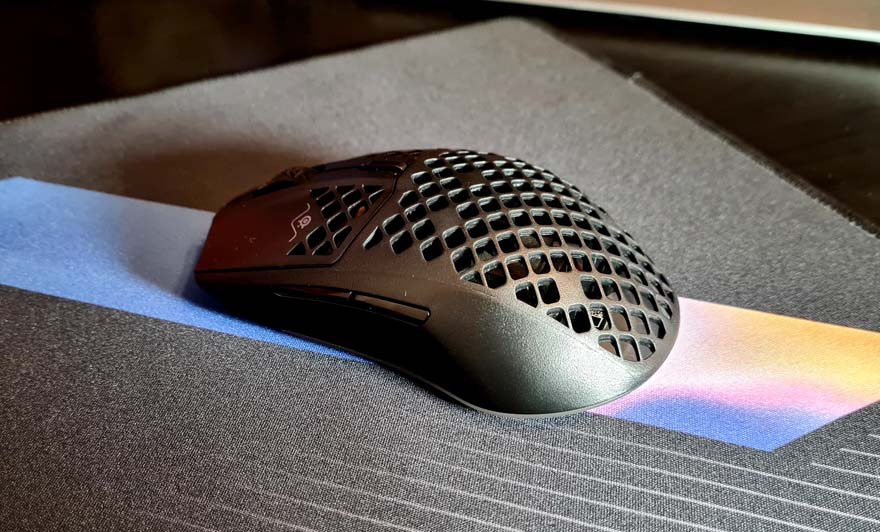 Of course, a lot of the weight saving comes from the new exoskeleton body design, which sheds away a lot of material. It actually saves 18g of weight, but actually, a lot of it comes from the choice of interior components. SteelSeries even redesigned the PCB to be 50% slimmer, and their new battery is 13g lighter than previous models. The result is a mouse that offers almost no resistance when you're gaming.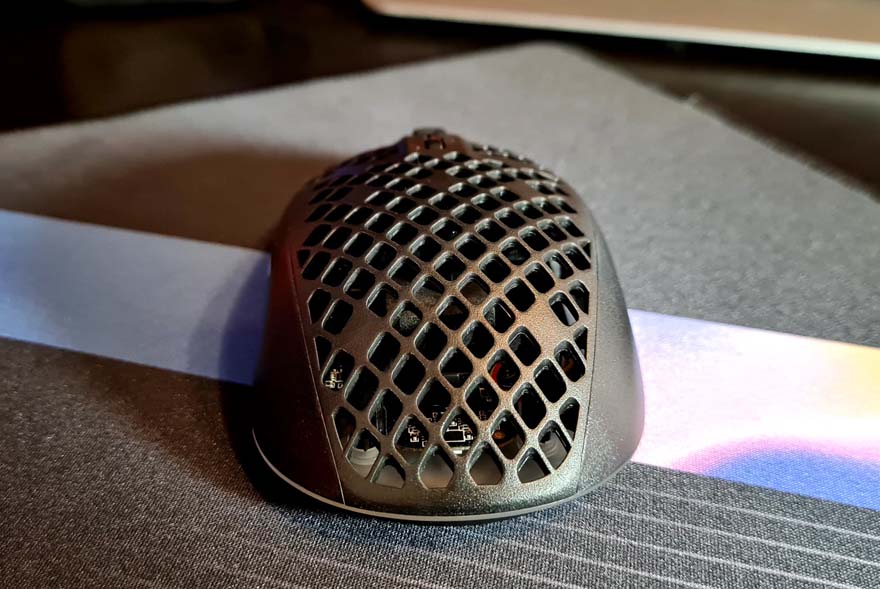 This is still a SteelSeries gaming mouse though, and while they're not too adventurous with their ergonomics, the shape will feel familiar to long-time SteelSeries fans. However, keep in mind it is a right-handed only model.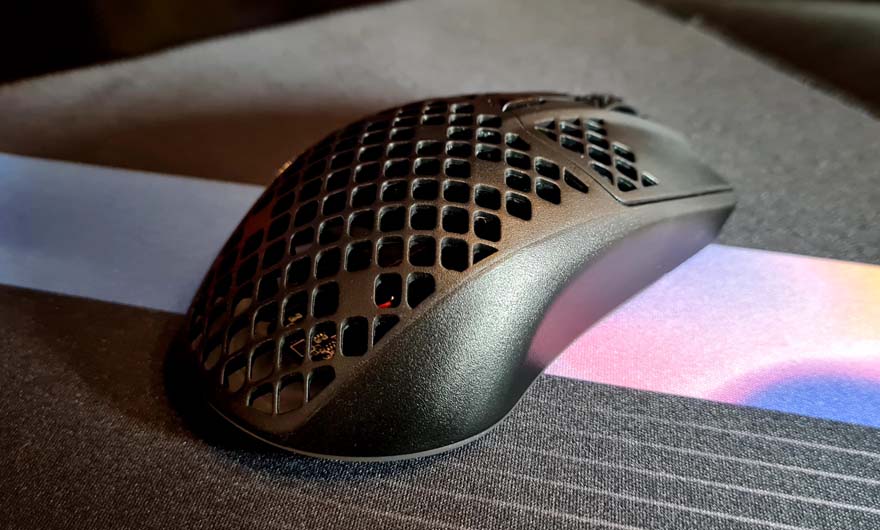 This mouse uses their new Golden Micro IP54 switches. They're rated for around 80 million clicks, which is impressive. However, they're dust and water-resistant, which is important in a mouse that's so open! However, you'll be happy to hear the rest of the mouse has a full IP54 rating and their own AquaBarrier™ Protection. So it should survive sweaty hands and the odd drink spillage easily enough.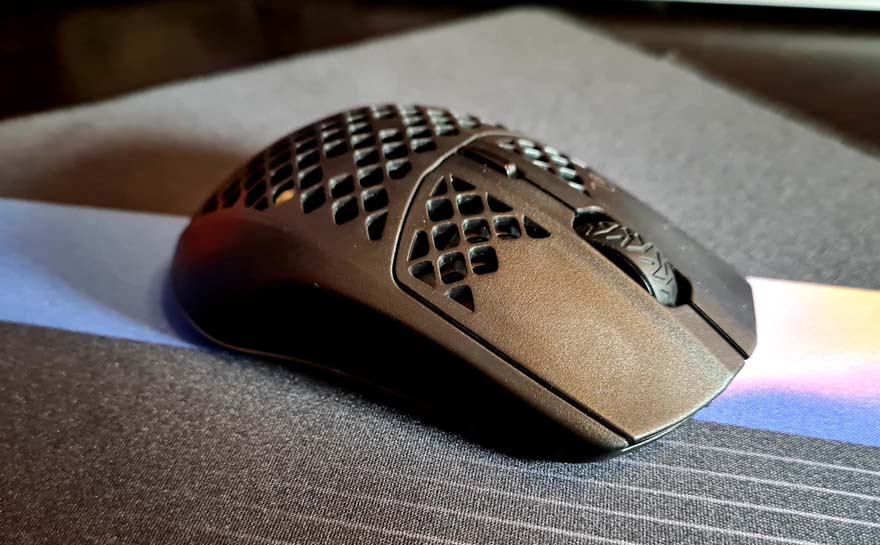 The switches are a little stiffer and have a more defined click than most. That's not to say they're hard to push, the difference is small, but it is there. It makes them feel fantastic too, and while they're a relatively new switch to me, they're certainly some of the nicest I've ever used. The mouse wheel has an excellent click to it too, which is great for those cheeky jumping setups in CS:GO.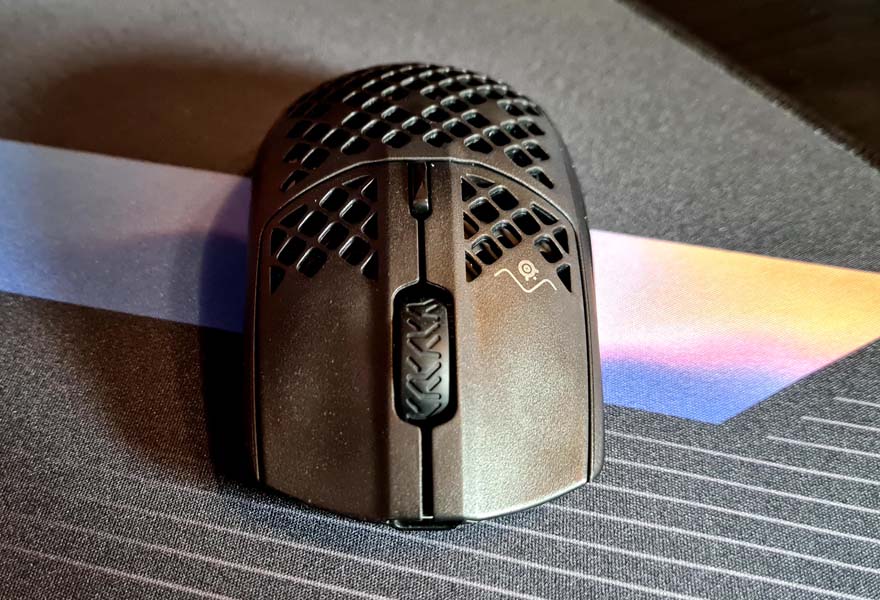 Both the LMB and RMB are mounted on their own sprung panels, so everything feels very positive, with no feedback from the other side. I'm also impressed by how firm and robust everything feels, despite how much weight they've removed from the mouse.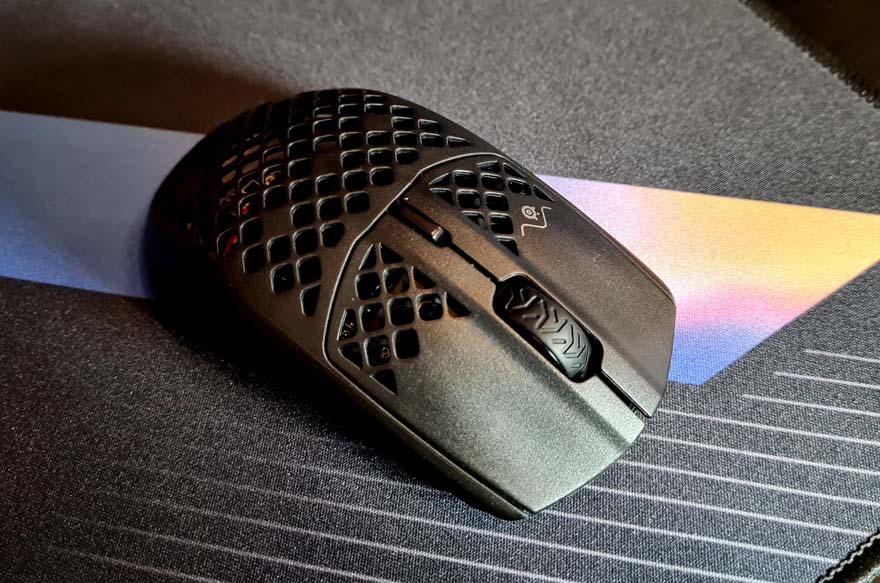 The weight saving continues on the bottom of the mouse. However, if you look closely, you can see a frosted plastic layer running throughout. This is the RGB lighting, but it also provides a layer of shielding to prevent dirt and other crud from your desk going into the mouse's body. There's a switch here for turning the mouse off and switching between the options of Bluetooth and 2.4GHz wireless.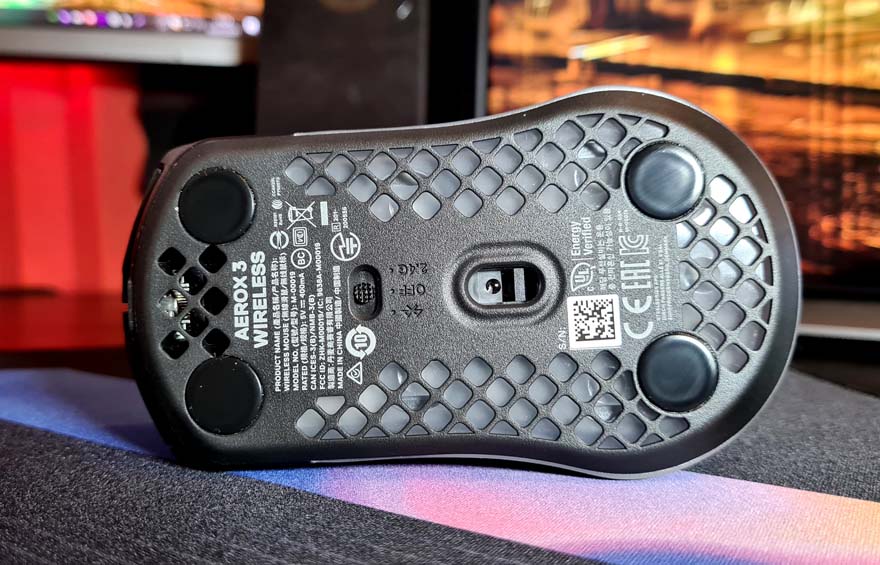 The PTFE feet are superb, and offer plenty of glide. However, with the mouse being so light, it glides even on thicker gaming surfaces really easily.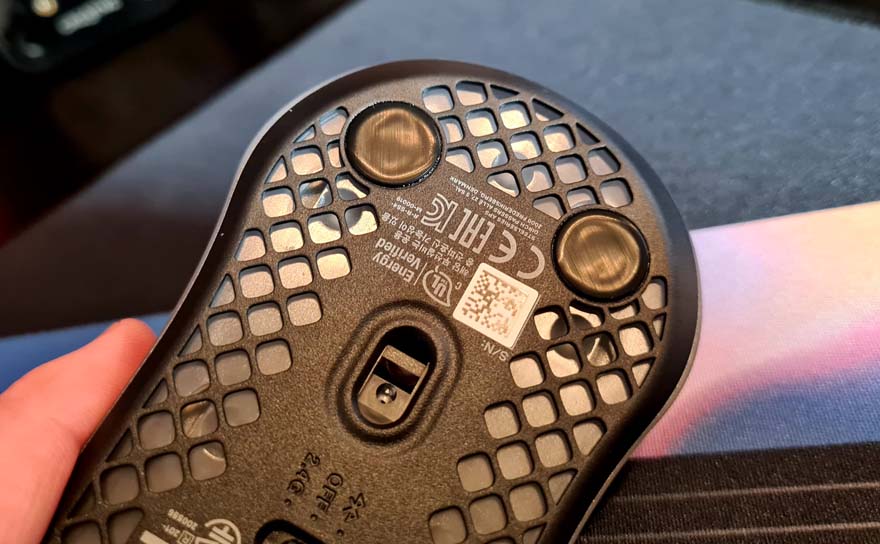 As for pairing the mouse, it really couldn't be easier. If you want to use the Bluetooth mode, you don't need the dongle and can pair with a compatible device. However, for maximum performance, you'll want the dongle. It comes with a USB-C connector too, how very modern!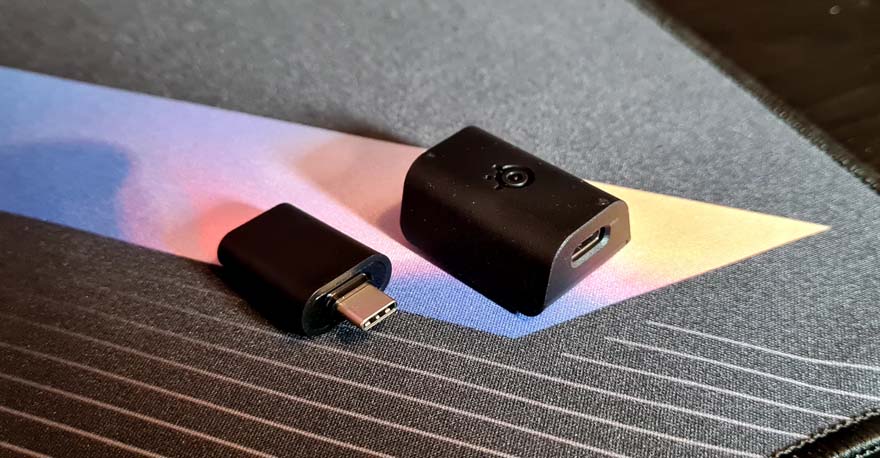 However, the USB-C charging cable also has a small adaptor should you need it.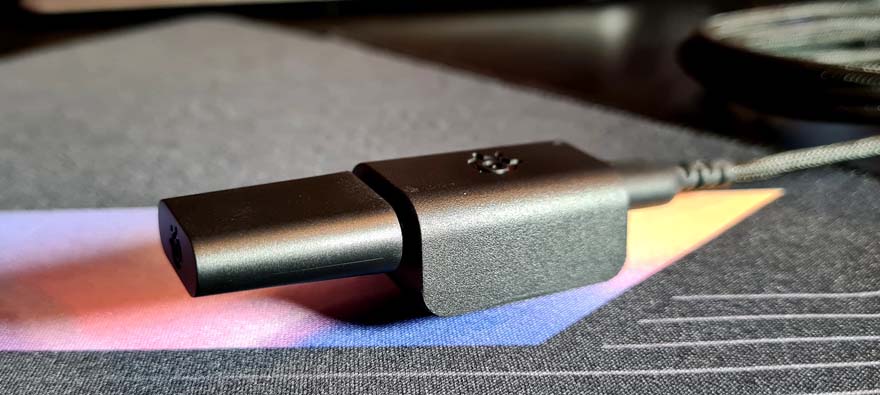 It's certainly one of the most attractive gaming mice they've released. I've seen a fair few ultralights, and the mesh body design is becoming more common. It does look cool though, especially with that glowing light deep in the depths of it.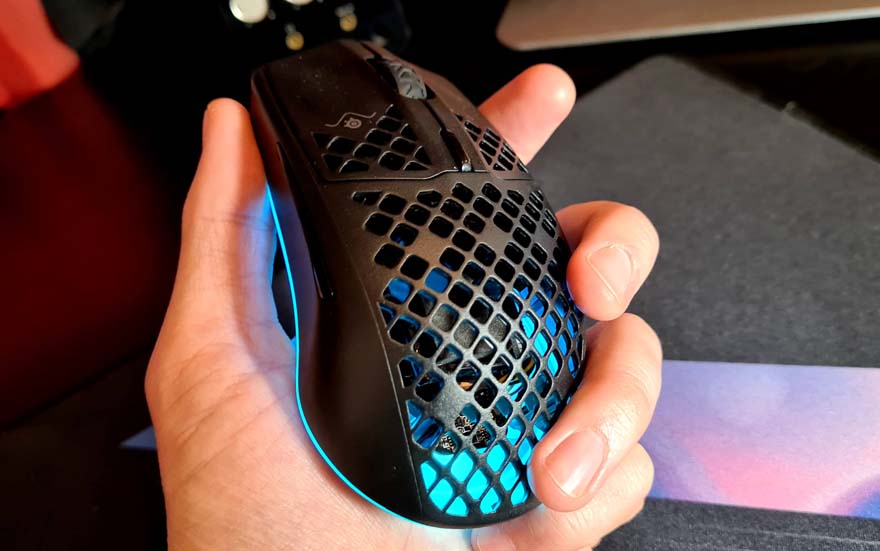 The ergonomics are superb, it's so easy to grip the mouse with a light palm or fingertip grip. Of course, because it weighs next to nothing, it's easy to lift up and move around too; handy when using a low DPI and lift-off tracking technique.
The switches are snappy and responsive, and it's just an absolute joy to use for work and gaming. However, the PixArt TrueMove Air optical gaming sensor they've used is stunning too. It'll deliver 100–18,000 in 100 CPI Increments, 400 IPS and 40G acceleration.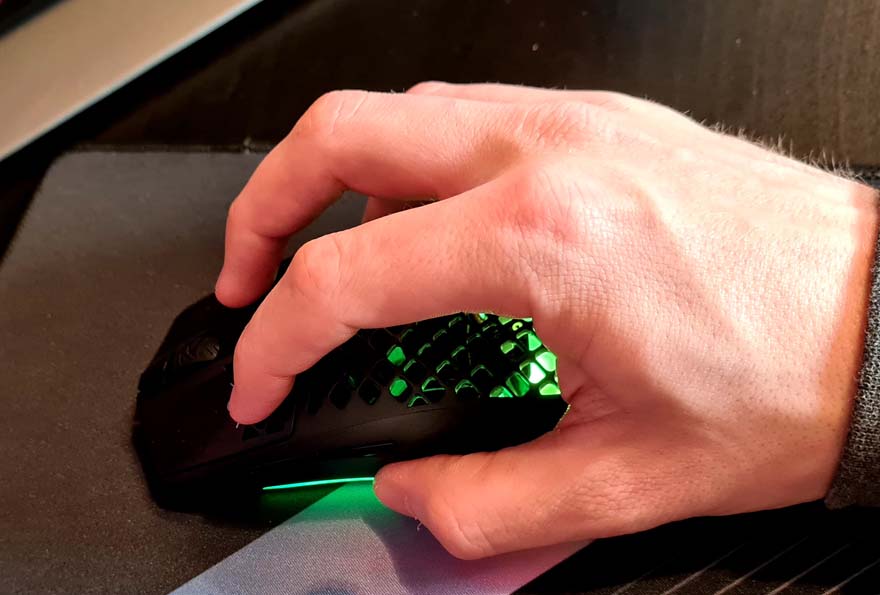 Wireless has come so far, especially in recent years. It's just faultless, no latency, no angle snapping, jitter or anything to be found really. I tested their wired one recently, and they certainly both stand out as some of the best gaming mice I've used in ages.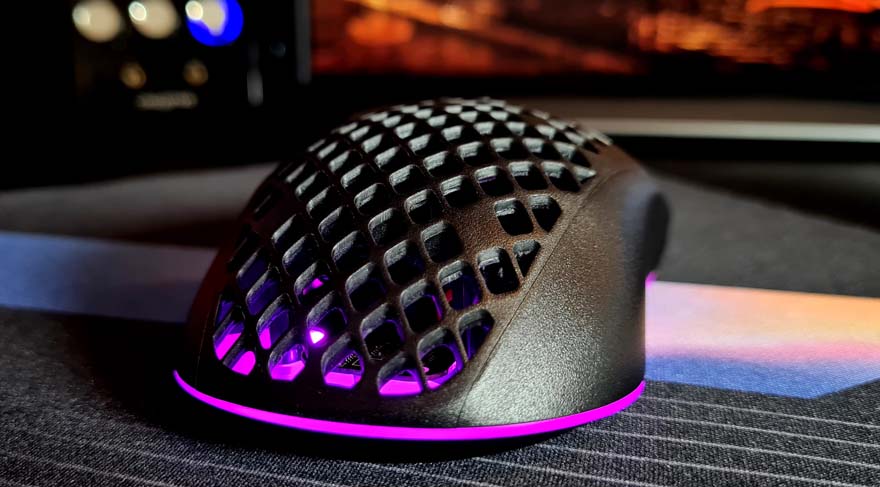 Oh, and of course, the RGB colours are stunning. Super rich and vibrant, but kept low down in the mouse, so they're more of an accent rather than in your face.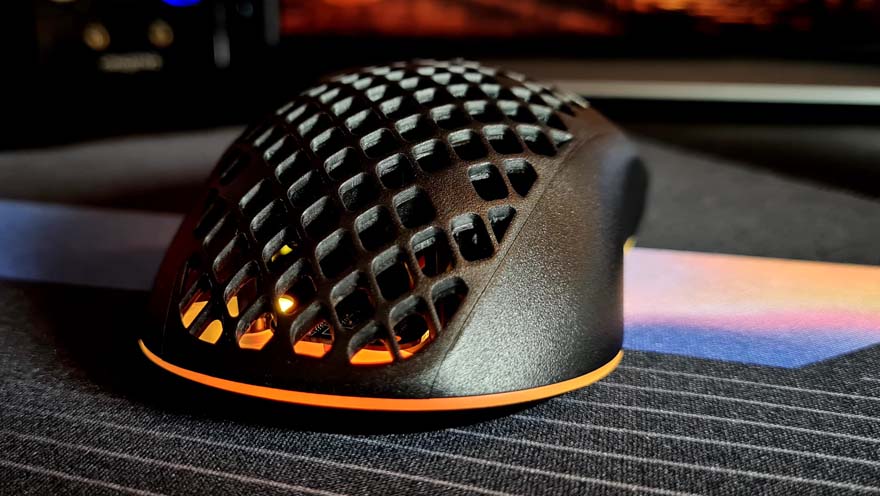 It even looks good from the underside, not that you'll be seeing it all that often.