Steelseries Arctis 7 Gaming Headset Review
---
---
---
Peter Donnell / 4 years ago
A Closer Look
It's a really simple and clean setup, just a little wireless transmitter and that super clean and stylish headset. That transmitter is quite compact, so placing it on or around your desktop should be a breeze. It does have a USB cable so you can move it about. However, with 40 Ft range, it's unlikely you'll be waving it around to get a better connection.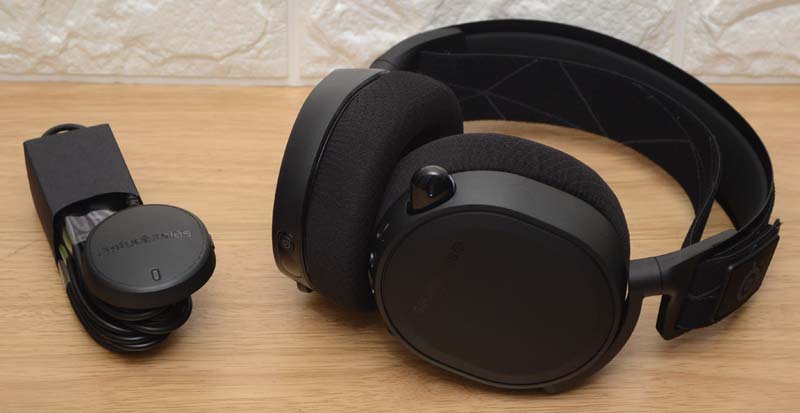 £300 Style For Less Than Half?
The headset its self is absolutely gorgeous. Unsurprisingly, their flagship model looks pretty much the same as the one from last year. Of course, if it isn't broken, don't fix it, and I couldn't be happier they've changed so little. Keep in mind the Arctis Pro Wireless was £300, so getting that same headset for about half that is a huge win.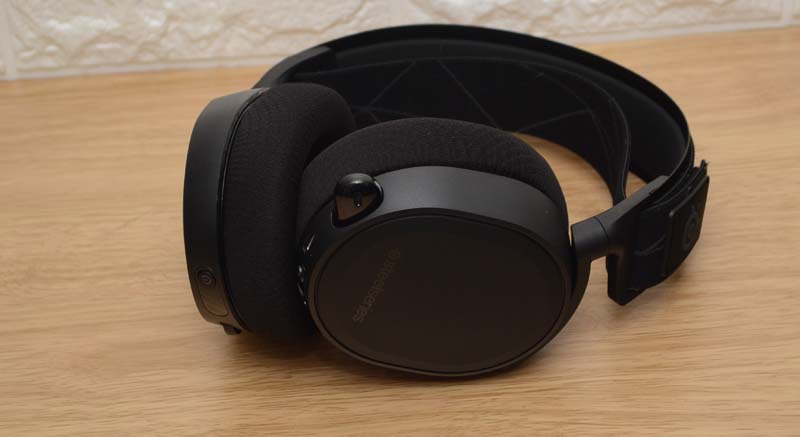 Fantastic Microphone
Built into the headset, is a retractable microphone, that shows like a large nub sticking out the left ear cup. Again, it's the exact microphone from last years flagship, and it's properly brilliant. It's one of the better microphones on the market today, and hard to beat short of a standalone desktop microphone. Plus, with it retracted, it's not in the way when you don't need it, which I really like. Removable boom microphones are too easily misplaced.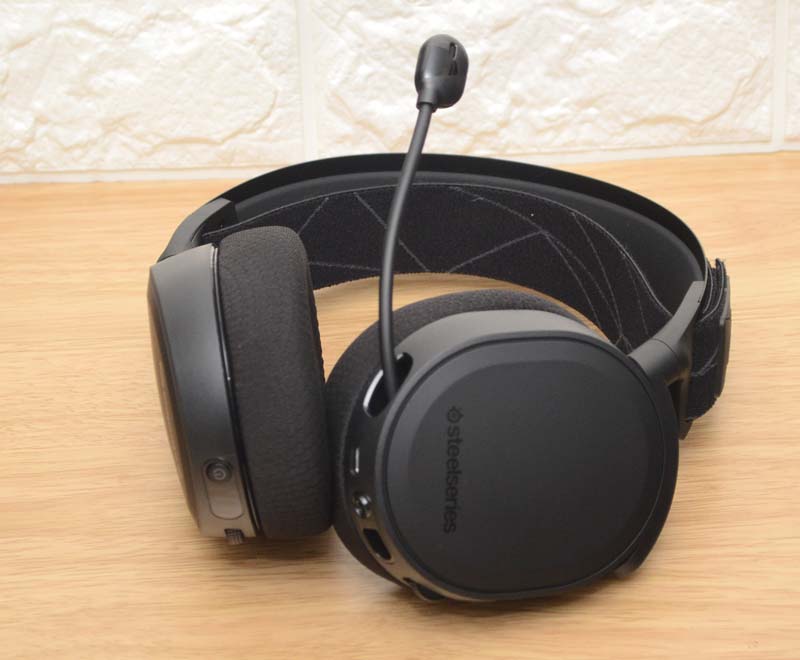 Adjustable Ergonomics
As for the headband, it's a solid band that's really durable, but can't be adjusted on its own. It's designed to sit over your head rather than rest on it. However, there is an elastic Velcro strap running over the top and bottom of it with an adjustable tension system. It's surprisingly comfortable given it's not a padded design. Furthermore, at full tightness, it makes the headset "small" enough to fit younger gamers, and at full size, it even fits my own rather large noggin, albeit only just. I should say, I do have a rather large head, and most headsets barely fit me anyway, so it should fit "normal" people easily enough.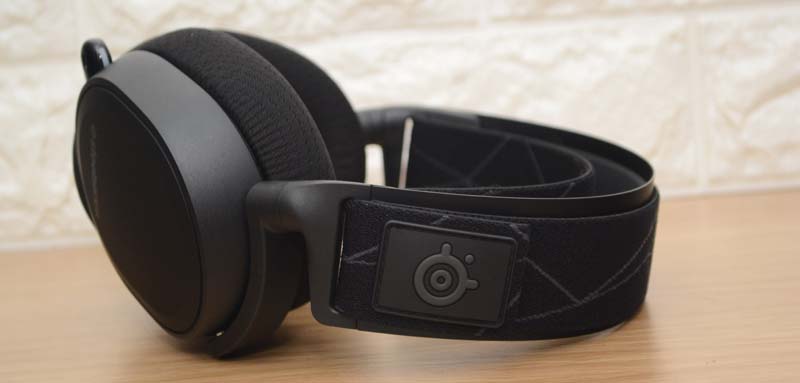 No RGB, Good!
The design on the strap is pretty cool too, with just a light grey polygon pattern breaking up the otherwise all-black design. Which brings me on to my next point. The headset is super stylish with its matte finish and black fixtures. The model down from this has RGB, but the flagship does not, and I think that's wonderful. I'm not against RGB, but I think a professional headset should look professional, and RGB doesn't look professional, especially on headphones.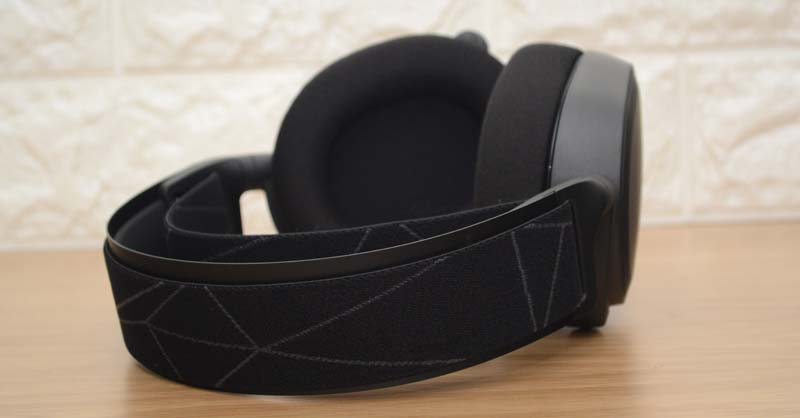 The backs of the drivers and nice and clean looking too. It's got a little bit of Steelseries branding on there, but it's pretty subtle, and again, I appreciate that. A gaming headset this may be, but it's designed so nicely it'll look great in the office as much as it would at an eSports event.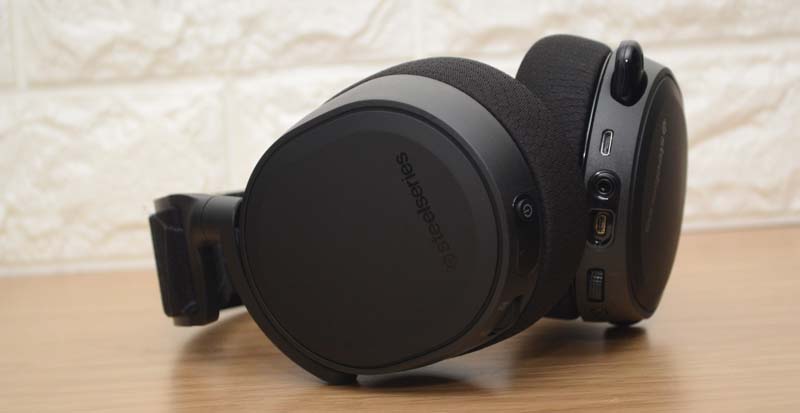 Tucked into the drivers, you'll find a plethora of connections to suit your needs. There's a master power button and voice/gaming mixer on one side. Furthermore, there's a USB charging, 3.5mm jacks and volume on the other. Nothing complicated, but it's everything you need within easy reach.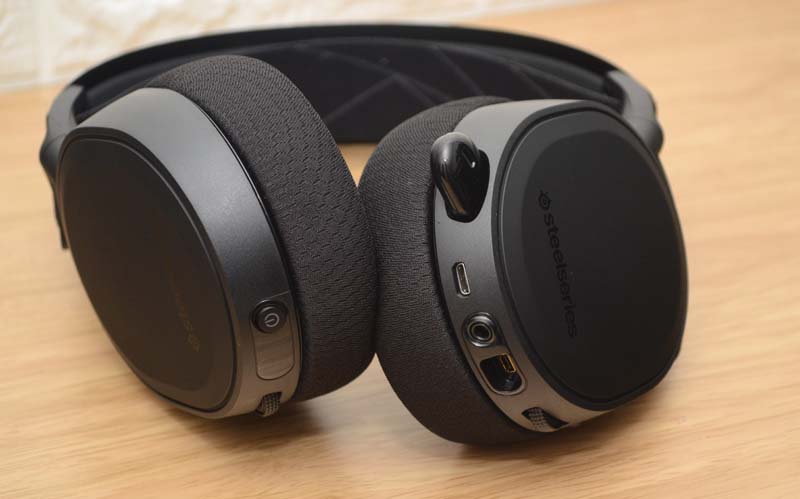 Drivers
I'm a huge fan of Steelseries drivers, as they often strike that fine balance between truly accurate sound reproduction of open-back driver headphones, but with a bit of a tighter low-end sound that makes them feel both punchy and bright at the same time. The response is quite flat, but the closed back design does help lock in the sound and improve the bass response, while the soft material of the ear cups prevents them from being truly locked in, letting both your ears and the drivers breath. The drivers also sit a bit closer to your ears than with most around-the-ear headsets, giving them a sense of immediacy and power even at lower volumes. It feels less like listening to a speaker near your ears, and more like sound being more present around you. It's a nice trick, and the wide response range plays no small part to their brilliant sound quality.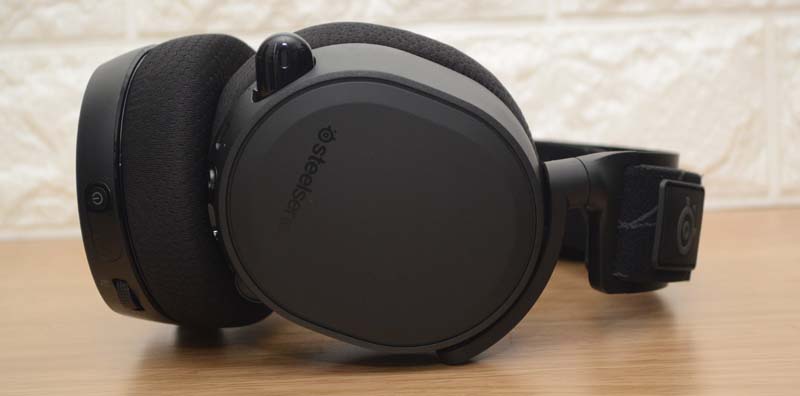 Versatile
Overall, they are phenomenal sounding headphones. If anything, they sound just like the models from last year. That's no bad thing though when at half the price, they're every bit as good as last years finest headset. The main difference is the lack of a hub device and just having that wireless puck instead. That doesn't matter though, as the wireless performance is flawless, and I was able to traverse my whole house without losing a bit of signal. What you lack in the hardware features, are easily made up via the software, which is fine by me, as I'm a humble stay at home gamer.