Steelseries Sensei [RAW] Ambidextrous Mouse Review
---
---
---
Peter Donnell / 8 years ago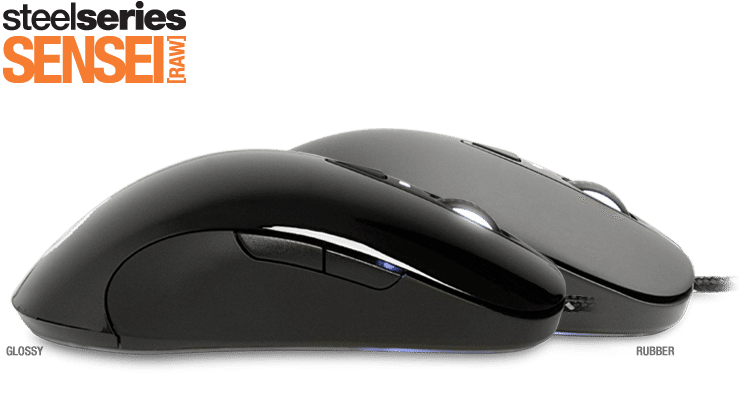 Steelseries Sensei isn't exactly a new product, it's been around the block a couple of times now and I know its safe to say that it is popular with gamers around the world. So why are we reviewing it you might wonder? Well it's always nice to take something familiar for a spin, take a more in-depth look at it, try out some of our performance tests and hopefully guide some people who are on the fence about what their next mouse purchase should be.
The Sensei range is popular but take note of the [RAW] tag on the product, this means it's not quite the full fat, metal construction, custom lighting £90 mouse, but a plastic built more cost effective solution compared to its bigger brother. At £50-60 it's still not exactly cheap though so don't think of this as a lesser product because for that kind of money we are still going to want to see a tidy return on our investment, that includes good build quality, performance and design.
Steelseries have a strong and very loyal fan base and they haven't established that by putting out poor products so I'm hoping to see something fairly impressive here today, so lets move on and see exactly what this mouse has to offer.
The Sensei [RAW] comes nicely packaged and there is a clear photo of the mouse on the front of the box.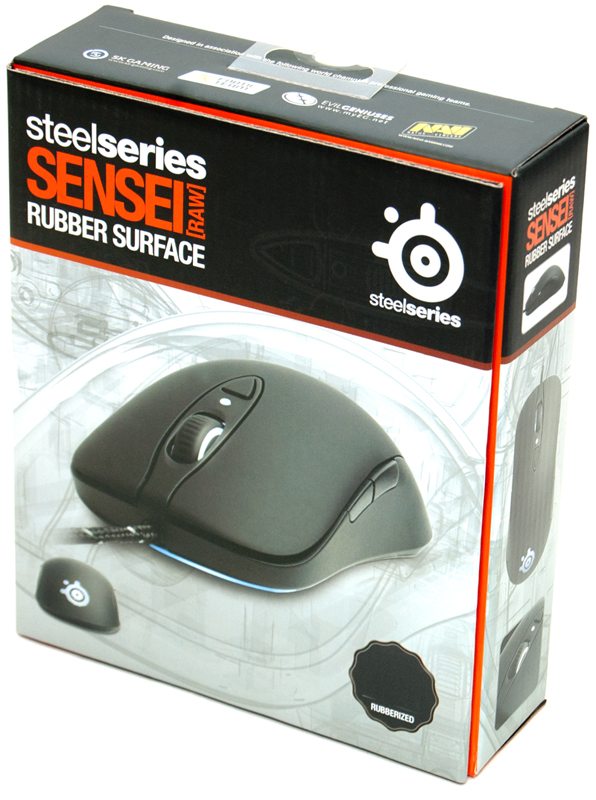 The box folds out giving us a direct look at the mouse, as well as a comparative list between the Sensei and the Sensei [RAW].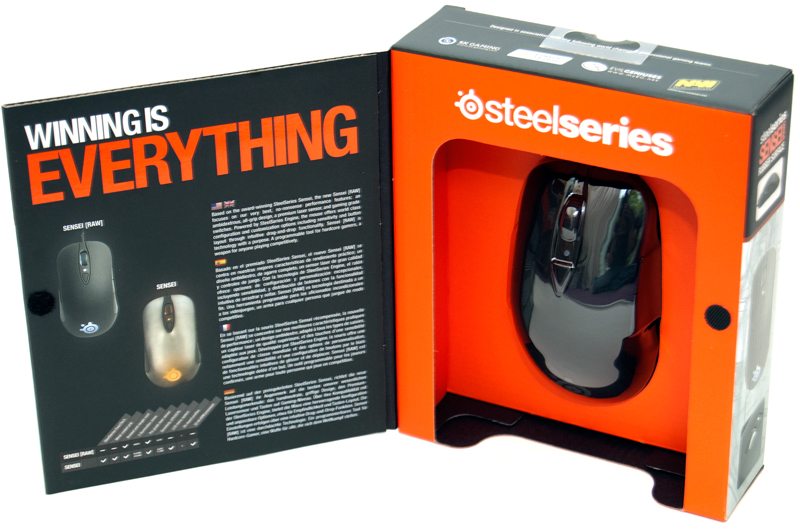 Around the back we have some technical information as well as a  couple of diagrams about the basic features of the mouse.
Frames per second: 12000
Inches per second: 150
Mega pixels per second: 10.8
Counts per inch: 90 – 5670
Maximum acceleration: 30 G
Sensor data path: True 16 bit
Lift distance: ~2 mm
Maximum polling: 1000 Hz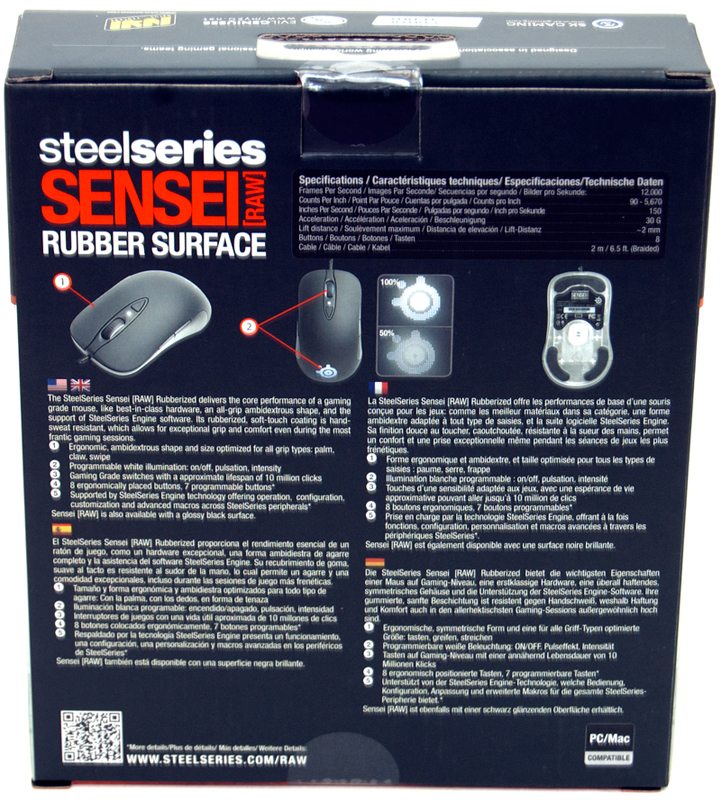 There isn't a lot in the box but you do get a small Steelseries sticker and a straight forward owners manual.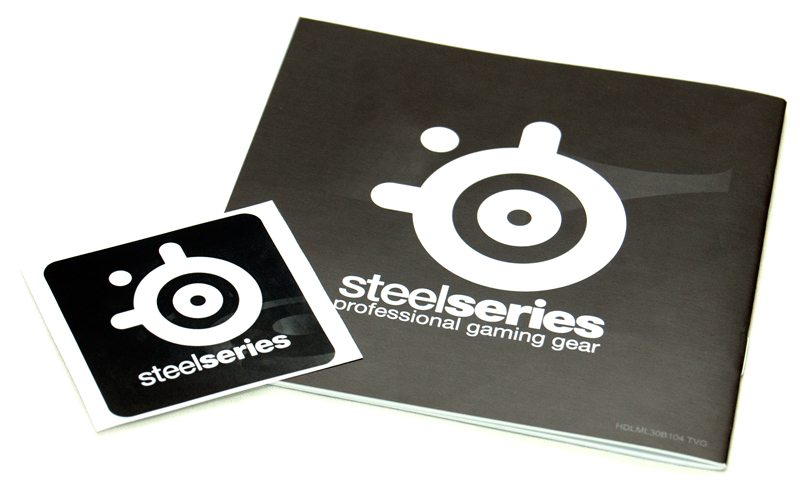 Of course you also get the mouse! Which comes hard wired with a high quality braided cable and standard USB connection.

The left side of the mouse features two buttons and a slight ergonomic curve.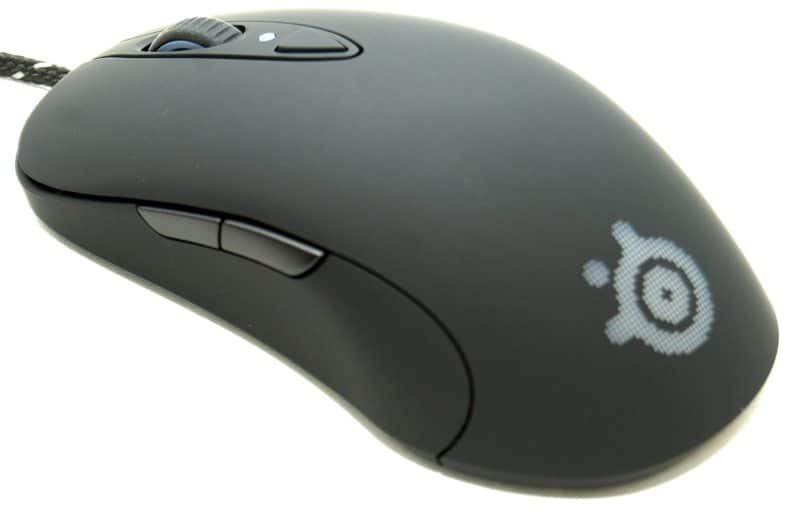 We have the basic left and right mouse buttons which are formed from a single piece of plastic which also forms the upper shell of the mouse.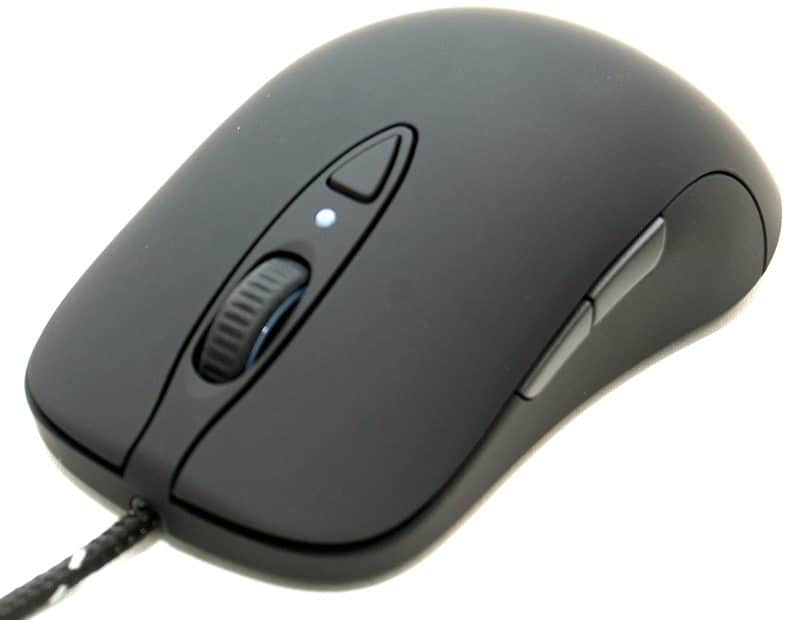 In the middle we have a two speed DPI toggle, LED indicator and a rubber gripped scroll wheel with LED backlighting.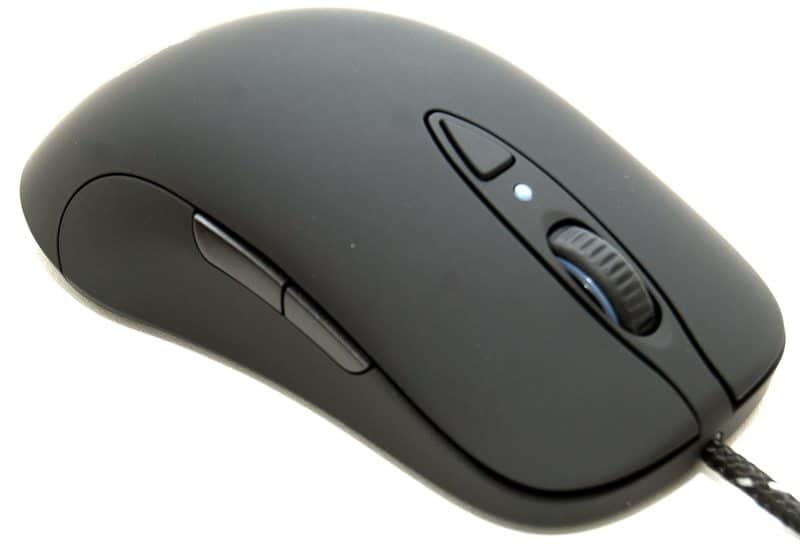 The right side of the mouse features two more side buttons, identical to those on the left albeit mirrored. Incase you hadn't noticed, this mouse is fully symmetrical and is designed for ambidextrous use.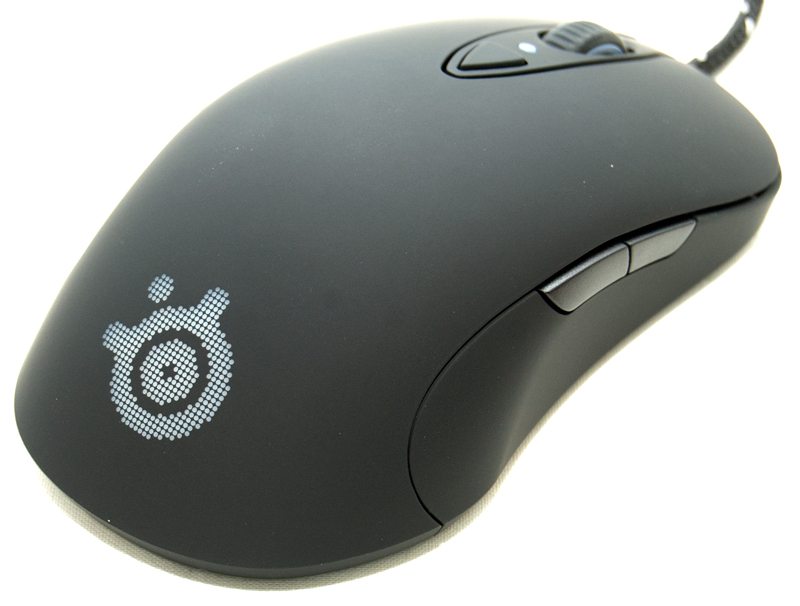 The underside of the mouse features a somewhat clear panel that allows you a sneak peak of the internal workings of the Sensei [RAW], There are three large slipmats that should provide some decent glide and in the centre there is a "pro grade" laser sensor, I say "pro grade" as that is Steelseries own words for the sensor, not my own.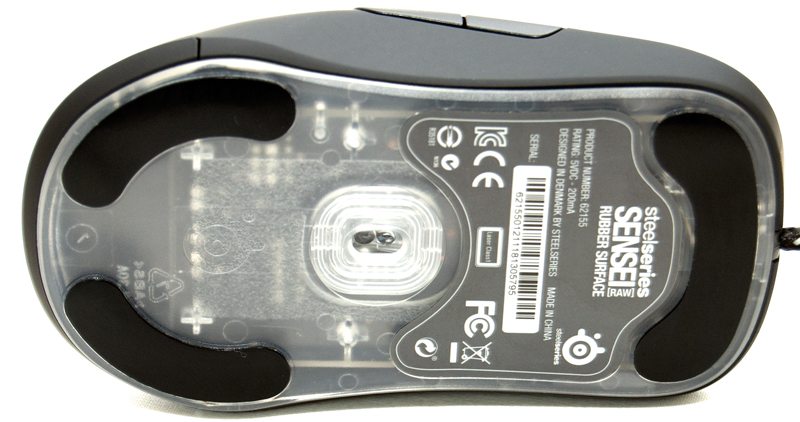 Setup & Installation
The mouse is as simple as plug and play, windows found the device straight away and I was able to use it out of the box, even the DPI toggle worked nicely albeit with two build in non configurable pre-sets. Here you can see that with the USB connected there is a bright white lighting in the scroll wheel and on the Steelseries logo at the back, blame my camera for making it look blue, it really doesn't look blue in real life, I assure you it is white.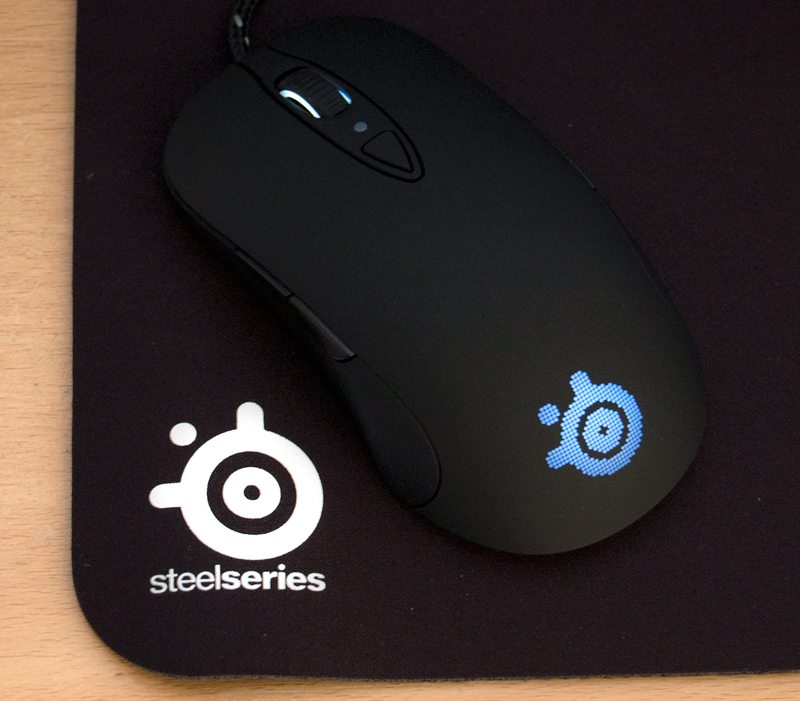 The software was easy enough to install and can be downloaded from the Steelseries website. By doing so you are given access to a really nicely laid out interface where you can customize macros and button configurations for every button on the mouse, giving you great flexibility and control.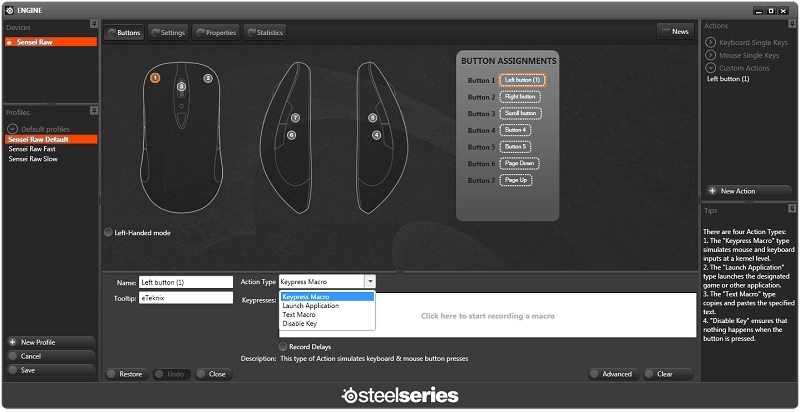 Here you can change the DPI settings for the two modes, as well as adjust LED lighting effects.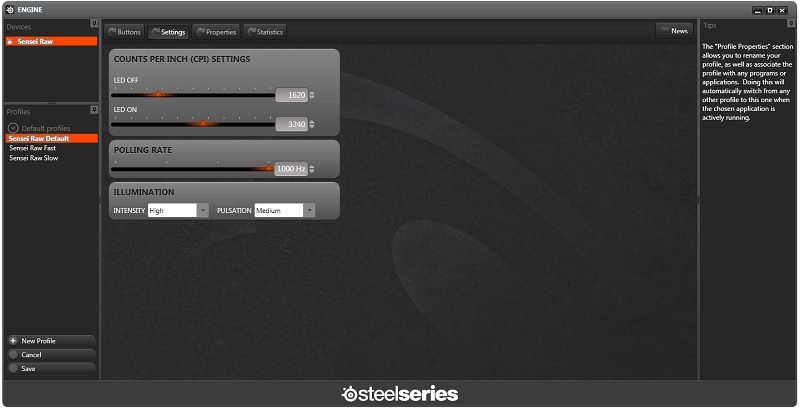 Profiles can be assigned custom names, but can also be configured to automatically enable them selves when certain applications are launched.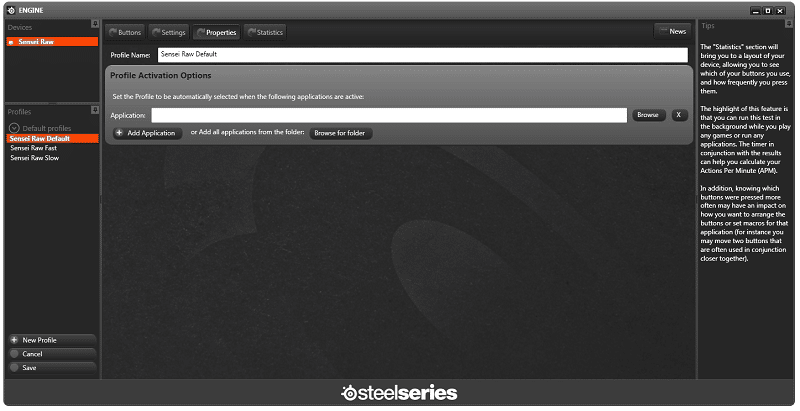 Another funky feature of the mouse is that you can monitor your clicks. Why would you do this you might ask? Well it is a great way to find out what keys you are not using, or which you are using the most, having that information could allow you to reconfigure your button layout to better utilize all the buttons on the mouse its self.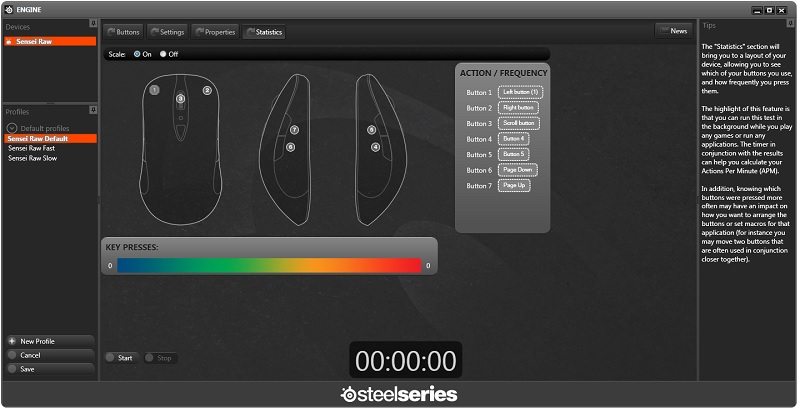 Technical Performance
I have heard great things about the sensor on the Sensei and I was keen to taker a closer look at what it could do. First I performed a simple test to check for prediction / angle snapping, I was pleased to find there was none what so ever and that the sensor didn't try to correct me when drawing straight lines or curves. Next up I performed a simple lift off test and found that it was as near as makes no difference to 1mm, which is super low and perfect for a lift-off play style. Finally I ran a test to check for acceleration and while there was no acceleration at any velocity or DPI, I did notice a little negative acceleration at high velocities, most likely exceeding the 30g rating of the mouse, but unless you move your mouse with significant speed over the full width of your mouse mat at mid-high DPI this issue is never going to appear for you (my mouse mat is 43cm wide).
General Performance
The Sensei [RAW] is finely tuned for gaming as much as it is daily life and the fact that it is comfortable to use for hours on end when you are working, wasting time on Reddit or mucking about on minesweeper just carries across to the gaming world with ease and hour after hour on Skyrim melts by without the mouse presenting any issues what so ever. I am personally able to mouse ambidextrous but even if you don't this is still a great mouse and the extra two buttons on the side you don't use a well enough placed that you don't accidentally trigger them, or at least I never have.
The gaming performance isn't ideal for any one game type either, FPS fans will love the accuracy of the sensor, MMO / RTS  players will love the long term comfort and macro settings and casual users will love the general feel and style of the mouse and no matter what I played, League of Legends, Skyrim, Battlefield, it didn't matter because the Sensei picked up my Macro settings automatically and just let me get on with my gaming, work and time wasting alike.
Final Thoughts
I've never been much of a big fan of Steelseries and that is more just personal preference than anything else and products like the Sensei [RAW] are quick to remind me that I should be paying more attention to the their products. The sensor is really impressive and this will prove popular with enthusiast gamers, but for your general consumer who just checks Facebook and their emails, the extra accuracy isn't something your likely to notice much but if your really into FPS gaming then you'll love this mouse. If you miss a headshot with the Sensei [RAW] it was your fault, not the mouse.
From a style point the mouse looks pretty basic to my eyes, it's true to the classic mouse formula and nothing leaps out as "OMG" impressive like you see on products from Razer, MadCatz and Corsair but there is still beauty in the understated design and even more so in the general feel of the mouse. The rubber coating is silky smooth but still provides extra grip, as well as a sleek aesthetic to the mouse overall and as a user of a grip coated mouse myself (Roccat Kone XTD) I have to say I much prefer this design feature over the glossy plastics we find on most gaming mice. The LED back lighting is pretty subtle and it doesn't over power the visuals of the mouse, this I do like as I often find mice with LED lighting can be a little too bright and flashy when they need not be given that when your using them, the lights are often under your hand where you cannot see them.
The price is pretty good too and while I said before that £50-60 isn't exactly cheap it is on par with the competition for similar specification products and it's fairly tricky to buy a "bad" mouse at this price range as your already  way past general consumer tech and well on your way to premium / enthusiast price brackets (eg: £70+) and with products you get 90% of the features and performance of the higher end models for half the price, as is the case with the Sensei [RAW] and the more expensive Sensei.
Overall I think the Sensei is a great product, the only gripe I have is that I think it feels a little too light and this is of course a matter of preference but I generally don't like my peripherals feeling hollow. That being said, the mouse does feel well made and isn't likely to break with ease in my opinion. Performance is on par or better than that competition within this price range and although the design is a little "safe" it still looks nice too.
Pros
Great sensor
Low liftoff height
Ambidextrous
Nice design / feel
Robust software
Cons
Minor negative acceleration at high velocities
Feel too lightweight
eTeknix says: "Steelseries have a loyal fan base already and with products like the Sensei [RAW] it is easy to see why, a great sensor in a versatile and easy to use product that is as well suited to any task your desire from gaming to office work, a solid allrounder."