Steelseries Siberia V2 Special Edition Review
---
---
---
Peter Donnell / 10 years ago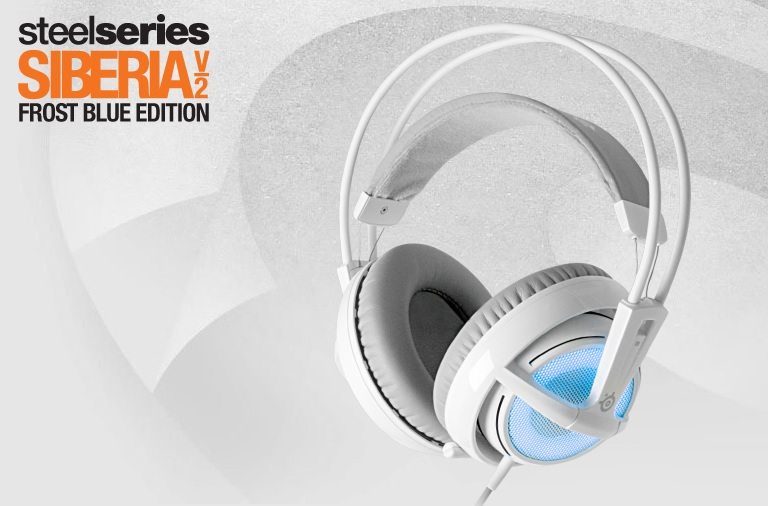 Steelseries already have quite a history behind them and its not hard to see why, they have an extensive and much applauded product range that caters for everything from high performance gaming keyboards to audio products, all of which have proved them selves popular time and time again on both the eSports scene and with the general gaming community.
This popularity within the gaming scene isn't by accident either, and you don't have to spend too long at a LAN gaming event, computer trade show, or anything based around gaming communities to find plenty of people sporting a Steelseries product. Steelseries have worked hard at the ground level to support gaming teams, invest time in consumer testing and letting people get hands on with their products to not only prove they work, but to also find ways of improving them.
Its through this success that the brand has also been labeled as somewhat of a style accessory, its a "cool" brand to own and the gaming scene isn't necessarily one that is synonymous with fashion, but when its backed up by performance or by something that can physically improve how well you play, then its a done deal.
"From day one, SteelSeries has been focused on making high performance gaming gear used by the most demanding, top professional gamers worldwide and peripherals that provide superior quality and a competitive edge to gamers of all skill levels. We believe, as most gamers do, in winning, not trying!"
The headset we're looking at today is from the popular Siberia range and priced at around £100 here in the UK it isn't exactly cheap, yet there is a strong market for headsets in this price range and so long as all round quality and performance is up to scratch its a small price to pay for something that you may end up using for several hours a day for gaming, multimedia and maybe even a little work.
Headphones
Frequency response: 18 – 28,000 Hz
Impedance: 40 Ohm
Microphone
Frequency response: 50 – 16,000 Hz
Pick up pattern: Uni-directional
Sensitivity: -38 dB
Active noise reduction: Up to 20dB
Everything Else
Cable length: 3 ft.
USB Cable extension: 6.5 ft.
50mm Drivers
Integrated Soundcard
16 LED, 6 Mode Illumination
Retractable Noise-Cancelling Microphone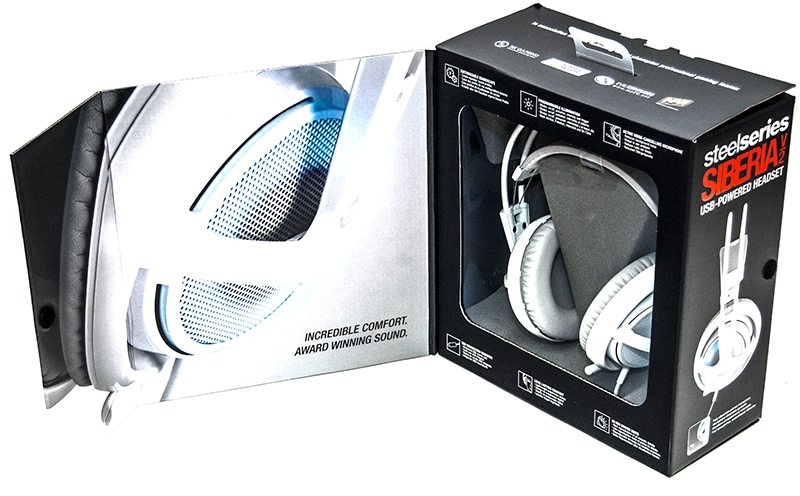 The front cover features a velcro panel that folds out given a huge close up of the ear cup and a little marketing slogan "Incredible comfort. Award winning sound." Also a large windowed panel gives us a great view of the headset and that's no doubt tailored towards people picking up the headset in a retail store.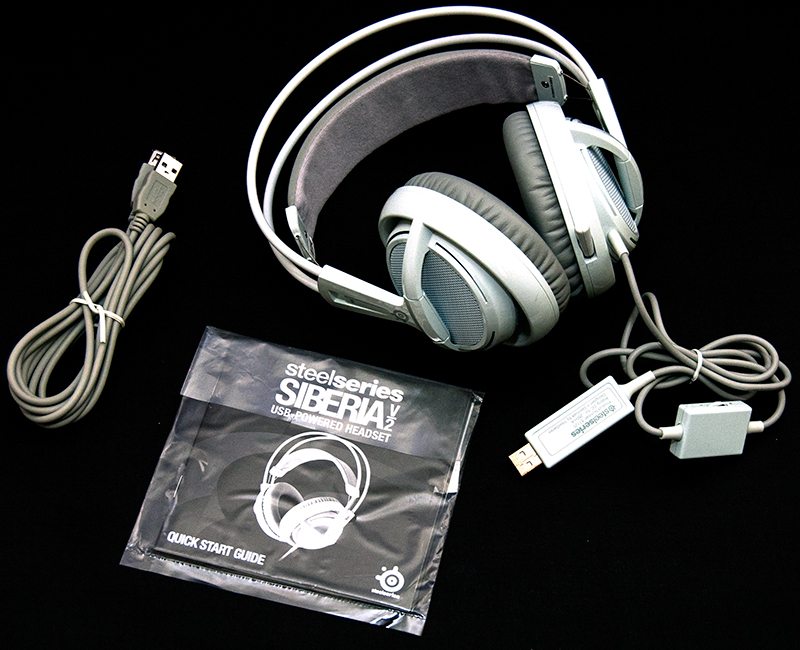 In the box we find the headset its self, which comes hardwired with a durable USB cable, a quick start guide, and the best extra I've seen in a while, a simple yet effective USB extension cable.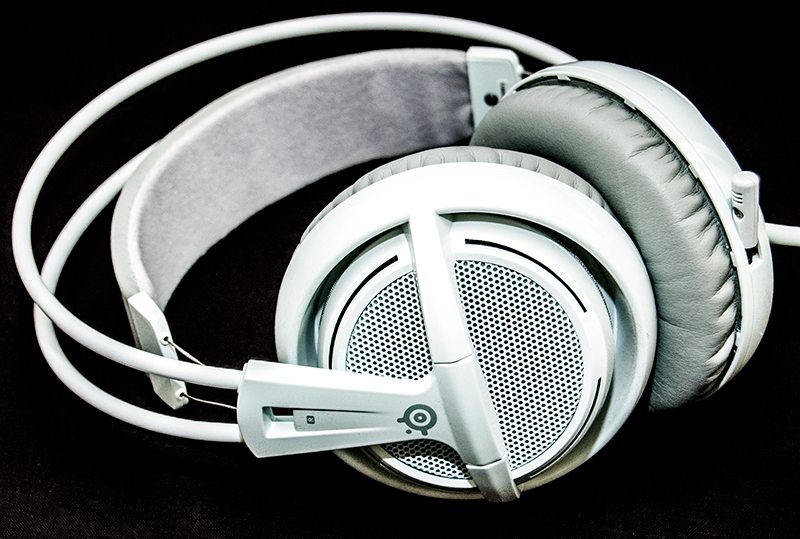 The headset is finished in a stunning gloss white with some subtle textures around the fittings. A mesh cover on the back of the earcups covers a series of 16 blue LED lights, 8 per ear cup.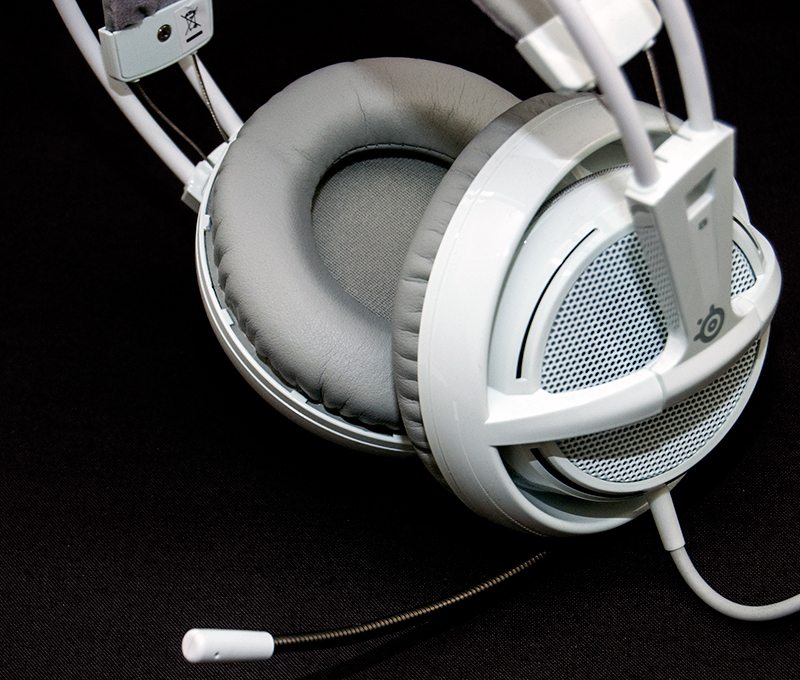 Tucked away on the left ear cup is a pull-out, flexible boom mic, and it's just as easily tucked away for when you don't need it. Each ear cup features a super soft grey padding and that should provide a fantastic fit for those long gaming sessions. A sprung / elasticated system keeps the headband firm on your head and it should provide a clean fit for any head size without the need for side adjusters.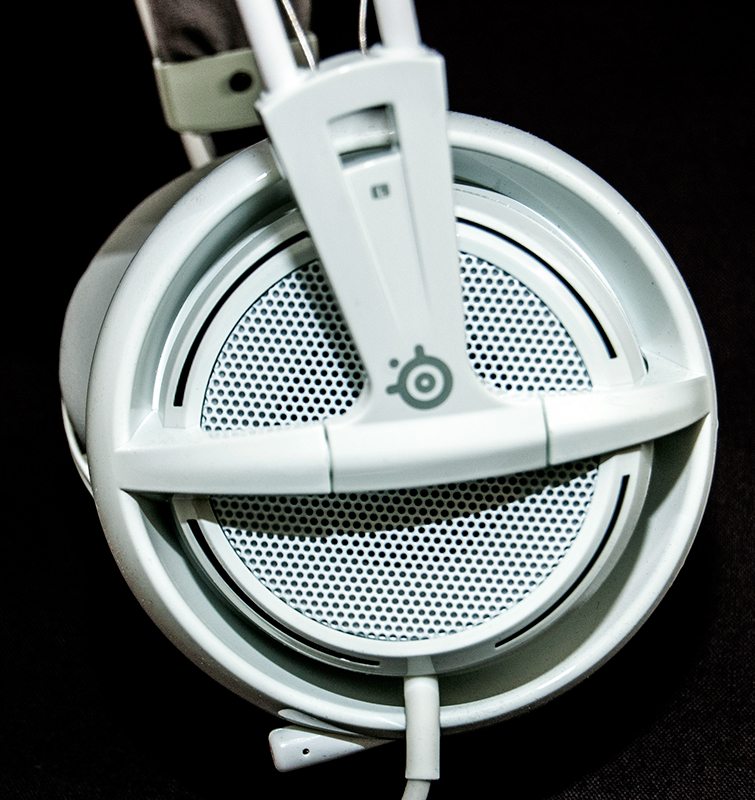 The round shape of the ear cups looks sleek and stylish, and the central mounting acts as a pivot to further assist with a good fit over your ears. If you look in the bottom left you can also see the microphone boom neatly tucked away.

The headband sits neatly inside the twin bars that float above your head when wearing the set, branded neatly with the Steelseries logo across the top, although the headset is already quite distinctively a Steelseries headset, but it still looks pretty cool with the branding.
[youtube]http://youtu.be/Q-76JyAQHu0[/youtube]
Setup & Installation
The headphones are as friendly as plug-and-play, fortunately Windows 7 found the drivers immediately and even the microphone worked with ease. However, if you really want to get the most out of the headsets features your going to need to download and installed the Steelseries Engine software. It's not a big download, but it does give you unified control over multiple Steelseries devices, allows you to tweak the headsets EQ presets, including create a custom one, adjust LED light intensity and frequency, as well as the overall volume.
Music
I always start my headset reviews with the music test, it's the best way to get a grasp of the sets drivers, equalisers and all round performance, what I wasn't expecting was the sound quality to be anywhere near when the Siberia V2 offered up. I listen to an extremely wide range of music and its important to me to be able to enjoy any style of music, at any volume, when ever I feel like it. The extreme high and low tones of Cannibal Corpse were rattle free, the warm mid tones of Genesis were soothing and didn't wash out any of that classic Vinyl prog rock tone that I love so much, but the real winner is the high end notes and vocal lines, regardless of the volume of how much racket the rest of the music was making, this was easily the most distinct part of the sound, yet as clear as the high tones are they didn't sound like they were over powering the audio.
Movies
The driver handle extreme bass really well and while there maybe some buzz at the most intense settings and extreme volume, this is true of most any headset and only happens beyond the pain threshold of most people hearing. The low rumbles of epic battles in Lord of the Rings are faultless and against as with music, dialogue was incredibly clear.
Gaming
Its obvious at this point that the headset is doing well in my tests, but the real important job for this headset is gaming, it is essentially a gaming headset after all! Fortunately it doesn't disappoint, and while the frequency ranges and their clarity were still holding strong throughout gaming, but it soon became clear why the Siberia is popular with gamers. Having powerful drivers really offers up a rich, deep and engrossing world around you but this is further brought to life by the range of stereo separation, I find some headphones can sound a little "close" to your ears, giving a false sound. That really isn't the case here however, and the Siberia V2's can really give you that sound of wide open spaces and a greatly positioned audio, perfect for making you jump when someone sneaks up behind you in Battlefield 3.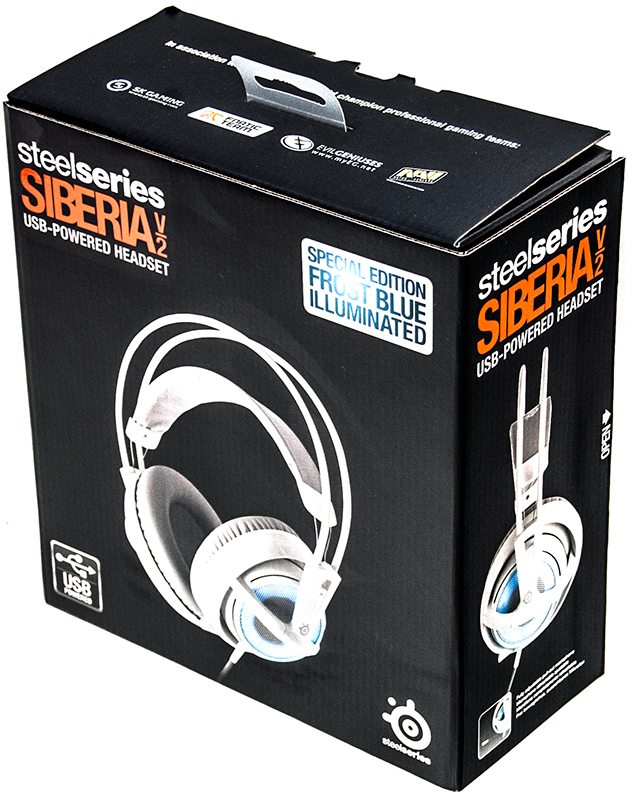 This headset is a solid all rounder, there are so many positive I can think of in terms of audio quality for music, movies and gaming, and quite honestly I find it hard to pick a clear winner on which was best. But as with most things, there is always something that sticks out above the rest and for me it was the microphone. For the size of it, I wasn't expecting amazing performance from the microphone and I was exactly right, it gives very good performance at best, still that's hardly a deal breaker saying it was "very good", but no "very very good". However, the benefits of the clear audio really worked well for in game party chat, or even just Skype calling and being able to hear the insult and advice from your fellow team mates can sometimes be difficult in the heat of battle, but the Siberia V2's came through loud and clear.
As a big music fan I can quite happily sit here for hours with this headset and listen to my favourite albums, I think my own headset sounds a tiny little bit better, but then again it costs twice as much as the Siberia V2 and to be honest, I'd be lying if I said the Siberia v2 sounded £100 worse to my ears than my current set.
Now we move onto comfort, sa this headset features a lightly sprung headband, it sits like a feather on top of your head. The support bars that go over your head don't actually touch your head and are just there to keep everything in shape, combine that with the super soft padding on the ear cups and you've got one of the lightest feeling, most comfortable headsets on the market. The headset may look bulky, but it really doesn't feel it to wear and while most headsets hurt my ears after an hour or two, I could quite happily wear this set all day long.
So by this point your likely thinking I'm 1 more compliment away from marrying this headset, normally I can think of at least one fault with the set that I like to bring up but that really isn't the case here, kind of. The LED lighting on the ear cups, if anyone can explain to me what the purpose of this is that would be great? Sure it looks cool, but you can't see that when the headphones are on your ears, fortunately the software aloud me to disable them, so I was happy with that.
There are many great headsets on the market for around a £100 and this is easily one of the best. While I would like to say "it is the best" I think it really boils down to prefference, some people like the even more outlandish styling or Mad Catz or the brutish but cool look of Razer, or the 90's look of Logitech (sorry Logitech), while many others will love the allround, accesible styling of the Steelseries range, its very good looking, its very cool to own and you wouldn't be ashamed to be seen it in (asuming you've turned those bright blue LEDS off). Audio performance is literally faultless to my ears, the price isn't over the top and is actually very good value given the overall build quality and sound quality. Overall I'm blown away by the Siberia V2's and its why I'm more than I'm happy to award them with the eTeknix Editors Choice Award.