SuperMicro C7Z170-OCE (LGA1151) Motherboard Review
---
---
---
John Williamson / 8 years ago
Introduction
---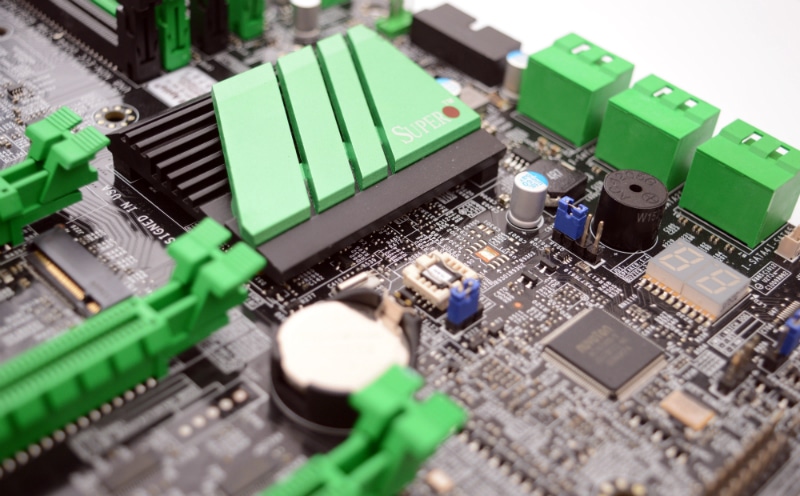 SuperMicro is one of the most respected names in the server industry and synonymous with unparalleled reliability. Whether you're after a rackmount, blade server system or workstation motherboard, there's nothing on the market which manages to enthuse such a sense of rock solid stability. Recently, the company has taken their server roots and impeccable reputation into enthusiast consumer motherboards. This allows them to retain the server framework while offering more ostentatious motherboard designs. Additionally, SuperMicro's highly refined production line results in a low RMA rate and each product evokes such a premium feel. While their previous attempts have been a little rough around the edges, it's clear to see the rapid progress in terms of motherboard layout and visual exuberance. Typically, motherboard manufacturers opt for the gaming themed red and black colour scheme because it caters towards the core demographic and maximize sales.
However, they have adopted a very different approach and launched the SuperMicro C7Z170-OCE, which utilizes a very striking green colour scheme. Not only that, the motherboard incorporates an impressive array of overclocking buttons to make manual tweaks without entering the BIOS. There's also a high-quality speaker, and LED post readout to help with system diagnostics. The C7Z170-OCE's electrical circuitry is designed with extreme overclocking in mind and able to push any Skylake CPU to its absolute limit. Yes, that means BCLK overclocking is possible even on a locked multiplier CPU. Although, given the Z170 chipset, this wouldn't be a sensible choice.
Another key selling point is the embedded PLX PEX8747 chip capable of supporting 3-way SLI in a x16/x8/x8 configuration. If you require a 2-way setup, then the motherboard can easily accommodate this via a x16/x0/x16. Other notable features include a Realtek ALC1150 audio solution with dedicated PCB isolation, USB 3.1 Type-C connectivity, ample supply of fan headers and much more! As you can see, the motherboard sports an incredible specification and I expect it to perform superbly across CPU intensive tasks. In the past, I've experienced a few issues with our DDR4-2666MHz bench memory kit on SuperMicro products, so it will be interesting to see if compatibility has improved on this latest model.
Specifications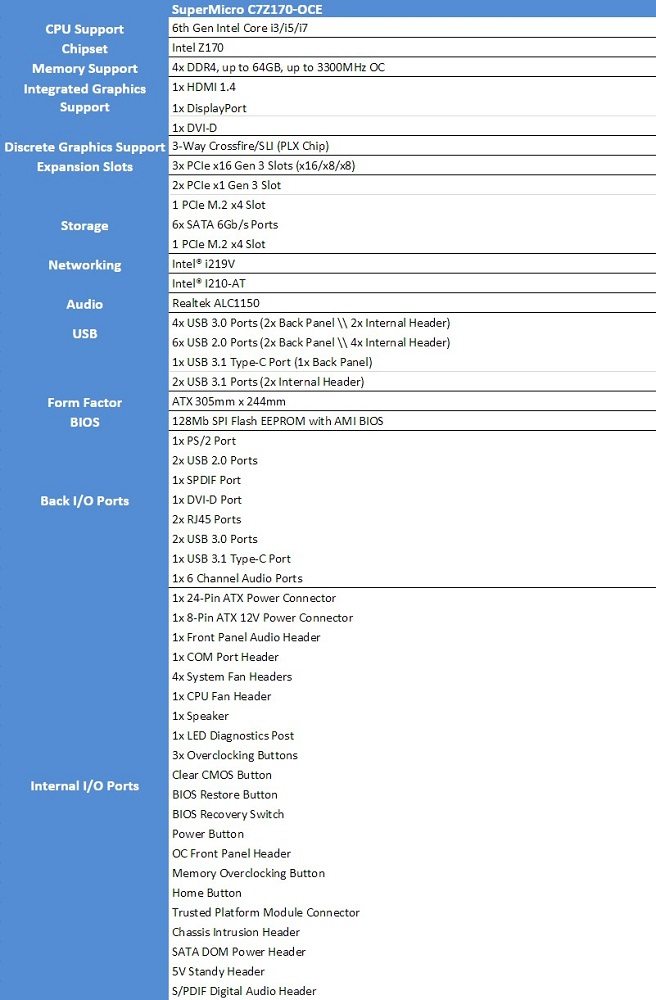 Packaging and Accessories
The motherboard comes in SuperMicro's iconic box design which looks fantastic and creates a sense of luxury.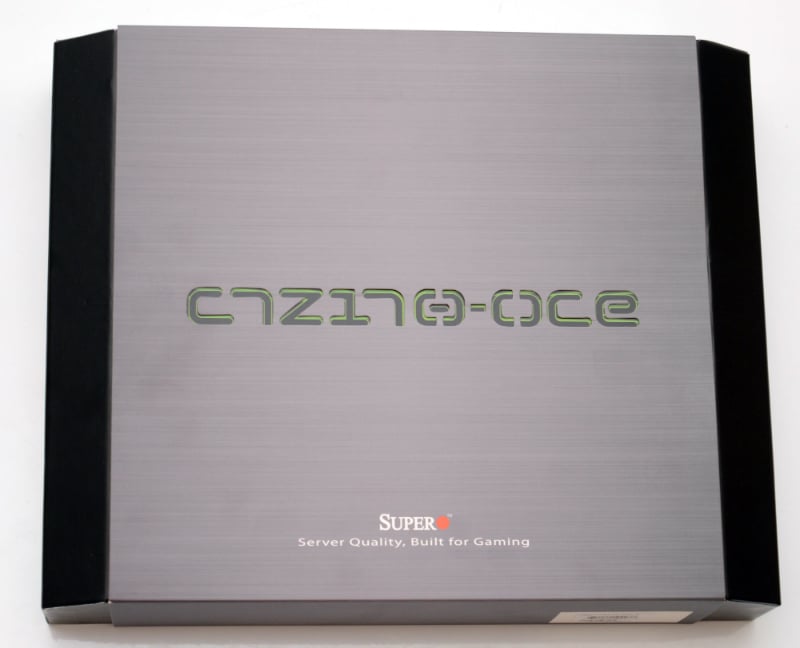 On the rear, there's a detailed description of SuperMicro's philosophy to bring server quality to the gaming market. Furthermore, this section outlines the key specification in an easy-to-understand manner.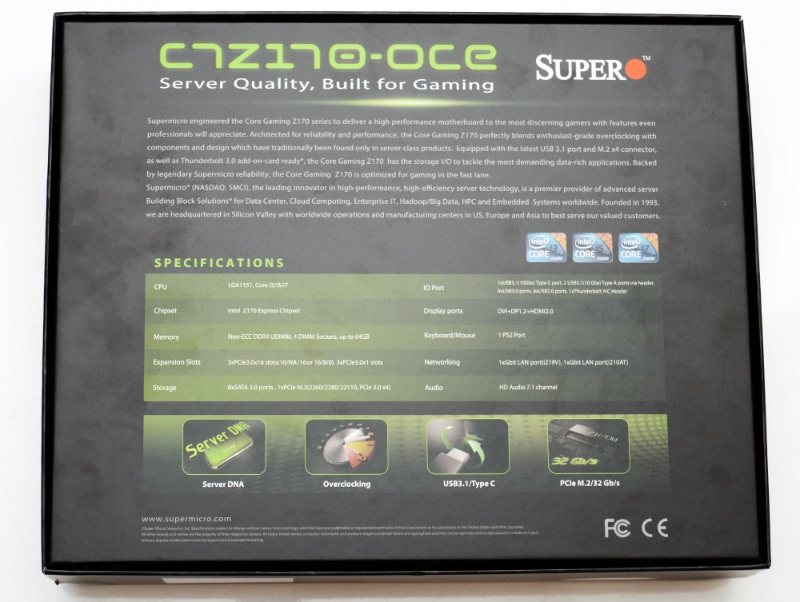 In terms of accessories, the motherboard is packaged with a driver disk, I/O shield, M.2 screws and a quick reference guide. Unlike the majority of other vendors, the SuperMicro guide is fairly brief and provides a technical rundown of the motherboard layout. While I find the included diagram quite useful, some users might prefer a more comprehensive set of instructions to help with troubleshooting. For example, the user's guide directs you to URL to find the meaning of each BIOS debug code instead of printing them. This is important because when the system fails to post, you cannot access the online documentation. Although, I guess it's easy enough to check on a phone or tablet for the meaning of each error code.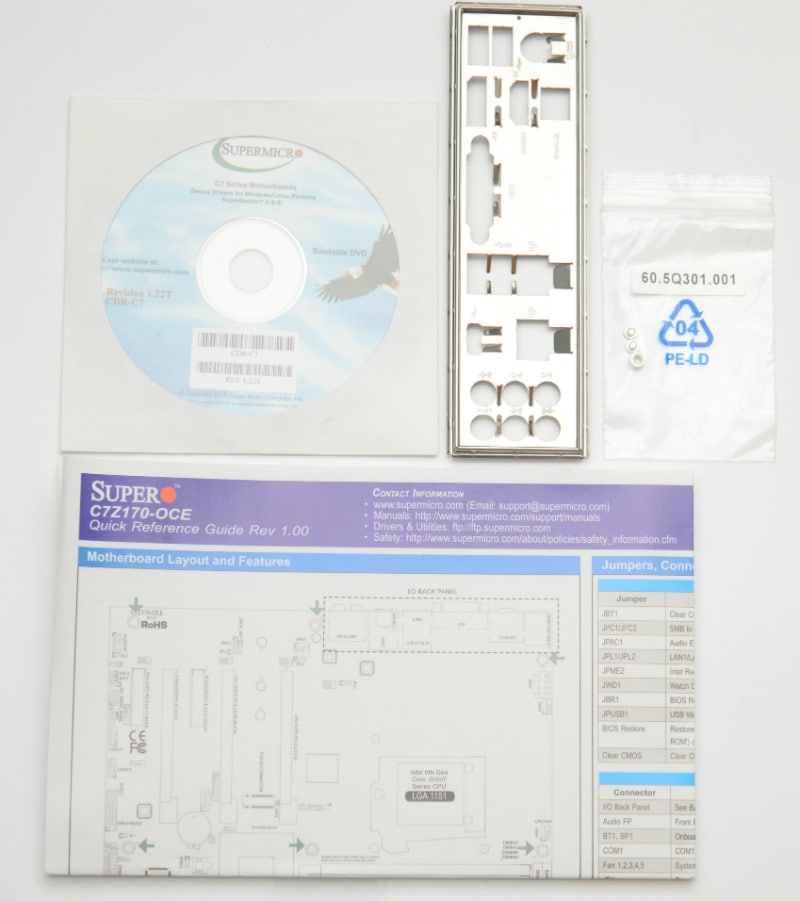 There's also six SATA connectors in a red finish. Ideally, I'd like to see three of these with a right-angled end, and the red colour doesn't really match the motherboard's theme. Perhaps, swapping the red for green, or a jet black tone would enhance the overall level of synergy.