Synology DS1618+ 6-Bay High-Performance NAS Review
---
---
---
Bohs Hansen / 4 years ago
Introduction
---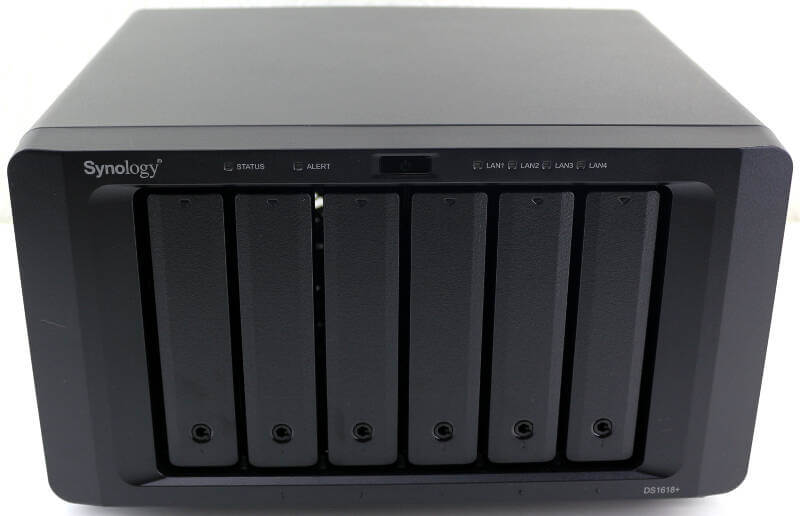 Synology DS1618+ 6-Bay High-Performance NAS
Synology recently released their DiskStation DS1618+ NAS device and today I'm taking a closer look at just this device. The 6-bay NAS is built for high-performance usage, ideal for tackling multi-tasking challenges. It is also expandable!
Base Hardware of the DiskStation DS1618+
The DS1618+'s base is one of Intel's Atom C3538 quad-core processors with a 2.1GHz clock speed. The system has two DD4 SO-DIMM slots of which one is populated with a 4GB module. The maximum memory support is 32GB through two 16GB modules. We see here, that this is a well-performing unit.
Naturally, the processor features hardware-based EAS-Ni encryption. A must these days, at least as soon as we enter the SMB market.
The connection options aren't without either. To start with, we get four Gigabit Ethernet ports which can be combined for extra throughput or failover protection. Further, the DS1618+ has three USB 3.0 ports and two eSATA ports.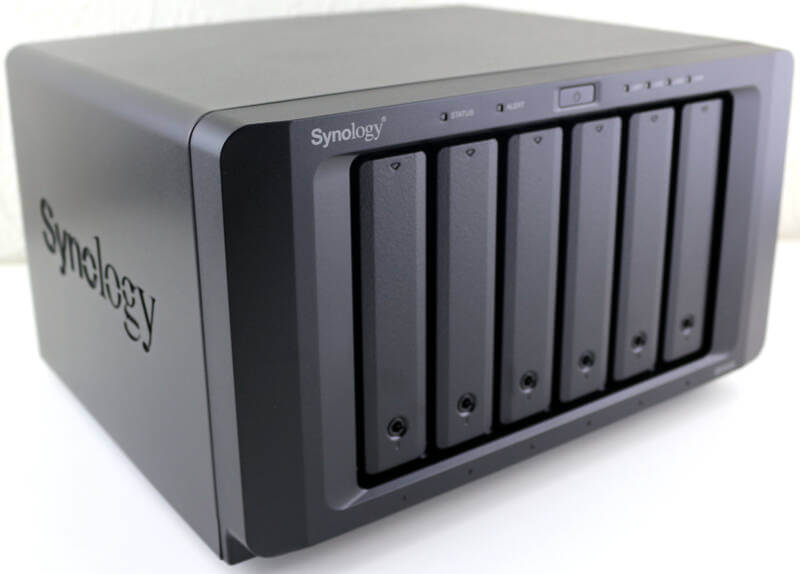 A NAS Ready for Expansion
A solid base is great, but what if you want more? At the same time, it isn't everyone who has the same needs for their storage server. Still, most people will find a use for a DiskStation DS1618+. It has a great and powerful base and it can be expanded in several areas.
The DS1618+ comes with a PCIe expansion slot to support add-in cards. The slot is a Gen 3 x8 slot with an x4 link. Synology has two of their own cards ready for this, the M2D17 and the 10GbE. The first is a dual M.2 SATA SSD card for high-IOPS system caching and the second is 10GbE NIC for ultra-fast data transmission.
Externally you can expand the unit with another 10 drives. You can connect up to two 5-bay expansion units to the two eSATA ports.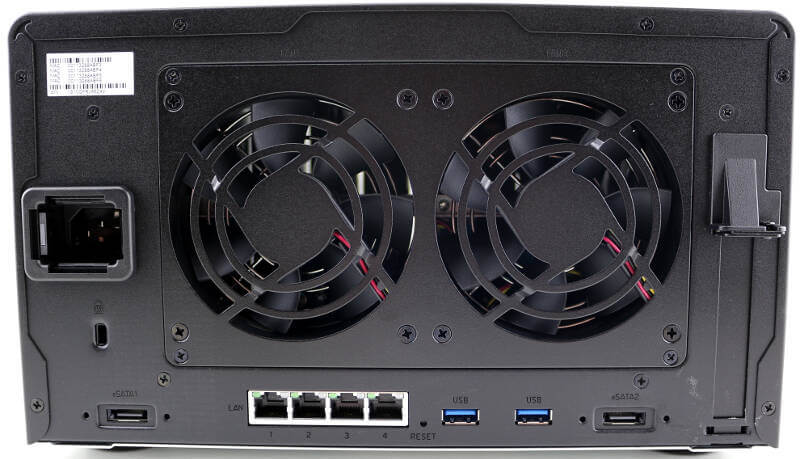 Fully Packed with Office and Collaboration Features
With a Synology NAS, you can do a lot more than just store your files. They have worked hard on both the operating system and extra apps for years, and it shows. With the latest version of DSM, your Synology NAS turns into a complete collaboration solution. Share files with Drive, create and edit office documents spreadsheets, create slideshows, and chat with your colleagues. It is all built-in and set up with just a few clicks.
The features are a lot like those you know from Google, from their Drive to Spreadsheets and Documents. The difference here is, you host it all yourself. Your data stays on your server and you stay in full control. Where sensitivity matters, that's a bonus.
We'll take a deeper look at all these function in a seperate article.
Backup Solution for Everything
A lot of NAS devices work mainly as backup targets, and that's okay. Synology also has you covered in this area. The Active Backup for Server function is an agentless solution. With it, you can protect your data from Windows and Linux servers through SMB and Rsync.
Hyper Backup is a complete solution which allows you to back up your data to a local shared folder, an external device, another Synology NAS, a rsync server, or even a public cloud solution. Then there's the Desktop Backup too which is intended to safeguard your PC. It works in conjunction with Cloud Station Backup for effortless data storage. MacOS users can also use Time Machine.
Last, but certainly not least, you get Active Backup for Office 365 and G Suite. Synology says it best with their own words: It is an "On-premise backup solution with a centralized dashboard. Optimize storage efficiency with single instancing and block-level deduplication technology."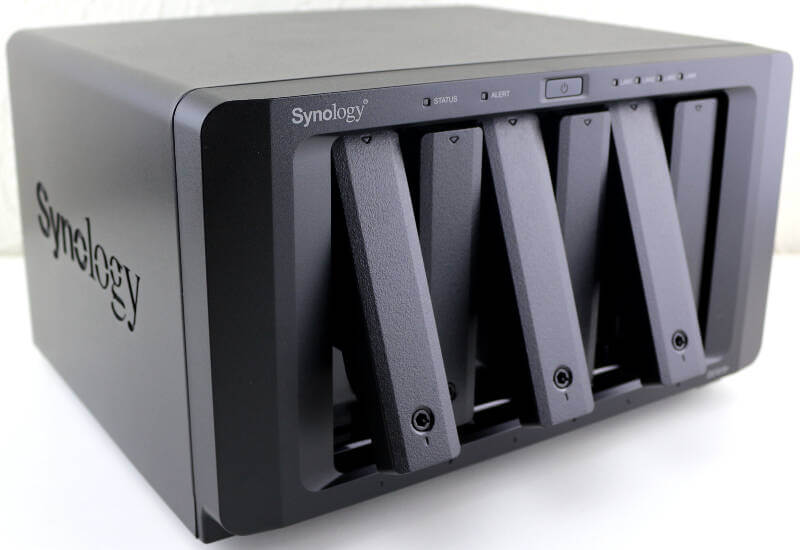 Cross-Platform Sharing with Modern File Systems
Cross-platform sharing is a given on any NAS these days, from Samba over AFP to NFS and FTP. It's all there. The DS1618+ features both the Btrfs file system as well as an iSCSI Manager for increased storage flexibility.
It is still possible to format your volumes with EXT4, but it is inferior to Btrfs on many levels. With Btrfs, you get a flexible Shared Folder and User Quota system. It provides a comprehensive quota control on all user accounts and shared folders.
Snapshot Replication might be the biggest advantage, at least in my opinion. It provides schedulable and storage capacity-saving data protection with 1,024 shared folder backups and 65,000 system-wide snapshots
We shouldn't forget about the fact that file or folder level data restoration makes data recovery fast and flexible. And then there's the automatic file self-healing which detects and recovers corrupted files without user intervention. If those aren't arguments for Btrfs, then I don't know what is.
You can create your arrays with all the common RAID modes, but there's also the option of Synology Hybrid RAID (SHR) with one or two disk parity.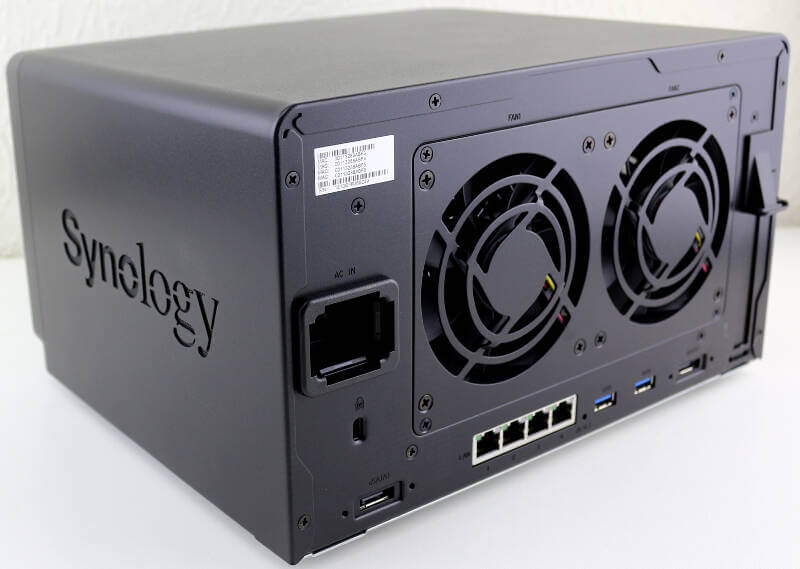 Fully certified storage virtualization solutions
Synology iSCSI storage fully supports most virtualisation solutions. VMware vSphere 6 and VAAI integration helps offload storage operations and optimizes computation efficiency. Windows Offloaded Data Transfer (ODX) speeds up data transfer and migration rate. OpenStack Cinder support turns your Synology NAS into a block-based storage component.
Everything else you're used to from Synology
All the above-mentioned features are just some of the things you can do with a Synology NAS. It is far from limited to those, but it is them it was designed to work with. You can, of course, still, use it to create your own media server or surveillance station. Create your own personal cloud solution or host your website and email server yourself. With a long list of available apps, there are a lot of options and possibilities.
The DS1618+ is powered by Synology's Disk Station Manager (DSM) 6.2 which is the brand new version with improvements all over as well as new additions.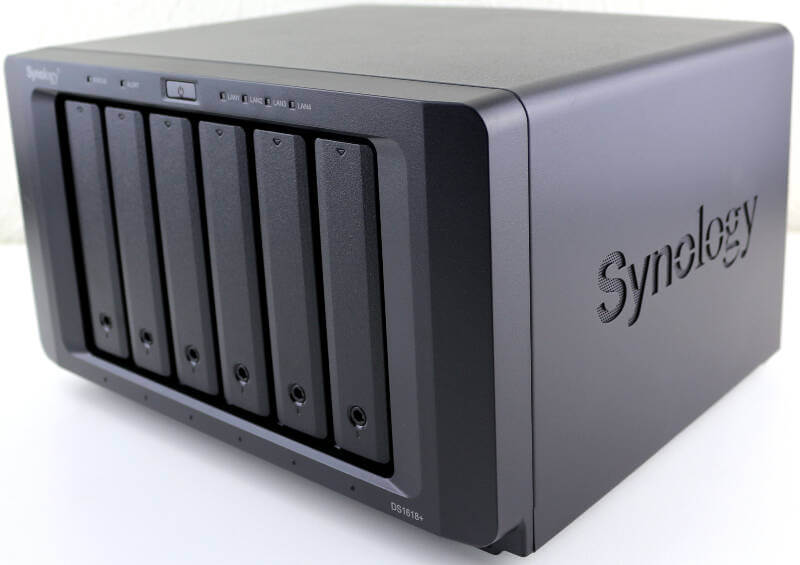 Feature Highlights
Intel Quad-Core CPU
Upgradable to 32GB RAM
Upgradable with an M.2 caching card or a 10GbE NIC
Expandable with 10 additional drives through expansion enclosures
Synology DSM with everything which that contains
Package and Accessories
Synology's NAS packaging is quite simple and one we know from other devices. A plain box with a sticker that tells us what's inside. A perfect way to do it. There is no need to waste money and ressources on a full-colour box print for a NAS. At least not in my opinion.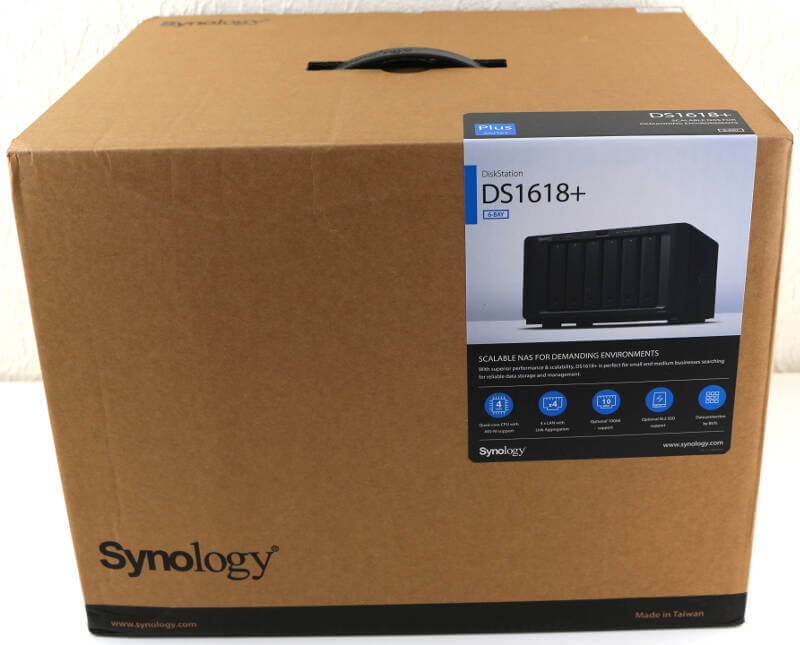 The label which is attached to the box will tell us all we need to know. The model name and amount of drive bays is mentioned right above an image of the actual unit. Below that, you'll find a list of the feature highlights. For the DS1618+, those are the quad-core processor with AES-NI support, the four LAN ports, the optional upgrade options, and the Btrfs file system.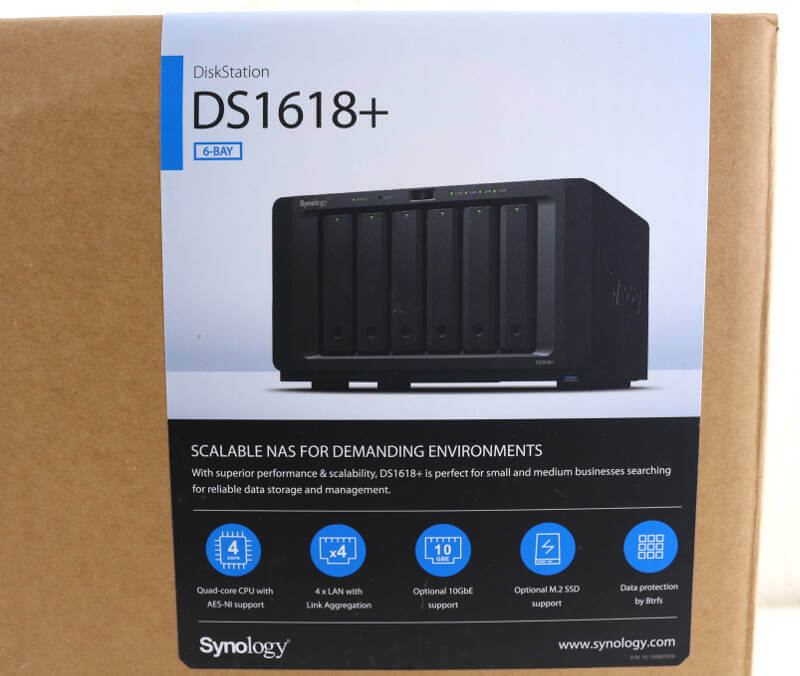 Inside the box are a lot of accessories besides the NAS itself. You get a couple keys for the drive bays, enough screws to mount 2.5-inch drives in the caddies, a quick installation guide, and a free trial of C2 Backup.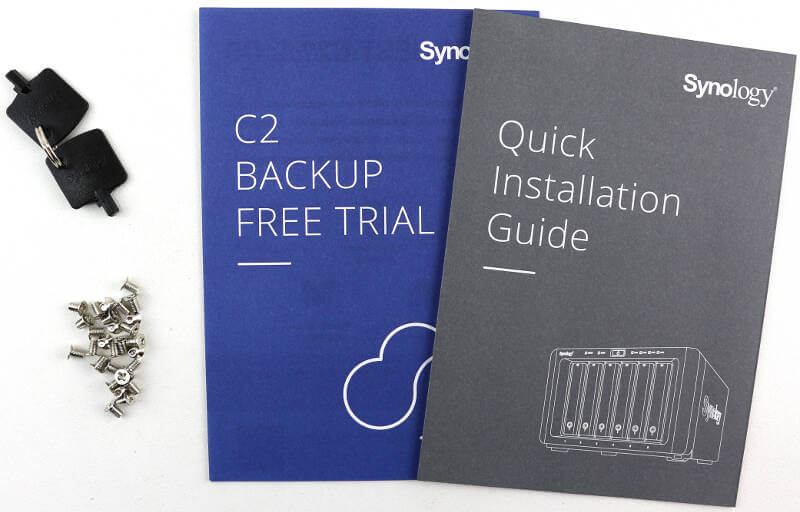 Also included are two RJ45 LAN cables and a power cable which fits the region you purchased it in. I got both a DE/EU and a UK cable in my box.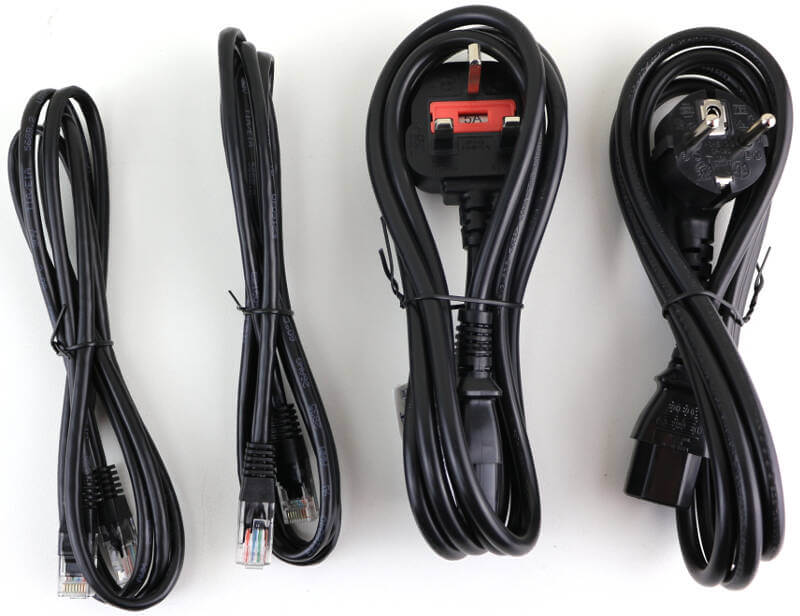 And then there is the NAS itself, of course. A beautiful piece of machinery, if you ask me.