Synology DS414slim 4-Bay NAS Review
---
---
---
Chris Hadley / 9 years ago
Introduction
---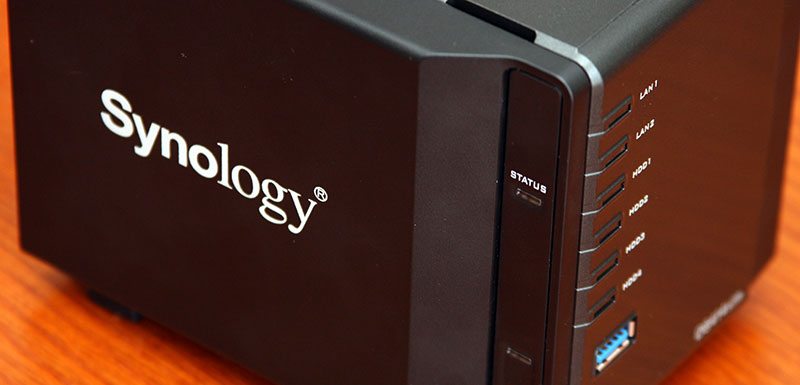 When looking at bulk storage and consequently network storage, the generic blueprint that virtually every vendor follows is a desktop or rackmount system with an even number of drive bays, each with the capacity to hold the largest drives that can be bought on the market today – which come in a 3.5″ format, although we do find a few situations where 2.5″ SSDs are used based on the application of the storage array. Whilst this blueprint is perfectly fine, on the consumer end of the market where we are not always looking at jaw dropping capacities and performance, a typical 4-bay system is not exactly the easiest of things to tuck away under the desk or in the closet and then we have to factor in the cost of getting up and running. 3.52 drives are the only way to go if you want large amounts of storage on hand, but if you want a more modest setup with a system the doesn't end up acting like a foot rest under your desk, there are barely any options out there to choose from.
2.5″ drives are, for the most part, forgotten about when it comes to mass storage. Unless you are talking about solid state drives, we generally find people taking the 3.5″ route, without even considering 2.5″ spinning platters, which are left for the entry-level notebooks and budget ultra-SFF systems and this is reflected [as highlighted above] in the NAS market from bottom to top. Wanting to break away from this generalised blueprint, Synology have made an ambitious move to shrink down their popular DS414 line of systems into a tiny, baby-NAS like package which runs solely on 2.5″ drives, making the presence of a NAS in the home a lot more subtle than before.
With a top end raw capacity of only 4TB, Synology's DS414slim is not going to be a storage monster for those who have tons of films, music and photos to store, but for the average Joe who is looking for a tidy, compact system to blend in with their minimalist desktop setup with a nice and reasonable storage capacity of 3TB (when in RAID5), the slim does start to sound like an interesting investment. It's size is not a sign that we are working on skeleton features either. Whilst we only find a pair of USB3.0 ports and a pair of GbE ports alongside four drive bays, the number of software features that are at your disposal are virtually the same as those found on a full-on NAS such as the DS414 which this is related to. By the time we factor in the lower cost of drives; around £55 / $76 each for one of Western Digital's 1TB Red drives which are build primarily for the consumer NAS market and what you can have here is a tidy little system that offers just as much as its larger siblings.
Whether or not this move turns out to be a successful move by Synology comes done to the build, features, ease of use and ultimately the performance. After all there is not point in getting such a tiny system if the performance is not worth the cost.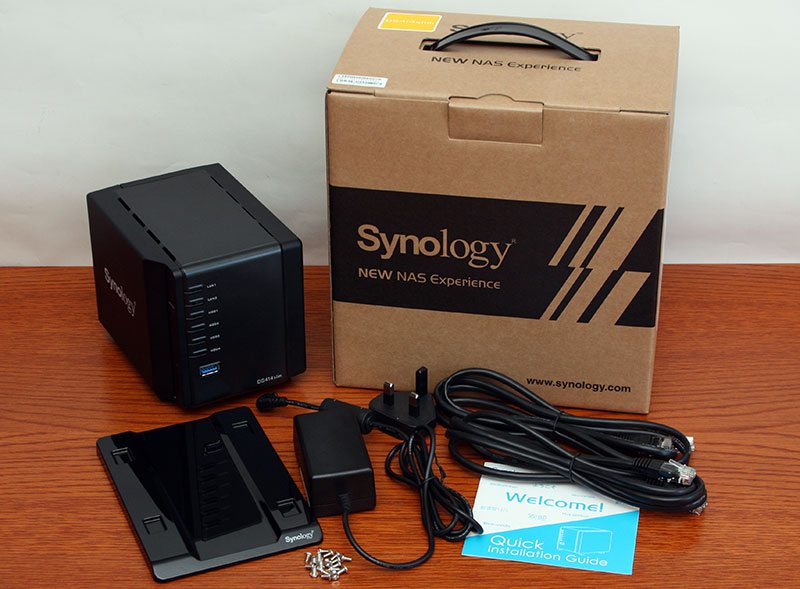 Packed in to the relatively tiny box, Synology provide a power adaptor with regional mains plug, a pair of patch leads, a set of screws, a quick installation guide and something a little bit different – a base on which the unit sits.