Synology Router RT1900ac High-Speed Wireless Router Review
---
---
---
Bohs Hansen / 7 years ago
Introduction
---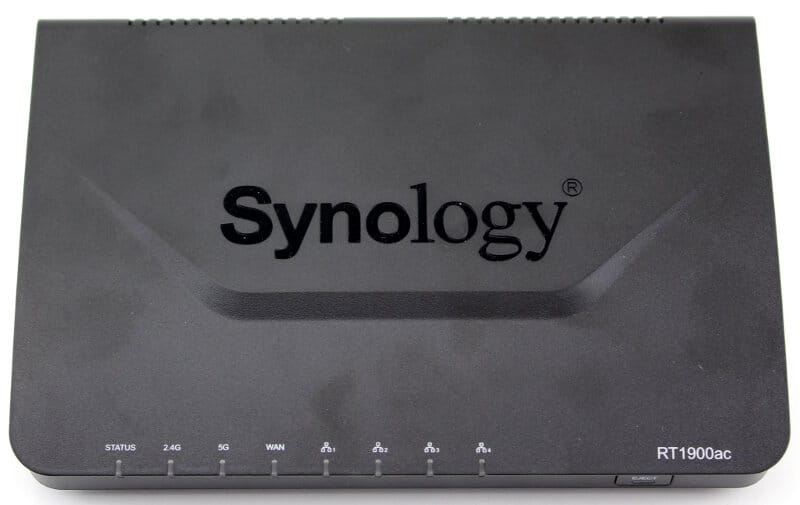 Synology has a long experience producing network attached storage and surveillance devices so it was just a matter of time before they expanded into more similar areas. They got the knowhow and the expertise to do so and today I'm taking a closer look at their first router, the Synology Router RT1900ac Wireless Gigabit Ethernet router.
Let us first have a look at the basic hardware specifications. The Synology RT1900ac is built around a powerful dual-core CPU with a 1GHz clock speed and it comes with 256MB DDR3 memory. The dual-band 802.11ac wireless router can transfer with up to 1300 Mbps on the 5GHz band and up to 600 Mbps on the 2.4GHz band. It is equipped with three external and replaceable MIMO omni-directional high-gain dipole antennas with 3.5 dBi for the 2.4GHz band and 4.6 dBi for the 5GHz band.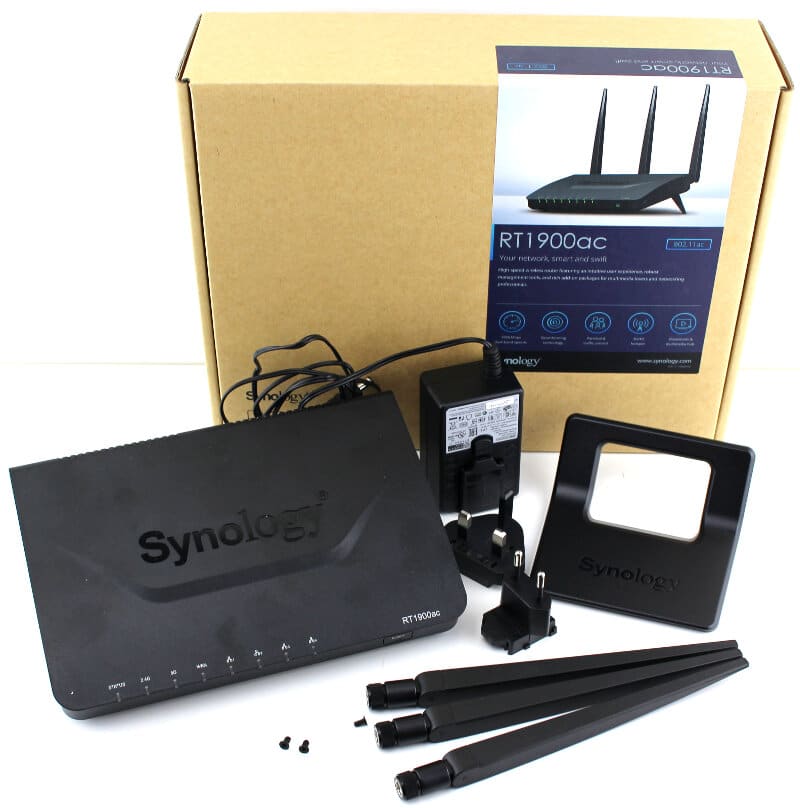 With a hardware base like that, you don't need to worry about lags or bottlenecks. The RT1900ac has four Gigabit Ethernet LAN ports and one Gigabit Ethernet WAN port, all located on the rear in-between the three antenna mounts. The RT1900ac features a power button which is a nice thing to see on a router and while it isn't a feature that is used a lot, it is great to have when needed.
Both the wired and wireless network connections will benefit from Synology's bandwidth prioritization and network traffic control system that allows you to prioritize the important traffic such as your games. After all, you will always want to have the lowest latency that will give you that extra edge on the virtual battlefield. But that doesn't mean that the Synology RT1900ac only is good for gaming, it is also awesome for streaming. You can enjoy buffer-free playback of your 4K movies when streaming them to your media devices around the house.

You don't even need other devices in order to stream your favourite movies, shows, or music to your smart TVs and audio systems as the RT1900ac is DLNA compatible and comes with both a USB 3.0 and an SD card slot. You can also use it to stream from other network storage locations should you not want to use the direct storage features.
The access to connected devices isn't just limited to media streaming. You can share any files on a USB storage drive or SD card (SDXC) via the Synology RT1900ac and access the contents from anywhere as well as share files with family, friends, and coworkers. The RT1900 supports all the common protocols such as SMB, AFP, FTP, or WebDAV. Whether you use a Windows PC, a Mac, an Android, or an iOS device, you'll have access to it all.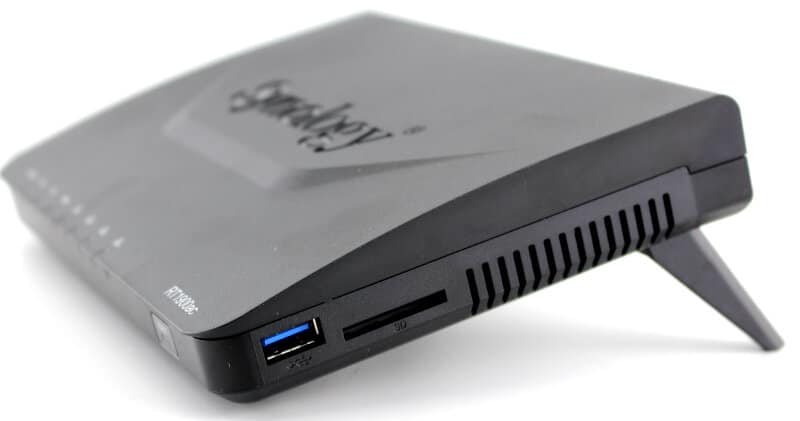 As mentioned, Synology has quite some experience within the network area and they naturally created a great operating system for their new router. The new operating system is called Synology Router Manager (SRM) and it includes both basic and advanced tools such as VPN support, RADIUS server, and more.
The operating system is very similar to DSM, Synology's NAS operating system, and comes with the same user-friendly interface and multi-task abilities. You can also go beyond the basic and pre-installed features and download more functions through the Package Center. Transform your router into a personal VPN server, professional RADIUS authentication server, 24/7 download hub or make it into your multimedia hub. The choice is yours.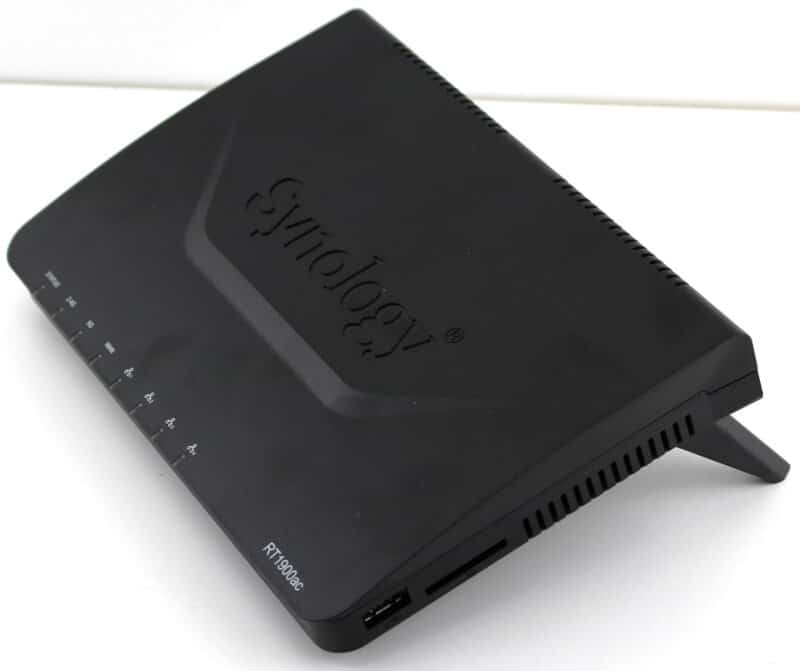 We have seen two out of four sides on the new Synology Router RT1900ac so far and below is the third side where we also find features to highlight – there is something everywhere on this router. On this side we find a button to turn the Wi-Fi completely off and back on again for when it isn't needed. There is a growing concern among some people who fear that exposure to wireless signals of all sort can affect us and those people, and everyone else too, have the ability to easy switch the wireless signals on and off depending on when they are needed.
Next to the Wi-Fi on-off switch we find the WPS button for easy connectivity between the router and other devices. A simple touch of the button on both devices and they will pair with each other and establish a connection. No need to search for the correct Wi-Fi network among all the possible ones and no need to enter any complicated passwords.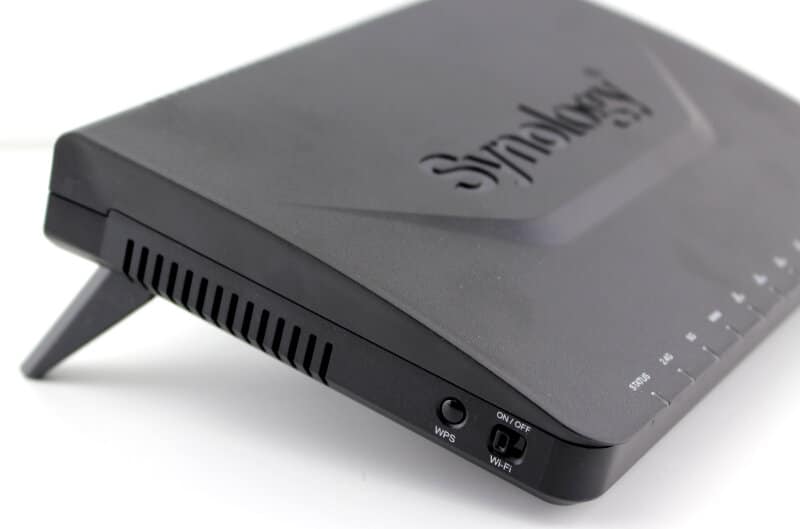 There is one more thing that I haven't shown you yet and that is located right on the front of the router, around the corner from the USB port and SD card slot, and it is the one button that I have been missing on every single device with these ports since they came into existence. A hardware eject button. Simply press the button and the operating system will safely unmount the drive and make it ready for safe ejection. This is so much easier than having to log into an administration interface just to press a button to eject the drive.

Now that we've seen what the Synology Router RT1900ac is all about, it is time to mount the antennas and get a closer look at them. The squared antennas look out of the norm and fit well with the router. Synology also added smart Beamforming technology that lets the RT1900ac focus wireless signals toward up to six simultaneous devices and thereby increase the range, reduce the latency, and economize the power consumption.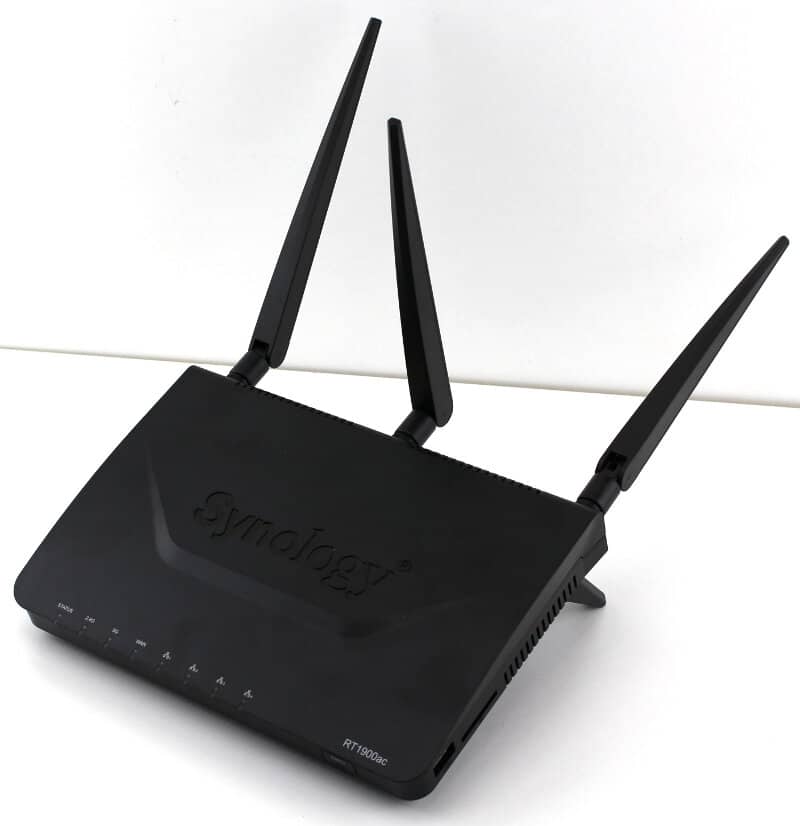 Synology packed the Router RT1900ac with quite a few great features such as application layer quality of service (QoS) that lets you see how much bandwidth is consumed by individual applications and devices and then lets you restrict the amount of bandwidth the device or application is allowed to use. It also comes with parental controls such as time scheduling for individual devices as well as intelligent and manual web filtering.
Synology also added support for their QuickConnect service which makes remote control and access as easy as the local. Just register a unique and customizable QuickConnect ID, and you'll to be able to log in to Synology Router Manager, access connected storage devices, and do much more from anywhere with an Internet connection.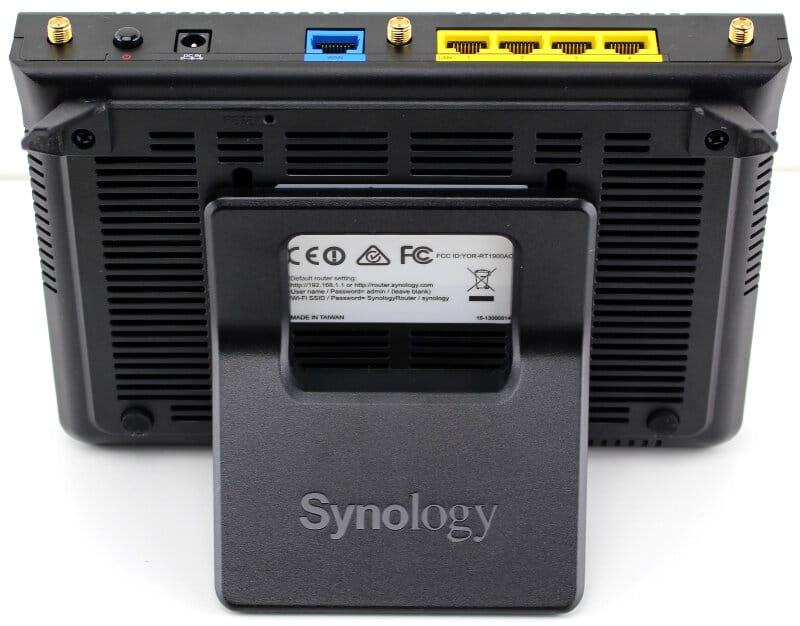 Packaging and Accessories
Synology packed the RT1900ac in a simple brown box which is all that is needed. It has a sticker on the front showcasing the router itself and its feature highlights.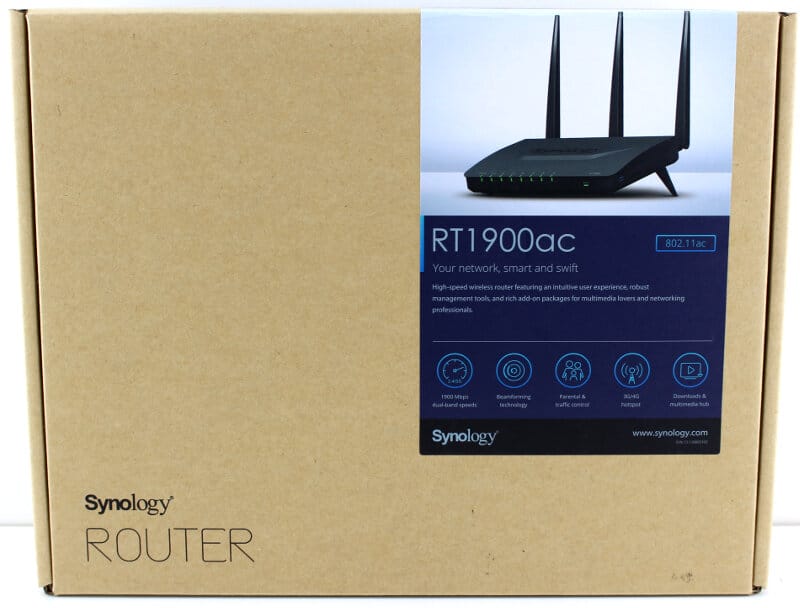 The rear side of the box has another sticker with a few more details and the device's specifications and usage scenario as well as what the package contains.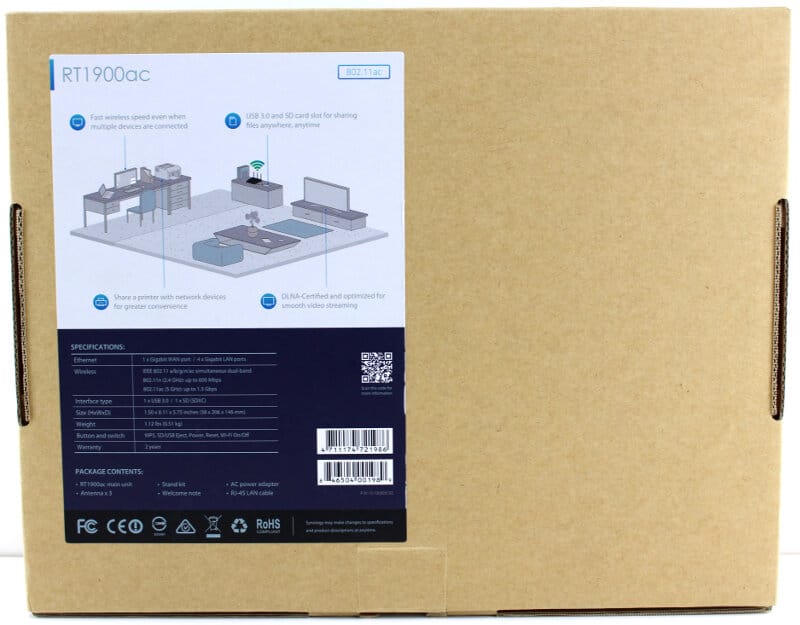 Inside the package is a power adapter with connection options for the region where you purchased the device, in this case there is a UK and a slim-EU plug included. There are also three high-gain antennas and the extra stand in case you should want to have it in an upright position.