Synology Surveillance Station 8.0.2 Officially Launched
---
---
---
Bohs Hansen / 6 years ago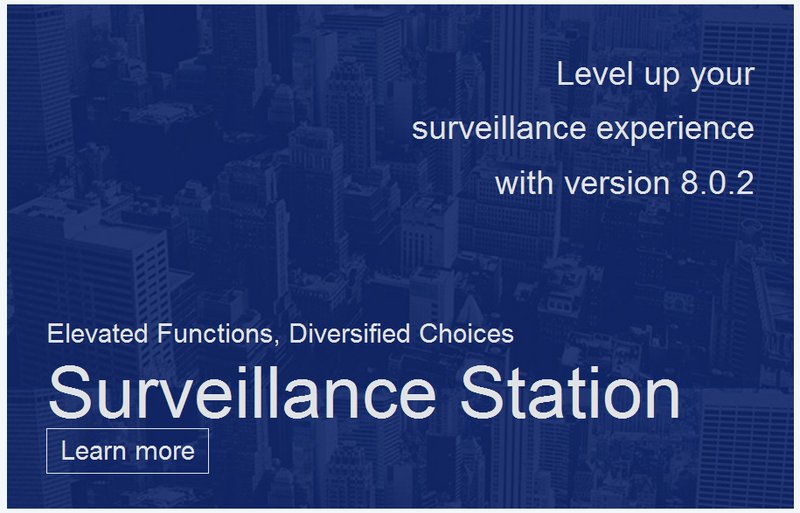 The surveillance station is a vital part of many NAS setups. It is the backbone of many surveillance setups and Synology is constantly improving the app to deliver a better experience to users. That's no different for version 8.0.2 which just been launched.
While the new version doesn't look like a major change at the first glance, it does bring some improvements that are worth it. The newly-supported layout, which can contain a maximum of 100 (10×10) channels, as well as the added scaling options of "High performance" and "High quality" provide you with a powerful and flexible surveillance system.
There's also good news for those about to invest in a new surveillance system as the new version comes with extended compatibility thanks to the Surveillance Device Pack 5.2. The new device pack has over 140 cameras added to the compatibility range of Synology's Surveillance Station and started to support DAHUA generic camera API.
The new version also comes with improved cloud sync, although that's still in a beta version. However, it does offer more flexibility and enables users to schedule sync tasks according to needs.
You can find the full changelog for version 8.0.2-5158 below
Compatibility and Installation
Surveillance Station 8.0.2 must be installed on Synology products running DSM 6.0-7321 and above.
What's New
Added new "High performance" and "High quality" video scaling options in Video Settings.
Added support for 9×9 and 10×10 channel layout.
Added support for sending Surveillance Station logs to a Syslog Server.
Added support for authorising camera add/delete, e-map, I/O module, and layout privileges for managers.
Added support for attaching snapshots to AXIS Door Controller notifications.
Added support for setting the PIN length for AXIS Door Controller A1001.
Added support for AXIS speed dry function.
Added support for managing cameras paired with AXIS Door Controller in Live View Alert.
Added support for selecting multiple video channels when adding or editing AXIS generic models.
Enhanced the fluency of playing live view videos.
Enhanced the compatibility of user defined stream path format.
Fixed Issues
Fixed an issue where the system may be abnormal if unusual interruptions occur during the upgrade of Surveillance Station.
Fixed an issue where the archiving rule may reset after editing the brand and model of the camera.
Fixed an issue where spectators may view unauthorised connected client lists in the Client Management application.