T-Mobile Users Now Able to Gain Data Free Access to Music
---
---
---
Chris Smith / 9 years ago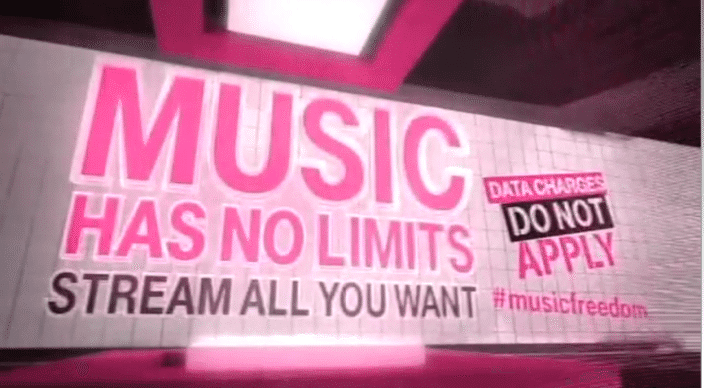 T-Mobile hit the market hard at Seattle's Paramount Theater last night, announcing some big offers to end users.
Alongside their 'free trial' offer of an iPhone 5s to potential subscribers, T-Mobile have announced that their service will allow free data streaming to all top music streaming services, including:
Pandora
iTunes Radio
iHeartRadio
Slacker
Spotify
Samsung's Milk service, and
Rhapsody
T-Mobile currently offers its consumers 1GB, 3GB or 5GB worth of full speed data allotment – go over this cap and you will be reduced to functioning on 3G speed. But with the announced change coming into effect, you'll receive full speed unlimited service on these streaming services no matter if you're over your cap or not.
Some people are claiming this service may be an issue to 'net neutrality' as offering this service for only a select few streaming companies helps give them a boost. Rdio is one main contender missing from this list as you may have noticed, but T-Mobile's John Legere stated that these chosen stream services are not due to a business move or competitive angle. Either way it's certainly a cop out for the smaller guys and Rdio alike. Legere also went on to state that T-Mobile's plan is to include all streaming services in the future – whether realistic or not is up to you to decide.
All-in-all we're sure that consumers are generally quite happy with this news because in our experience, streaming uses a lot of data!
What could this mean for premium streaming subscriptions? Currently in Australia Spotify premium subscriptions are quite popular, due to the ability to download music to your device and that streaming uses quite a high rate of data on our current low caps. Can the same be said for T-Mobile's current target audience? Or can this be easily written off by Spotify as extra users, extra ad listeners and extra exposure?
Want to see your favourite streaming service added? T-Mobile have claimed they will be opening the next contenders up for customer voting.
Image courtesy of 9to5mac.