T-Mobiles Binge On Service Throttles Connections To Video Sites
---
---
---
Gareth Andrews / 8 years ago
T-Mobile recently announced a new service in which customers would be allowed to stream unlimited video without it counting against their data limits. The problem being, those videos can only come from select partners. Now it looks like agreeing to this new service slows down every other video you wish to see.
The new service, Binge on, would provide users with unlimited access to Hulu, HBO Now and SlingTV, while T-mobile also stated they would double the data limits for their current plans but if you sign up to the new service, don't expect a new smooth connection on other sites. The result of signing up to the new service is that you will find your connections throttled to other sites and even downloading videos will be slowed down and showed at a much lower quality (thanks to many sites automatically downgrading your quality so that you can keep watching without the show being interrupted).
This news comes courtesy of the Electronic Frontier Foundation (EFF) who reported that all connections were throttled, regardless of where they come from. The results of this can be seen in the graph below that was produced by the electronic frontier foundation.
When it comes to getting answers though it hasn't been a good time. John Legere, CEO of T-Mobile, didn't take too kindly to being asked by the EFF is the service alters the video stream or just limits its bandwidth. His response was the video posted on twitter below, please be aware that it does contain bad language.
.@EFF pic.twitter.com/pv6V4oOJwS

— John Legere (@JohnLegere) January 7, 2016
Tweets since have said that it is not a personal mission against EFF and that Legere is aware of who the EFF are, but claims that they are using this as an opportunity to spearhead a campaign about a different topic. The topic he refers to is Net Neutrality, a principle that many declare is a founding principle of the internet and that can be summed up as "no single bit of information on the internet is more important than another". Net Neutrality means that throttling some data at the expense of others, or even creating fast lanes for certain services, goes against what many believe to be the fairest and the only way the internet can continue to work.
Some have taken this news badly, some with some humour. While you can turn the service off, remember that you automatically are opted in, so if you use Youtube or other streaming sites a lot, remember to look into disabling it.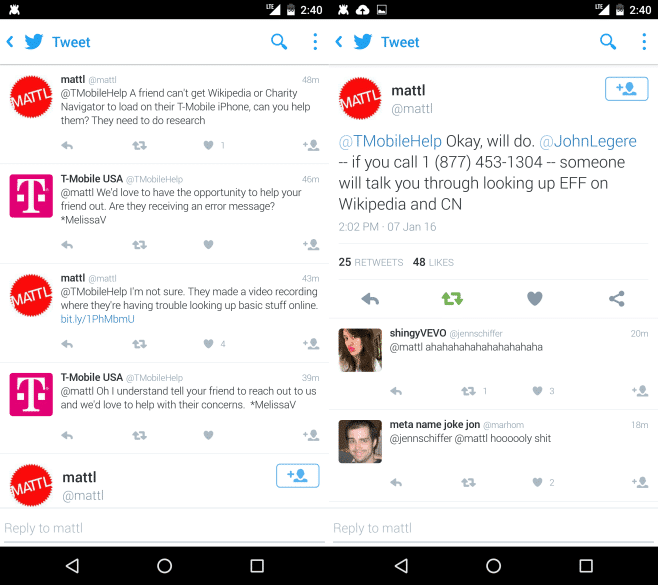 Images courtesy of EFF and Android Police.