TeamGroup Announces New USB 2.0 and 3.0 Flash Drives
---
---
---
Bohs Hansen / 7 years ago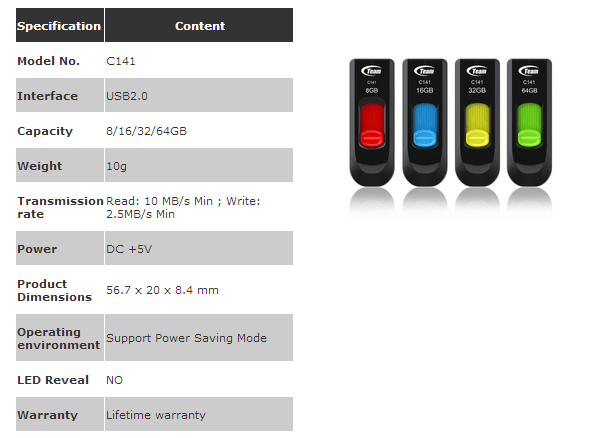 The most energetic days are collected during the summer vacation. Team Group enjoys the summer vacation with students by promoting two visual Flash drives C141/C145. C141 and C145 are in the form of retractable USB design without cap-loss issues. They have the streamlined design of American roadster, in addition to bright/matted inter-coating. Finished with a colourful push button and delicate stripping, to convey a colourful concept and create a fine and high level individual style.
That is how TeamGroup presents their new line of Flash Drives. The C141 is a USB 2.0 stick while the C145 is a USB 3.0 stick. Both models are available in sizes from 8 to 64GB. The read and write speeds are the same for both, rated at 10 MB/s for reading and 2.5 MB/s for writing.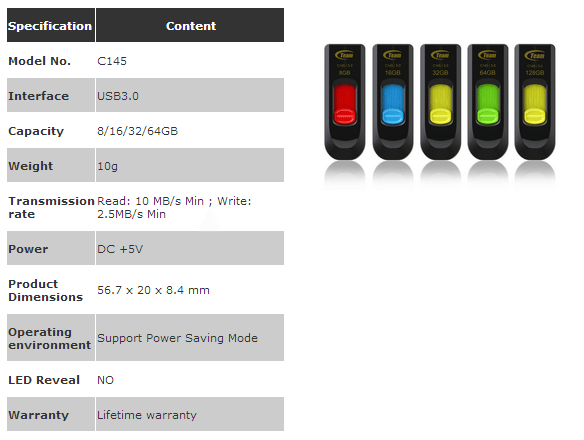 Team Group is the leader vendor for storage and mobile computing peripheral products. In order to meet comprehensive needs of consumers and provide consumers with storage and sharing of videos and data without constraint, perfect warranty and maintenance and exchange services are provided for Team Group full series of products. For any product related information, please visit Team Group official website: www.teamgroup.com.tw, or Team Group Brand Fans Group: www.facebook.com/teamgroupinc
There isn't that much spectacular to say about these two new drives, but they do come with a lifetime warranty. The design is also pretty nice, so if the price is set to match, why not.
Thank you TeamGroup for providing us with this information.
Images courtesy of TeamGroup.