Teratrend TS432U 4 Bay RAID Enclosure Review
---
---
---
Chris Hadley / 10 years ago
Introduction
---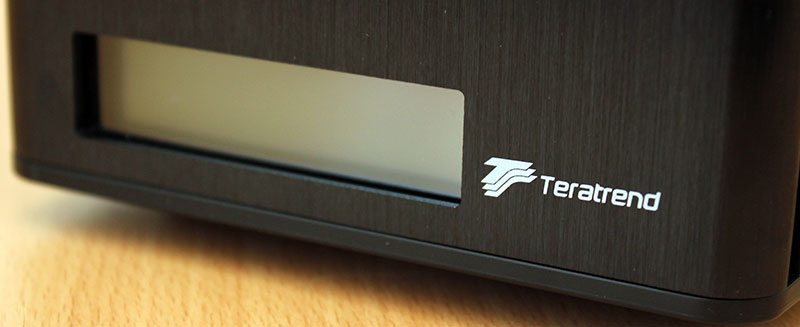 Just over two months ago, I had a look at the TS231U 2-bay external RAID enclosure from Teratrend – a sub-division of Silverstone. Whilst I loved the refined looks of the metal chassis and the rather simple setup process and overall the concept of what it does, I was sadly left a little disheartened over the slow speeds experienced – especially with the unit setup for RAID0 operation.
Teratrend naturally wanted to make amends on the impression that the TS231U left me with and after taking on board the feedback I've had to give them, they sent me out a unit of a higher calibre. The TS432U that I'm going to have a look at today, as the title suggests, is a four bay unit. Whilst the TS432U as doubles the potential storage capacity that the TS213U could handle, there are more RAID options to play with and a LCD display on the front to make configuring and maintaining the unit far easier than before.
Like NAS systems that I have a delve into, four bay RAID enclosures like this unit have a large number of advantages over smaller two bay units, however there is one particular advantage that stands out over the rest. This is RAID5. For those that are totally clued up on RAID, there are eight standard levels of RAID, however a number of these are not commonly used. RAID5, as mentioned, is a key RAID level that many opt for as it's not only provides data spanning across multiple drives but it also allows for the data to still be accessed if a single drive were to fail. For the purpose of this review I will focus on RAID0, 10, 5 and JBOD for performance comparison.
Before I take a closer look at the TS432U, those that have read my review on the TS231U will note a large number of similarities between the two units, in-fact bar the addition of an extra two drive bays (and the consequent RAID options that come with this), the only feature that this unit has over the other is a LCD display on the front.
With this drive having two slightly different designs (either with a screen or without), Teratrend have kept packing costs down by using the same box for both SKUs of the four bay unit. To distinguish the units apart once they have been packaged, a sticker is placed on the front of the box to indicate which unit is inside. Alongside the unit is a IEC kettle lead, USB 3.0 and eSATA cable and a CD with the user manual and system utilities on.