Tesla and AMD Collaborating on Self-Driving Cars
---
---
---
Ashley Allen / 5 years ago
AMD and Tesla are working together to achieve self-driving cars, according to CNBC. Despite an existing relationship with NVIDIA, Tesla is turning to AMD to create an AI chip for its work-in-progress autonomous electric vehicles. Following the news, AMD shares spiked by nearly 5%.
Tesla and AMD
CNBC's Jordan Novet reports:
"Tesla isn't completely going it alone in chip development, according to the source, and will build on top of AMD intellectual property.

AMD shares spiked after CNBC reported that the company is working with Tesla. Shares of the stock ended the day nearly 5 percent higher and continued to climb after hours."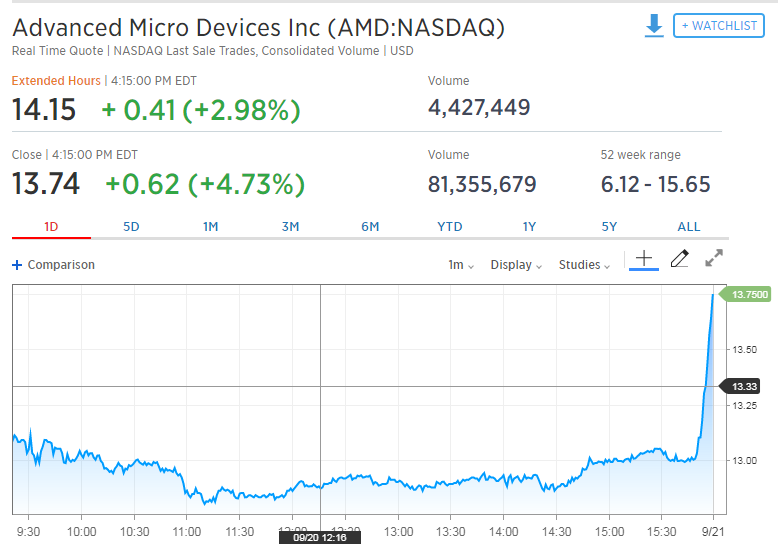 Both AMD and Tesla refused to comment on the matter.
Tesla's Self-Driving Cars
Tesla, headed by US magnate Elon Musk, has been working on self-driving cars for some years now. Already, Tesla vehicles feature Autopilot, a driver assist feature which helps with parking and braking. Indeed, the company is still some way from driverless vehicle piloting. However, Musk is optimistic that Tesla's only two years away from autonomous driving:
On @Tesla autonomy, @TEDchris: "How long until you can get in your car, fall asleep, and wake up at your destination?" @elonmusk: "2 years."

— Dave Morin (@davemorin) April 28, 2017
Tesla and NVIDIA
Tesla is already working with NVIDIA on similar technology. In fact, the pair's partnership is six years old now. The Model S, Model X, and upcoming Model 3 are all equipped with NVIDIA DRIVE PX 2 in-car computers. Does Tesla's new deal with AMD put its relationship with NVIDIA at risk?