Tesla Demonstrates New Snake Like Charger
---
---
---
Gareth Andrews / 8 years ago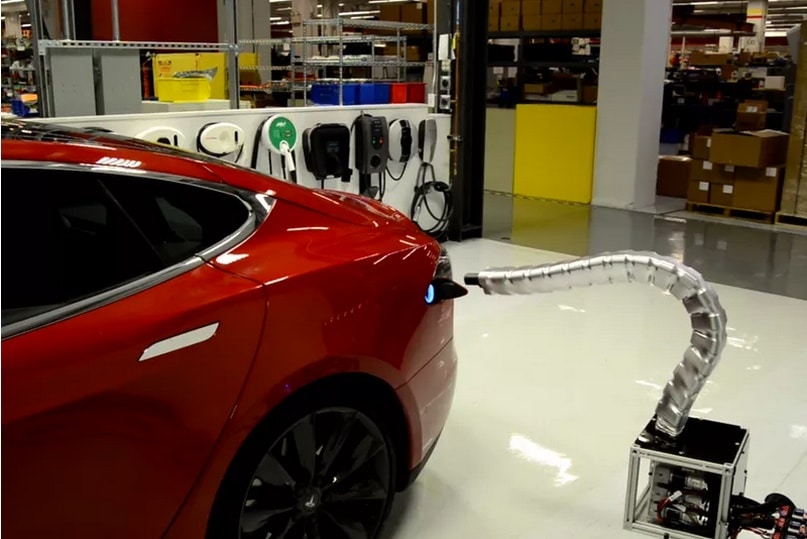 We've all seen the spaces, car parking areas with small rods sticking out the floor and a big sign saying "electric car parking space". With electric cards on the rise, charging them is becoming more and more important to companies and their users. One of the big issues is the cable you need to plug in. Imagine leaving your car pumping fuel into itself while you went into the supermarket to do your shopping? Now imagine not having to plug your car in at all, instead it plugs itself in! Tesla's new charger does exactly that.
Back in December, Elon Musk, product architect at Tesla Motors tweeted saying that they were working on a charger that "automatically moves out from the wall & connects like a solid metal snake". Today, they revealed that project.
Charger prototype finding its way to Model S. https://t.co/L9E4MR642G

— Tesla Motors (@TeslaMotors) August 6, 2015
The actual design does look like a solid metal snake, and the way it moves just seems to be like it's taken the concept from a creepy science fiction film.
Soon you may just have to park up and walk away as your car gets plugged into and charged while you're doing your weekly shop, nothing could go wrong right?
Thank you to the Verge for providing us with this information.