Tesoro Gram Spectrum Mechanical Gaming Keyboard Review
---
---
---
Peter Donnell / 5 years ago
Introduction
---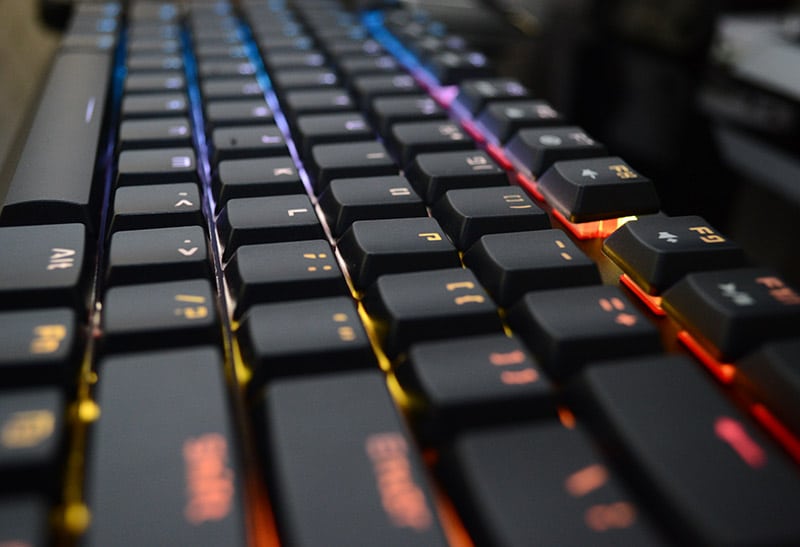 The mechanical keyboard market is hardly short on choice, with a huge number of brands providing a massive range of keyboards for work and gaming, with various switch types, sizes, lighting effects and more. These days, many keyboards have to offer something unique to stand out from the crowd, and that's exactly what the new Gram Spectrum from Tesoro promises to do. Featuring a super low-profile design, the Gram looks set to be a great keyboard for gamers, with fast and light switches combined with low-profile key caps and a low-profile chassis, allowing for super fast actuation times that could give you the edge on the digital battlefield.
"The rapid reacting Tesoro AGILE key switch offers optimized keystroke, fast response and accurate actuation. Housed in a semi-translucent for optimal transparency and capped with a low-profile key, the Agile switch has a total travel distance of 3.5mm and an actuation of 1.5 mm, and a tactile level of 3 making the GRAM Spectrum the fastest yet tactile low-profile key switch."
Equipped with a slick low-profile design, fully mechanical switches (Kailh), a powerful onboard CPU to ensure lag-free input and lighting effects, onboard memory for macros and fully programmable keys, N-Key/6-Key rollover, on-the-fly recording and RGB lighting effects, this is one very well equipped keyboard!
TESORO AGILE Mechanical Switch
Optimized Low-profile Design
60 Million Reliable Keystrokes
16.8 Million Customizable Lighting
32bit ARM Cortex Processor
1000 Hz Ultra Polling Rate
512KB Onboard Memory
All Keys Fully Programmable
Full N-Key / 6-Key Rollover Options
Instant Macro Recording
Versatile Lighting Effects
Detachable Braided USB Cable
Compatible with Win XP, Vista, 7, 8, 10
Check out this short product trailer from Tesoro for a quick look at the many features you'll find on the Gram
The packaging is nice and simple, with a clear image of the keyboard on the front, as well as some information on the new low-profile switches.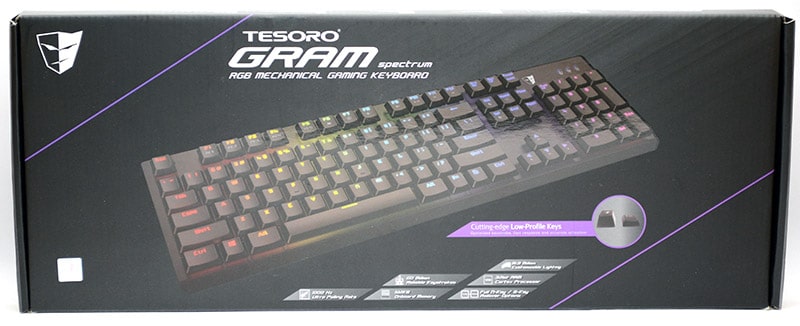 Around the back, a run-down of the main spec, as well as a few more cool images of the keyboard. So let's stop with the boxes, and get in and take a closer look!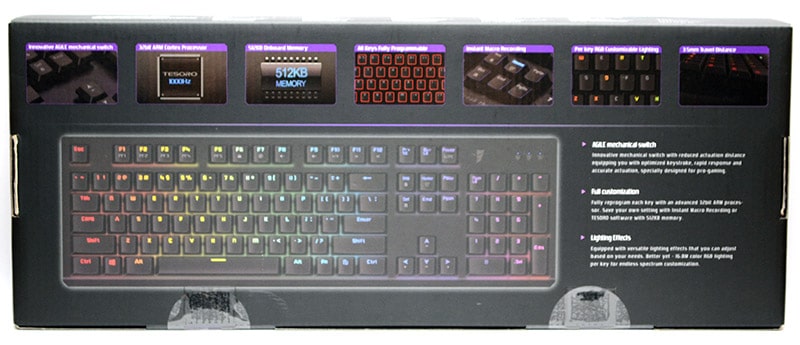 ———————–
A Closer Look
---
In the box, you'll find a simple user guide, as well as a detachable mini-USB to USB braided cable, which also features gold-plated connectors.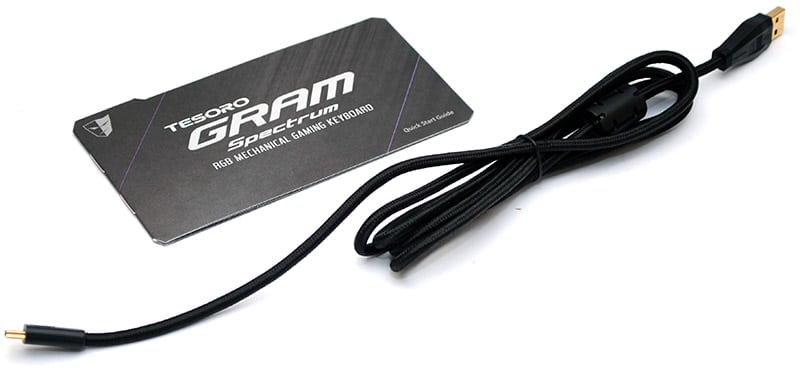 Straight away we can see that the keyboard really does have a sleek, flat and very low-profile design. It may look fairly lightweight too, but it's really not, as it features a cast metal top plate for the switch mounts and top external panel, giving it a fairly hefty weight; although no more or less than most other mechanical keyboards.

This heavy-duty design is a good thing, as with such a thin design, you wouldn't want the keyboard to flex or bend when you're using it, and with such a well-reinforced design, there's no chance of that happening with the Gram.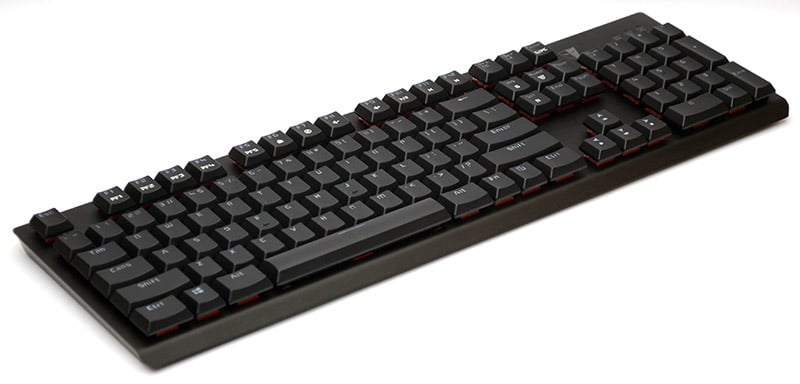 The slick key caps are very nicely designed, with a clear laser-cut font that's sure to look great with the RGB lighting powered on. They're also coated, giving them a soft but very smooth feel that makes them quite enjoyable to keep under your fingertips.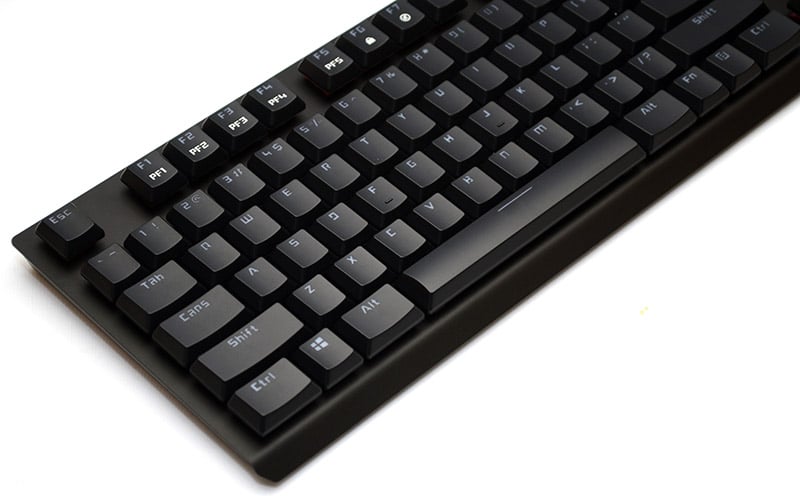 On the F-keys, you'll find a range of secondary features that can be accessed using the Fn-Shift key. F1-F5 feature quick profile selectors; handy for storing all your layouts and macros.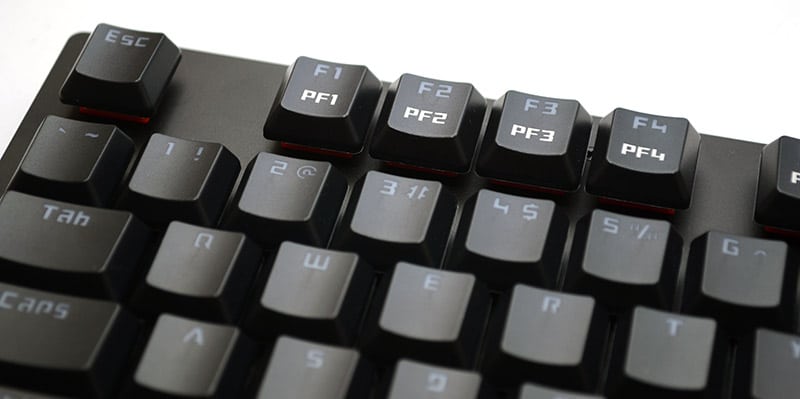 Windows lock, as well as volume controls here.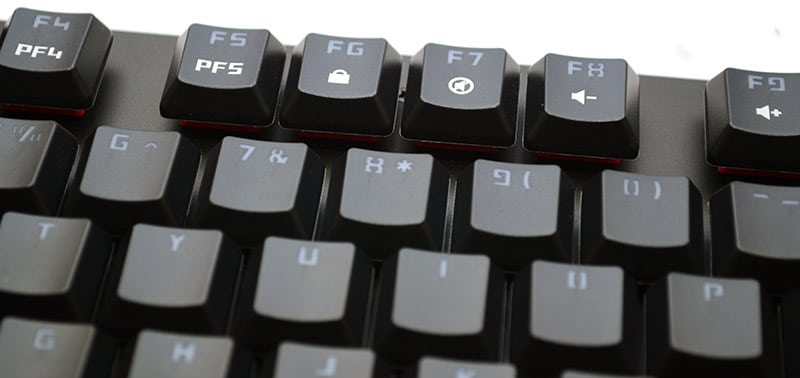 As well as basic multimedia controls here. These are great for controlling your music while you're mid-game, as it saves you from having to tab out; no one ever wants to have to tab out.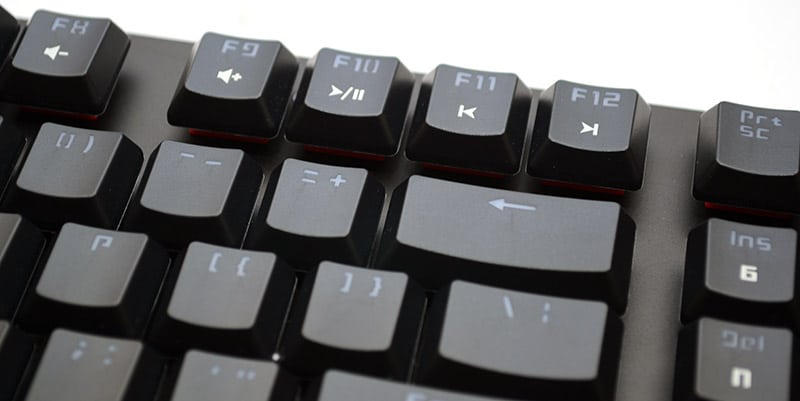 Switch between G/PC mode to lock the Windows key, so that a wrong keystroke doesn't leave you looking at your Windows desktop when you really should have been defusing a bomb in CS:GO. There's also the controls for 6/N-Key rollover here, and a quick record button for macros, which are great when you need to quickly set up an awkward command; like farming low-level enemies in an MMO to grind those XP.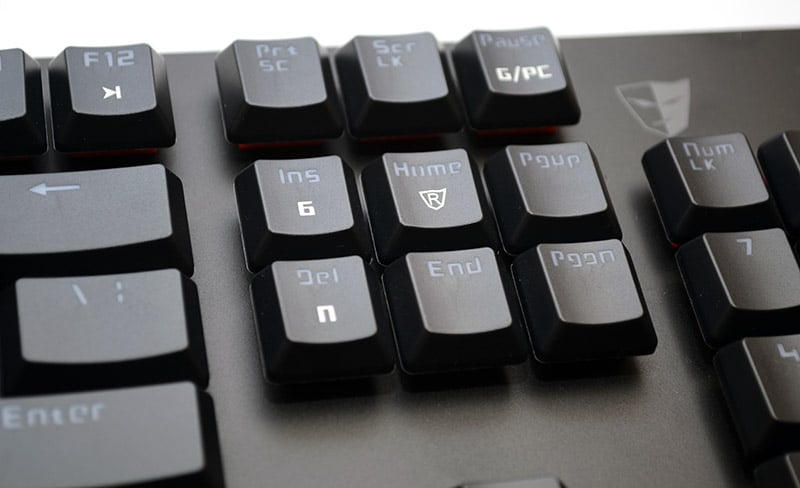 A full-size number pad, as well as a clear look at that lovely slim bezel around the edge of the keyboard.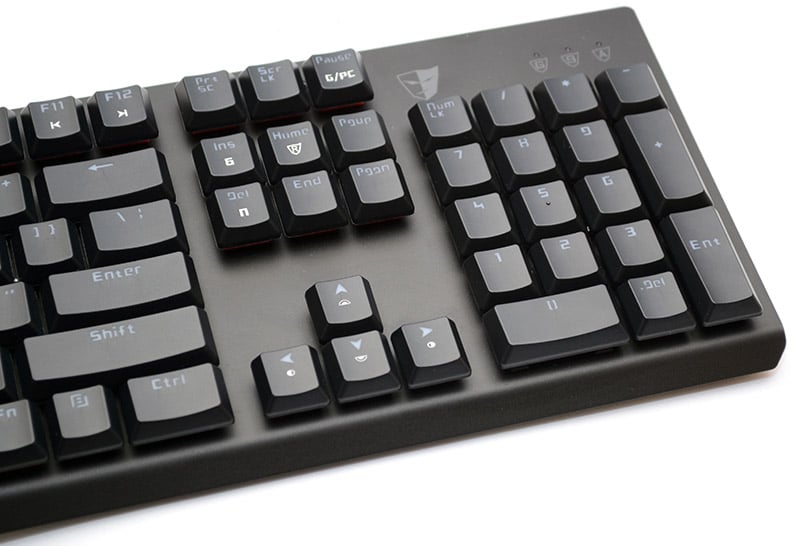 Around the back, just as simple USB connector. I do like that this isn't a proprietary jack, as it means you could easily use your own after-market cable if you lost or damaged the original.

A flat base, with firm rubber grips on each corner.

As well as two extra-wide and durable kickstands with their own rubber grips.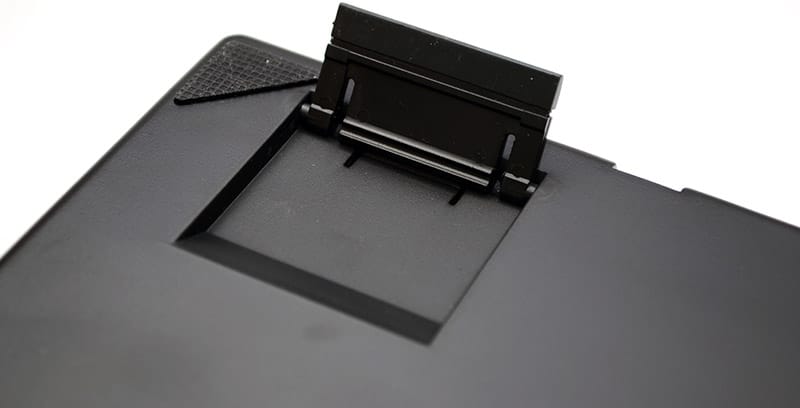 Finally, we can see those lovely Kailh switches, which feature clear housing to allow for more vibrant LED lighting, which we'll see in action soon enough.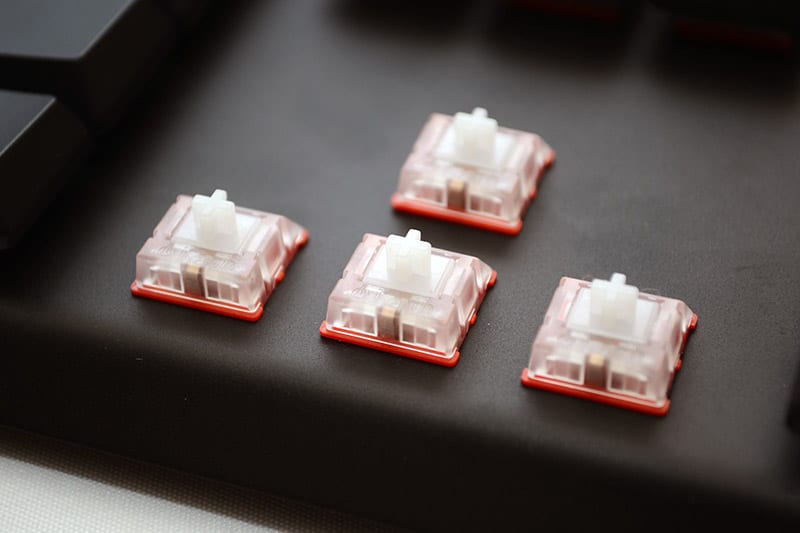 ———————–
Performance
---
One of the key features for the Gram is the super low-profile design, what this means is that with the use of low-profile key caps, as well as a change to how the switches are mounted, the actuation point is much shorter. It's not a huge difference, but this means you spend less time pressing down on the key before you register an on-screen action. That may be milliseconds, but when it comes to competitive gaming, that advantage could be the difference between winning and losing a match.

What I do like is that the keys are nice and light, and as much as they have a short range, they also return quicker, which makes them very well equipped for rapid firing, something that is great for frantic games like League of Legends and Counter Strike.
The keys have a really flat profile from front to back also, where most keyboards curve from bottom to top. This makes it super easy and fast for your fingers to transition across the keyboard, bringing further benefits to touch typing and gameplay.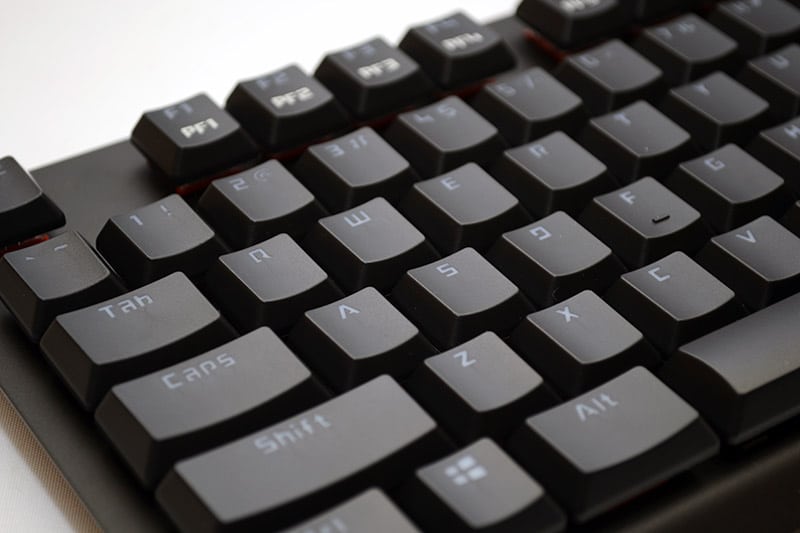 The software for the Gram is nice and simple, with a single screen layout that makes it easy to access your profiles, macros, and lighting settings with ease. An added bonus, all settings can be saved to the keyboard, meaning you can take your keyboard to LAN gaming events, and not need to install the software on another machine.
There's a full RGB lighting selector with 0-255 range on each colour, as well as some preset options to pick from.
There are multiple lighting effects to choose from too.
The lighting engine is pretty cool, as you can see in the images below, the rainbow effect gives you a huge amount of vibrant colours to give your desktop some visual flair.







There are also reactive effects, allowing the keys to burst with colour as you hit them.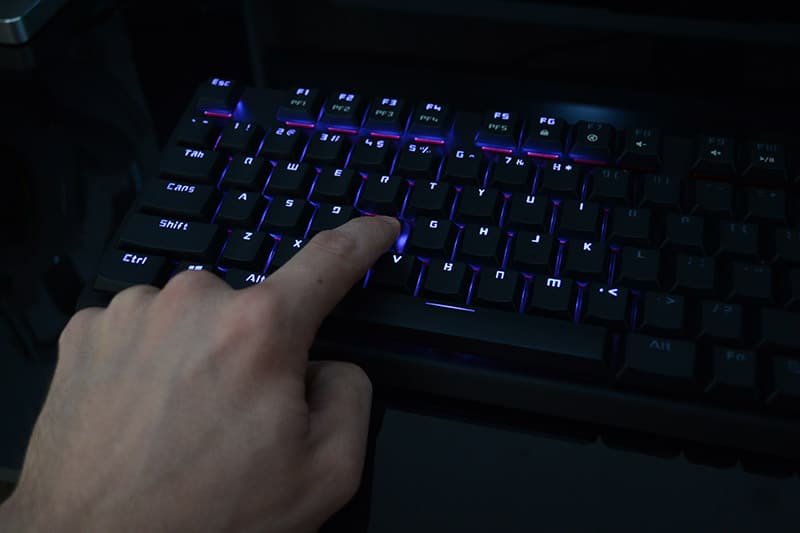 Gaming profiles highlight those oh so important gaming keys, such as this one which is suitable for MOBA type games.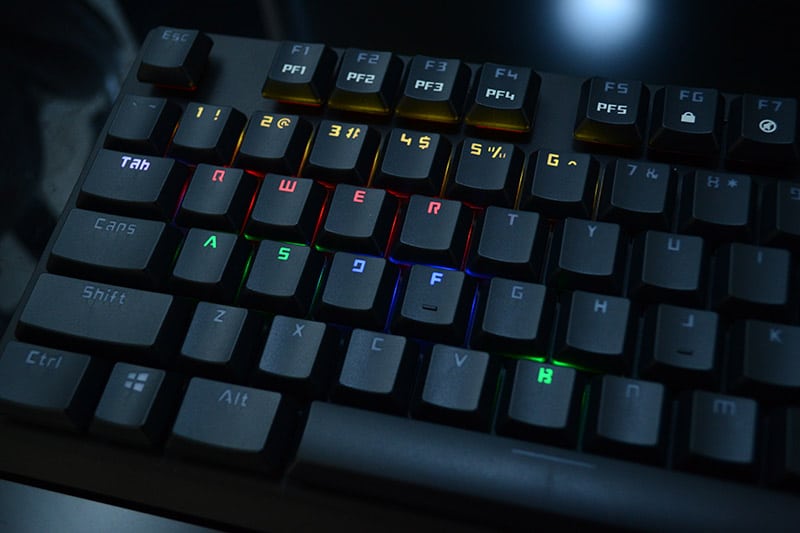 Or you can set a fixed colour to all keys, and the red, green and blue channels all look pretty good on their own.



The only downside is that trying to get a white tone does have a purple hue to it, which I quite like, but if you want white light, this isn't the keyboard to get it.

———————–
Final Thoughts
---
Price
The Tesoro Gram Spectrum is a well equipped RGB mechanical gaming keyboard, so expect to pay a premium for it. We found it at Amazon US for $139.99, which is certainly competitive given the specifications. It is available in both red and blue switches. Unfortunately, we were unable to find UK stock, but please check the Tesoro page for a list of international resellers.
Overview
There is a lot to love about this keyboard, and while we must admit that it doesn't really do much to innovate, few keyboards really do. What it does offer up is a fairly unique slim design, that does have some tangible benefits over most mechanical keyboards. The slick low-profile design of the chassis, combined with the low-profile key caps cuts the actuation point right down, giving you faster and lighter responding keys, and while that may only save a few milliseconds in the heat of battle; every little counts.
The fast and low design is great for gaming, but also great for day-to-day work, as it helps take some of the strain out of typing and requires less movement from your fingers. This is a big benefit to touch-typing as it helps you pick up the pace a little and we all love getting our work done and out of the way that little bit sooner.
The RGB lighting features are certainly welcome, although hardly uncommon on keyboards this year, but if you're looking to add some colour to your gaming setup, you'll be more than happy with what the Gram has to offer. It's not as advanced as the lighting on something like the Corsair range, but it's also a little cheaper.
The build quality is superb, and despite the thin body of the keyboard, it is kept strong and flex-free thanks to the metal top plate. It's also quite heavy, which is common for mechanical keyboards, but this has the benefit of preventing the keyboard from vibrating or sliding around your desk when you're furiously rage quitting. Add to that a fully mechanical switch layout, as well as a detachable cable, and you've got a pretty neat package.
Pros
Durable build quality
Excellent performance
Low-profile design
Easy to use software
RGB lighting engine
Detachable cable
Fully mechanical
Good price
Cons
Full colour (white) setting has a purple tint to it
Limited stock outside of the US
"The Tesoro Gram Spectrum is a formidable weapon for those who want a slick and fast keyboard with lightning fast responses. The low-profile design looks and feels great, and would make a fantastic addition to anyone's PC gaming setup."