Tesoro Tizona Elite Keyboard & Numberpad Review
---
---
---
Peter Donnell / 9 years ago
Introduction
---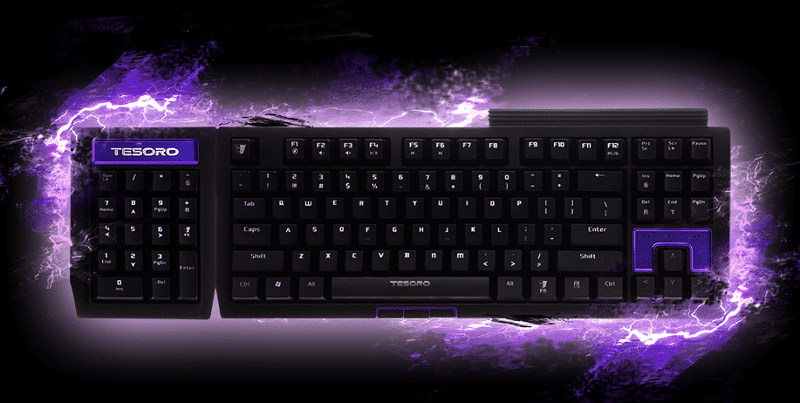 Tesoro are one of my favourite keyboard manufacturers, as they offer up some unique aesthetics, class leading performance and great build quality; although I'm sure they're the kind of features we can all get behind! Everything I've tested from Tesoro, both professionally and personally has always been impressive and a little bit different from everything else on the market; today's review is no exception. At my disposal I have not one, but two Tesoro products; the Tizona Elite mechanical gaming keyboard, and the Tizona Numberpad.
The Tizona Keyboard and the Tizona Numberpad are independent peripherals which are can be used separately, but they also have the ability to work together. The Tizona is a TKL style keyboard, which means it has no numberpad on the right hand side, but the numberpad can be bought separately and attached to the keyboard, or used separately as an extra programmable controller of its own, so this should be an interesting aspect to test today; it's also one that will make more sense in a moment.
Tesoro love giving their products cool names, with a bit of back story to each. "The Burning Blade – Tizona is the sword carried by El Cid which was used to fight the Moors in Spain. It is now one of Spain's most cherished relics." This keeps in theme with other Tesoro products which are named after historical or mythological weapons.
"Tizona equips with Gaming-Grade mechanical Key switches, and switchable USB 6-Nkey / Full-Nkey rollover capability. Three Thumbs hot keys can easily launch your browser, media player, and Outlook under PC-mode. When in G-mode, by default the thumbs keys will mapped to H1: Num"/", H2: Num"*" and H3: Num"-". Gamer now could have the option to remap their game key directly into these 3 dedicated hot keys. A useful smart convenient extension for gamers is the included DC-In Jack that will provide additional power for Tizona two USB 2.0 ports (up to 500 mA per port)."
Tizona Keyboard
Gaming-Grade Mechanical Key Switch.
Switchable 6-NKey Full-NKey rollover function
87 Keys compact Slim and stylish design
Extra High Speed 2.0 USB HUB
HotKeys
Detachable 1.8m braided cable.
Anti-slip rubber feet.
DC-IN Jack for optional additional USB power.
1000Hz Ultra-polling rate.
Multimedia keys
Equipped with Magnets for Optional Numerical Keypads.
Tizona Numberpad
Gaming-grade mechanical key switch
Detachable 1.8m braided cable
18 Keys compact slim and stylish design
Anti-slip rubber feet
6-NKEY / Full-NKEY rollover switchable function
1000Hz Ultra-polling rate
Equipped with magnets for optional Tizona 90 keys keyboard
As I said before, both of these items are sold separately, which is great for people who only want the compact keyboard. Both are really nicely packaged and the keyboard comes with a handle on box that allows it to double up as a carry case.

The interior of the box features thick foam padding and a protective plastic cover to help keep the keyboard nice and safe.
In the box you'll find the keyboard, a high quality braided cable and a USB power cable.

The Numberpad also comes bundled with a high quality braided cable.