TetraBIN Smart Trash Can Lets You Play With Garbage
---
---
---
Ron Perillo / 6 years ago
The "Internet of Things" is a vision of a fully connected world integrating phones, toasters, and fridges to the internet. Now, even a trash bin gets the IoT treatment with the TetraBIN smart trash can. TetraBIN has been around for several years now, mostly just as a simple LED light game that lets users play a sort-of Tetris type game when they throw their trash into it, hence the name. The latest incarnation of the bin however, features a significantly upgraded LED display wraparound with higher resolution so there is actual custom graphics moving instead of just simple dots like the original TetraBIN design.
This is the project of Sencity, a Brooklyn-based startup that seeks to improve city living so they tackle issues that are important to the urban environment. By integrating a game to the trash bin, Sencity hopes to encourage people to properly dispose of their garbage which can be a big issue in cities like New York.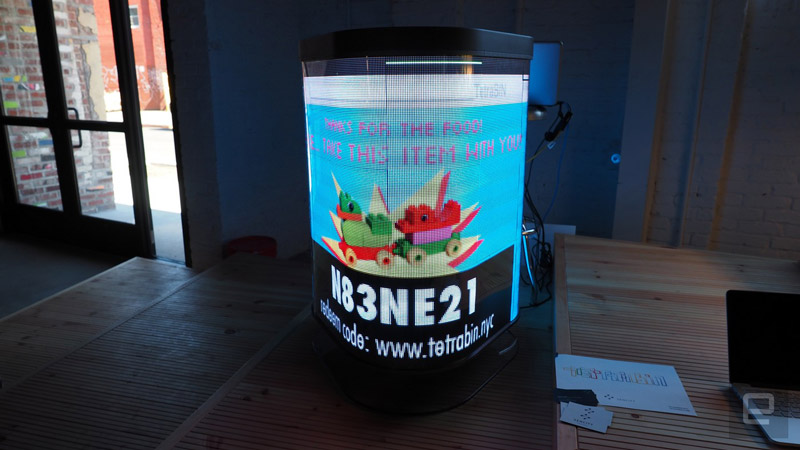 The latest TetraBIN game shows a sidescrolling green field in its wrap around screen with flying creatures that you have to aim for when you drop your can on the top opening. There is also a dog at the bottom, which most likely gives you the most score if you manage to drop all the way down there without hitting the creatures. Motion sensors inside the bin detect where the garbage lands and scores accordingly. This bin is connected wirelessly via 4G  so users who earn high scores will be issued a code that they can redeem on the TetraBIN websites for actual physical prizes.
If the idea sounds ridiculous, at least it is quite thoughtful, unlike the GeniCan "smart" trash bin that we reported about three months ago which basically just orders things you disposed of inside of it automatically via Amazon.