The Elder Scrolls Online High Isle Expansion Showcase
---
---
---
Peter Donnell / 10 months ago
Bretons are a great part of the Elder Scrolls franchise, but they've never really gotten their own main story. That's about to change though, with The Elder Scrolls Online (ESO) set to make them the stars of the show this year. Not only do we get this new story, but also a brand new land called The High Isle, so this really is going to be something pretty fresh from both ESO and the wider Elder Scrolls franchise.
The Elder Scrolls Online
For a fresh look at what's to come in this year's adventures, check out the latest trailer below.
"Something is amiss in High Isle, the home of the chivalric Breton elite. The idyllic Systres Archipelago is now on the brink of total catastrophe, and a sinister cabal works from the shadows to throw all of Tamriel into unending conflict. Team up with new Companions and allies, explore stunning new lands, play a hand of the all-new deck building card game, Tales of Tribute, and continue your Legacy of the Bretons adventure in The Elder Scrolls Online: High Isle." – YouTube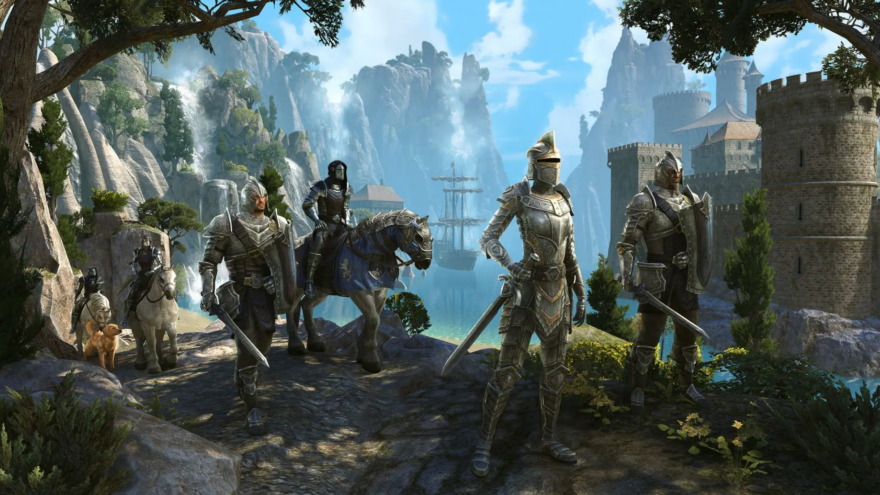 Story
The new adventure will centre around the Three Banners War, and Rich Lambert, the ESO Creative Director for Zenimax said "this is probably the most accessible piece of content that we have added to The Elder Scrolls Online in terms of people that are familiar with the franchise." adding that "this is kind of your traditional medieval fantasy storytelling" and "it's focused on the noble houses and the politics that intermingle with all of that, and knights. So it's super accessible and super easy for anybody to get into." This was a purposeful choice, rather than just introducing another world-ending big bad for the next story. There are only so many times we can battle some big god before it gets repetitive. ESO is rich in lore, and it sounds like they're taking a deep dive with it this time, awesome!
New Features
Of course, this update will see a wave of updates to the base game for all players, as well as some new features for the expansion too. You'll be able to discover two new NPC followers, the Khajit named Ember and a Breton Knight named Isobel Velois. I'm really looking forward to Tales of Tribute though, a deck-building game within ESO that you can play against both NPCs and other players, which will come with its own set of rewards, achievements, and leaderboards… there goes my spare time!
Explore many of these new features in the ESO High Isle Preview video below. Or begin your High Isle adventure with the free prologue quest, currently available via the Crown Store's Quest Starters category!
Release Date
The Elder Scrolls Online: High Isle is scheduled to launch on PC/Mac and Stadia on June 6th and will arrive on consoles on June 21st. Again, the preview quest is available now too, you can get started! There will be a further DLC later in the year two, rounding out the year of the Bretons!