The Sapphire Radeon HD 5830 (Game Edition) Graphics Card giveaway
---
---
---
Andy Ruffell / 11 years ago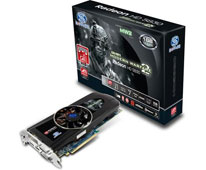 We tend to run competitions as frequent as we possibly can and in return we hope to be able to get the eTeknix community more active once again.
This time around we are giving away a Sapphire Radeon HD 5830 (Game Edition) Graphics Card and 2 premium memberships to eTeknix, as well as a mystery prize for the runner-up!
The Sapphire Radeon HD 5830 1GB (Game Edition) Graphics Card has many great features including a 800MHz core clock speed, 1GB of GDDR5 memory running at 4000MHz and also comes with a Call Of Duty: Modern Warfare 2 voucher code to get you started.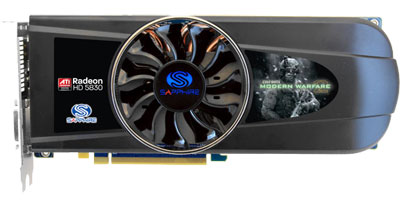 Full specifications on the card can be found on Sapphire's website.
Entry Details
All of the following entry details will apply from now until the competition end date on Saturday 20th November 2010 at 8PM GMT, where the winner will be selected using the following criteria.
You MUST be a member of eTeknix.
You MUST comment on this thread with the words "I want to win a Sapphire HD 5830"
For EVERY 10 forum thread replies, you will get 1 point!
For EVERY 10 website comments, you will get 2 points!
For EVERY 10 created forum threads, you will get 2 points!
For EVERY website referral signup, you will get 1 point! – When the user signs up, be sure they put your username in the "Referrer" field.
Rules and Regulations
As ALWAYS spam will NOT be tolerated and offending user(s) will be subsequently dealt with!
The winner will be the member with the most points at the close of the competition!
In the event of a dispute, the judges' decision is final and no discussion will be open for it!
The winner will be notified via their registered email address no later than 14 days from the closing date of the competition!
The first prize is a Sapphire Radeon HD 5830 1GB (Game Edition) Graphics Card and premium membership to eTeknix.
The second prize (runner-up) is a premium membership to eTeknix and a mystery prize!
The competition is open worldwide and all shipping costs and cost of prize(s) are covered by eTeknix!
In any event that the above prize offered is unavailable due to circumstances beyond our control; we reserve the right to offer an equal or greater specification alternative without any hesitation!
No entrant details will be passed on to any third-party companies!
Prize draws are not open to eTeknix staff, affiliates, supplies or sponsors!
Double posting on your own thread will not be counted (this is when you reply after your OWN reply)!
If a user is found to be creating or using multiple accounts, that user will be disqualified from the competition and subsequently dealt with!
By entering into this competition, you are hereby accepting the above mentioned terms and conditions of the competition!
Last but not least, have fun, enjoy and good luck!