Thecus Announces N8910 2U 8-Bay Rackmount NAS
---
---
---
Bohs Hansen / 5 years ago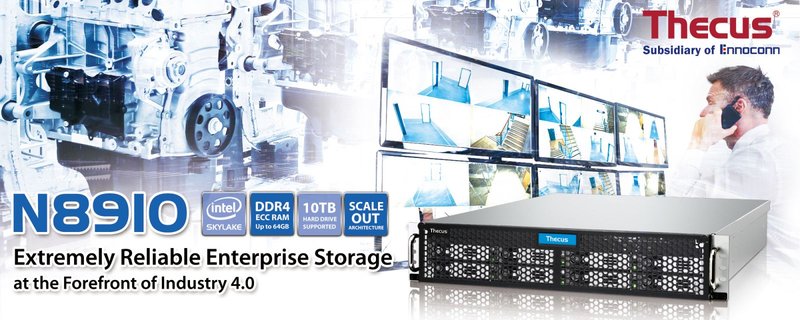 Thecus announced a new addition to their rack mounted NAS called the N8910. The new NAS is a 2U unit that packs enough power for demanding tasks, yet it isn't a total overkill in the specifications. That makes it suitable for businesses that need performance on a budget.
Processor and Memory Options
Thecus used an Intel Skylake Core-i3 6100 processor in the new N8910 NAS. It is a dual-core processor with a 3.7 GHz clock speed running on an Intel C236 chipset. Since it is a socketed CPU, there is the option to upgrade. The choice of a Core-i3 processor will make the system a lot more affordable than a Xeon-powered system.
The NAS has 4GB DDR4 ECC memory installed, but it supports up to 64GB in total.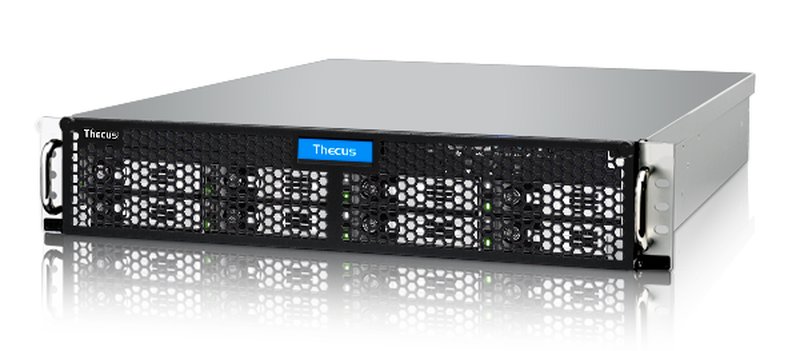 Drive Bays and Expandability
The 8 drive bays support 2.5-inch and 3.5-inch drives, both SSD and HDD. The drives connect to an internal backplane that allows for hot-swapping and quick drive replacement. You also get the full list of possible drive modes with RAID 0/1/5/6/10/50/60 and JBOD support.
With AES 256bit full volume encryption with hardware acceleration will keep all your sensitive information safe. The support file formats also include all options with Btrfs as well as XFS and Btrfs.
Expandability isn't an issue for the N8910 either. You can extend for 5 additional iSCSI volumes from other Thecus NAS or get one of Thecus' rack mounted expansion units.
The NAS itself also features expandability via PCI-Express add-in cards. You get one PCI-e x16 or two PCI-e x8, one PCI-e x4, and one PCI-e x1 expansion slots.

Network Connectivity
The system comes with two Gigabit Ethernet LAN ports out of the box and more can be added through the PCIe slots. Whether you want to install 10GbE, more 1GbE cards, or wireless network cards, the system will support it.
The High-Availability function is also supported for system redundancy and so are a wide range of backup options. This includes Snapshot backups, but you'll also find Dropbox, ElephantDrive, and Amazon S3 support.
More N8910 Connection Options
External connections to the N8910 can be made through four USB 3.0 and two USB 2.0 ports. You could also install USB cards in the available PCIe slots, should you need more
Redundancy isn't just for network and the server itself, the power supply is also redundant and it comes with 500W.
Availability and Pricing
The N8910 will be available to the global market at the end of June, but the company didn't reveal a price at this time.