Thecus Launches their latest SMB NAS, the N7770 and N8880U
---
---
---
Bohs Hansen / 6 years ago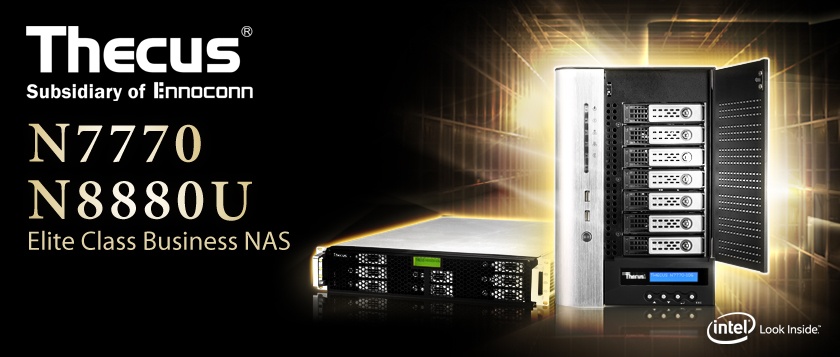 Thecus released two new NAS devices that are similar to some of them we've seen previously, but at a more price-sensitive point that smaller businesses will appreciate. The two new elite class businesses NAS from Thecus are the N7770 and the N8880U that are very similar to the N7770-10G and N8880U-10G that we've previously seen, just without the added 10Gbps NIC. That allows the units to be cheaper for the people that don't need 10Gbps ethernet, but the two units both have the upgrade option should you want that option later on.
"Today's growing businesses require robust and highly dependable storage that can fulfill day to day operations, while being able to adapt to unforeseen business circumstances. The N7770 and N8880-U deliver powerful performance, stalwart reliability with outstanding value." said Florence Shih, General Manager at Thecus Technology Corp.
Both these units are built around an Intel Core-i3 2120 dual-core processor with a clock speed of 3.3GHz and aided by 8GB DDR3 ECC memory which can be upgraded to 32GB should you want to. Naturally, these two NAS are compatible with the latest high-capacity hard disk drives and thereby allow for 70TB and 80TB raw storage respectively. NAS stacking is also made easy through iSCSI target volumes, allowing for a streamlined grows with your business. The built-in 1 Gbps Ethernet ports allow for all 7 modes of link aggregation and as mentioned earlier, you can upgrade with 10Gbps PCIe add-in cards too.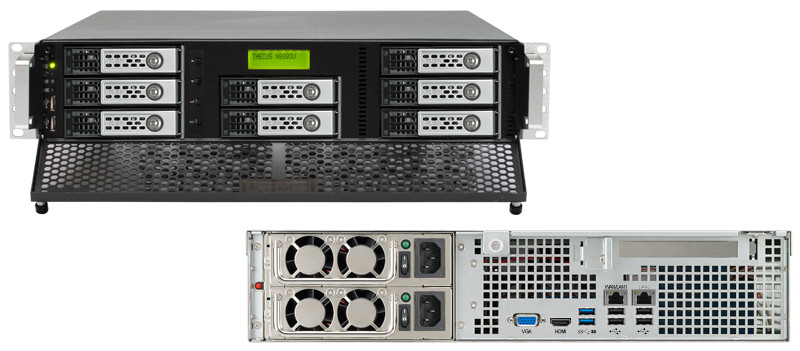 The N7770 and N8880U offer complete integrity in relation to data backup and protection. Thin provisioning, replication for disaster recovery, snapshot technology (Btrfs only), Data Guard for disaster recovery for real-time remote or local backup, plus backup to cloud services including DropBox, ElephantDrive, and Amazon S3. They also come bundled with both Acronis True Image for client data backup and system disaster recovery as well as Intel Security for uncompromising data security.
Besides the LAN connectors, you also get six USB 2.0 ports, two USB 3.0 ports, and an HDMI port for direct monitor attachment and use of LocalDisplay. The N7770 features a 300W power supply and supports RAID 0/1/5/6/50/JBOD while the N8880U also supports RAID60 on top of that and has a 400W redundant PSU setup.
Both these NAS are available now, so check you local Thecus dealership should any of them interest you.