Thecus Launches Thecus Wizard iOS and Android NAS Set-Up App
---
---
---
Bohs Hansen / 5 years ago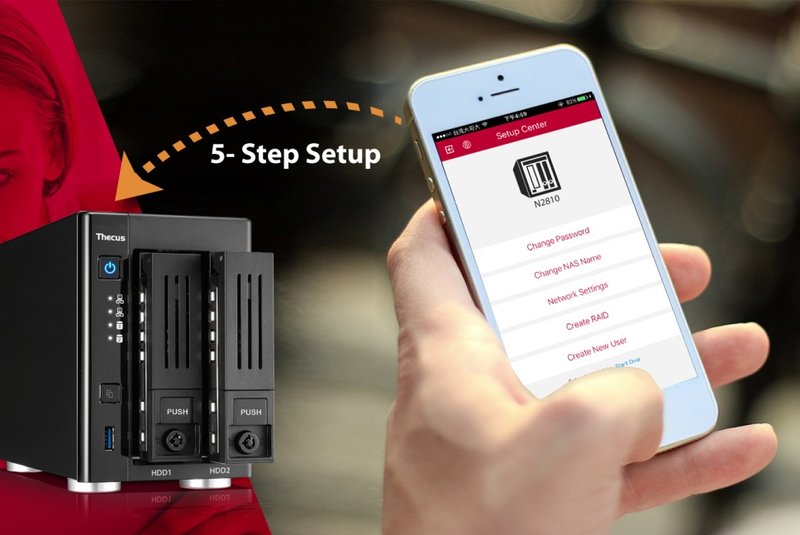 These days, there are more and more homes that don't have a PC anymore, instead, they rely on their mobile gadgets such as tablets and mobile phones. This can make it tricky to set up new devices such as NAS units. To combat this issue, Thecus created and launched their new Thecus Wizard app for Android and iOS devices.
The new Thecus Connect app and setup wizard will allow you to set up your new Thecus NAS in 5 simple steps. The five steps are these: You first set a new admin password instead of the default one it comes with and you give your new NAS a name so that you can recognise it in your network environment. Next, the network settings will be configured automatically with the option to do it manually. The next step is to set up the storage and build a RAID setup while the last step is to make a new private account. The admin user shouldn't be used for day-to-day usage, so it's a vital step even tho it sounds so simple.

There are two requirements to use it. The first is that your mobile device is connected to the same network as the NAS. This is a security feature that blocks people from hijacking your NAS over the internet before you get it configured. The second is that the NAS runs Thecus OS7 firmware version 3.01.02 or higher.
Windows 10 mobile users will still have to use their device's browser to set it up, the same way they would from a PC. That's naturally also an option for Android and iOS users, but the new Thecus Wizard app will be easier and quicker to use.