Thecus W2810PRO 2-Bay WSS SMB NAS Review
---
---
---
Bohs Hansen / 7 years ago
Introduction
---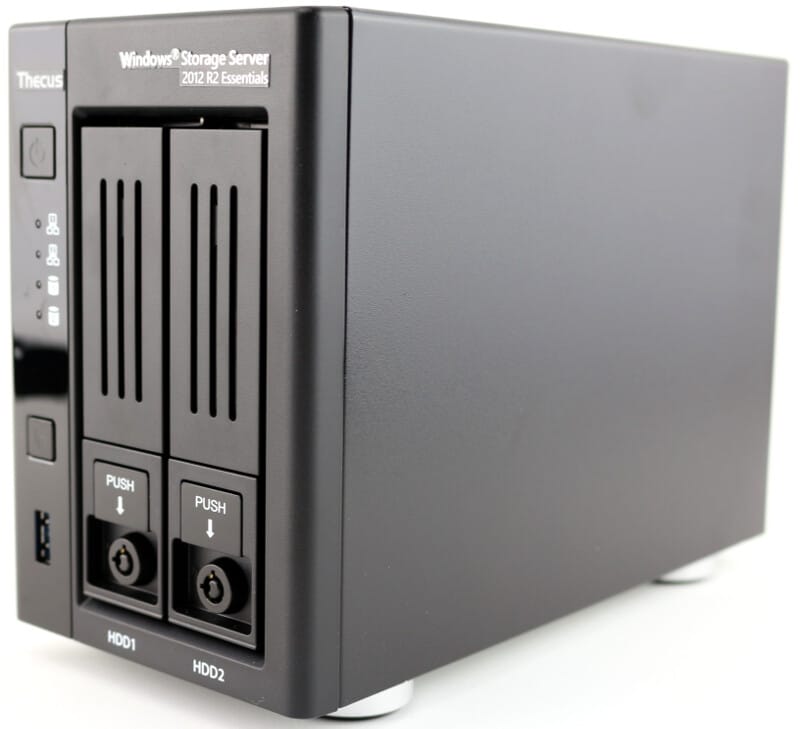 Most NAS devices have one thing in common and that is that they are based upon either Linux or Unix as the operating system, but they aren't all like that. Today I'm taking the Thecus W2810PRO NAS for a spin in the bench area and this is a NAS powered by Windows rather than Linux. Having Windows as the base operating system is something that can be a lot easier to integrate into your existing infrastructure due to the native features.
Before we talk more about Windows Storage Server as the operating system, we should talk a bit about the hardware itself. After all, the hardware is quite an important part of a NAS. Starting with the CPU, The W2810PRO is based upon the Intel Celeron N3160 quad-core processor which is a great base for any system. With a base clock speed of 1.6 GHz and a boost speed up to 2.24 GHz for the four cores, and it does that with a TDP rating of just 6W thanks to the 14 nm lithography, featuring 2MB L2 cache and it supports up to 8GB DDR3L-1600 memory through two channels.
With an Intel HD Graphics 400 iGPU, which supports eDP, DP, HDMI, as well as Intel features such as Wireless Display. The W2810PRO comes with 4GB memory pre-installed and that is also the maximum supported amount, but that's more likely due to licensing of the Windows system than the NAS itself and I don't see any problem in upgrading the NAS to run with the full 8GB that the CPU supports.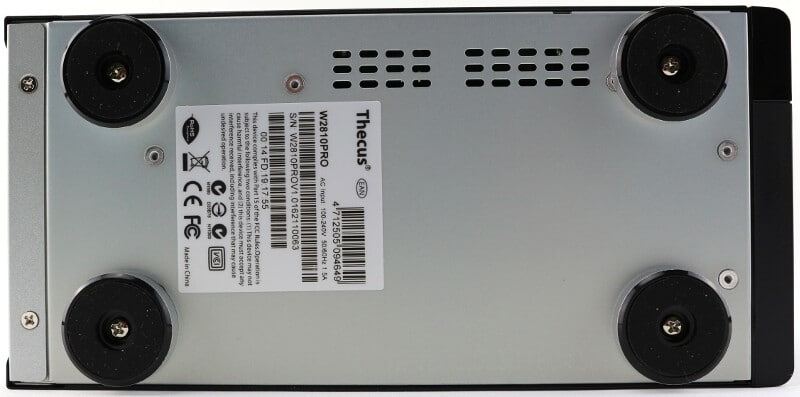 The is one more thing that sets the W2810PRO apart from its Linux brothers and that is the boot medium. Most Linux based NAS run on a USB DOM which is plenty for those kinds of systems. They work a lot more from the memory than Windows does and as such a drive like that could easily become a bottleneck. Thecus knows that and they opted for a 2.5-inch 60GB SSD as boot medium instead and that's an awesome feature for this WSS based system.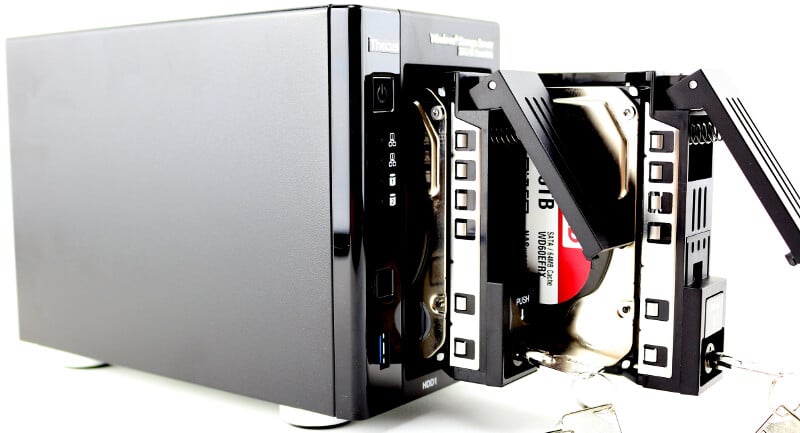 Now that we know what drives the inside of this W2810PRO NAS, it is time to take a look at the outside and the features and connections we find here. We have a single USB 3.0 port with a one-touch copy button for easy backup jobs on the front of the NAS. The rear is a little more interesting connection wise. To start with, we find two Gigabit Ethernet ports with WOL support as well as two more USB 3.0 ports.
The W2810PRO can be used directly and for that, it features both an HDMI and a DisplayPort for you to connect monitors. The iGPU supports up to three displays simultaneously, so you could even connect one more via a USB 3.0 adapter. There is even an SPDIF port for optical audio connections. This allows you to use it as a multimedia hub too, next to the obvious SMB features that come with WSS.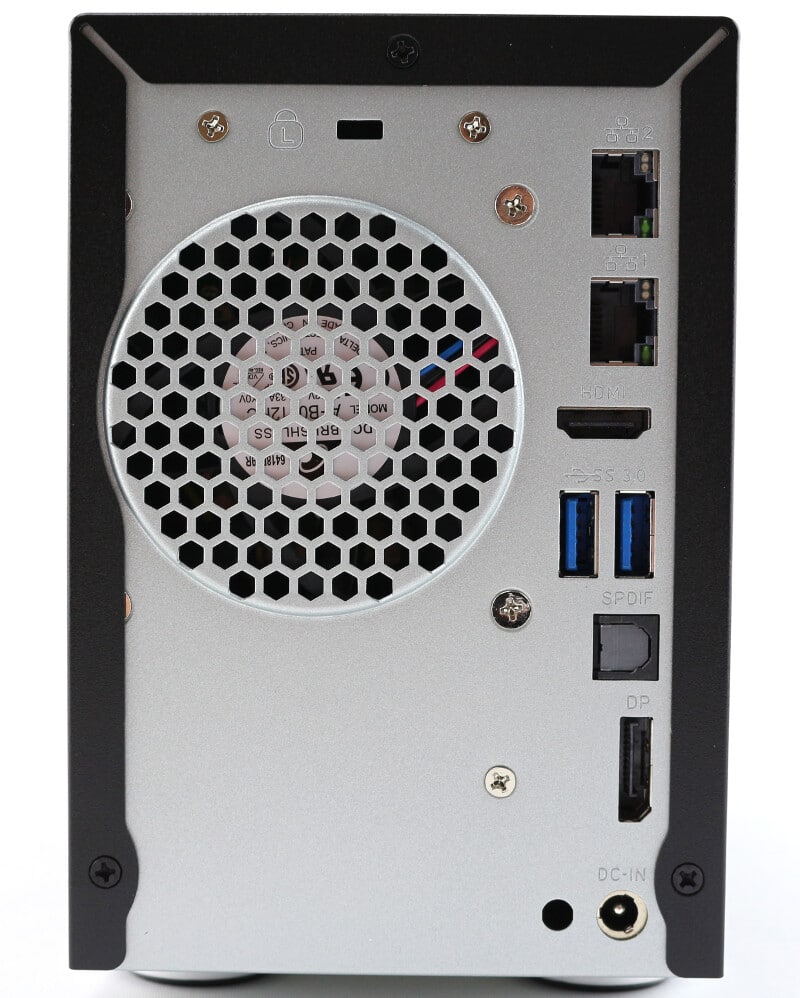 As mentioned before, the Thecus W2810PRO runs Windows Storage Server 2012 R2 Essentials which is the latest version of Windows Storage Server that is designed for small businesses that want to leverage cloud services in a NAS appliance. It enables cross-premise functionality and provides small businesses with a robust on-premises solution for file and print, client backup and restore, secure remote access, and identity management services, combined with optional off-premise services supported by Microsoft.

Package and Accessories
The bright packaging provides a full list of all the features that this NAS supports. On the front, we see both hardware and software information as well as how many users are supported.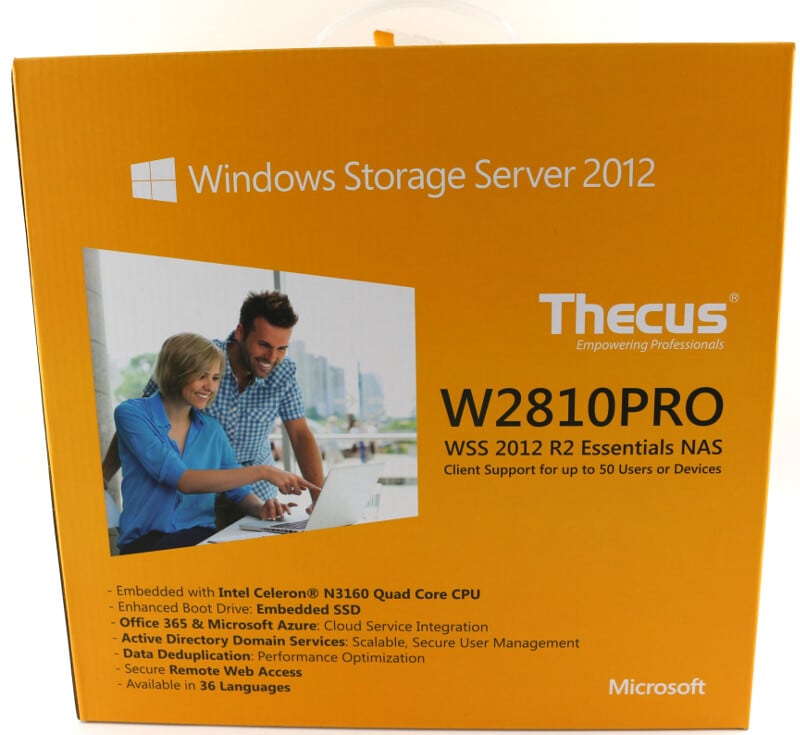 The side of the box has more details on all the features and functionality.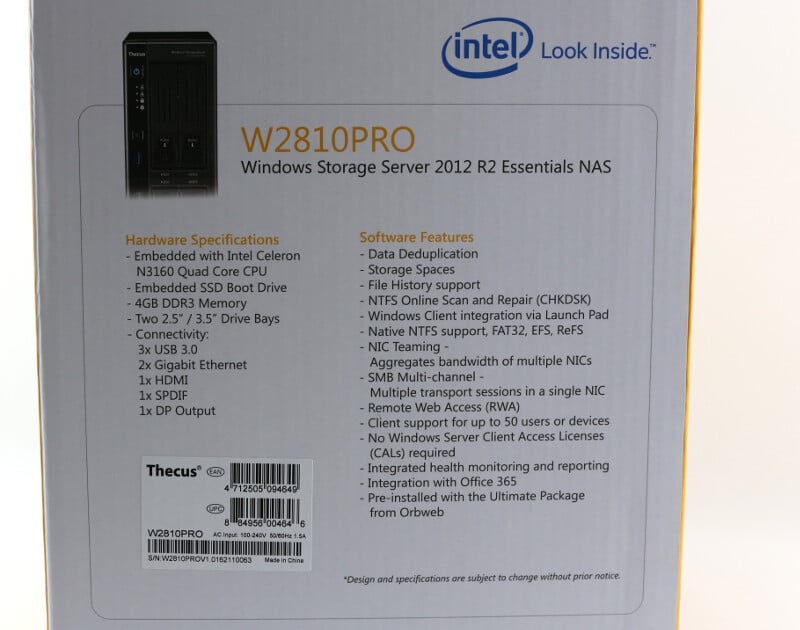 And the other side explains the functionality in a pictographic way.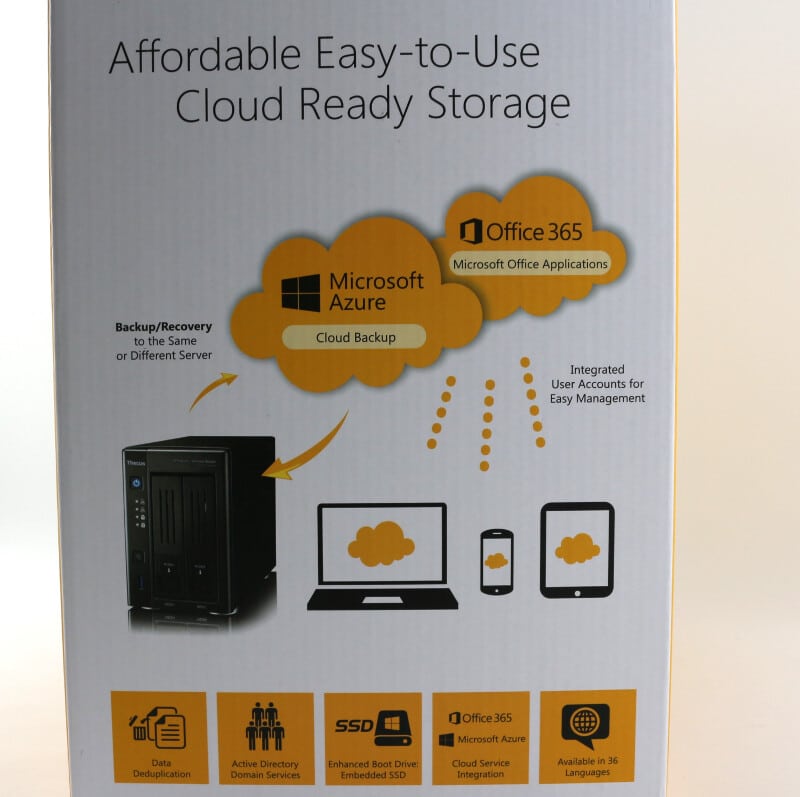 The NAS itself features protective plastic cover to make sure that it arrives in perfect condition.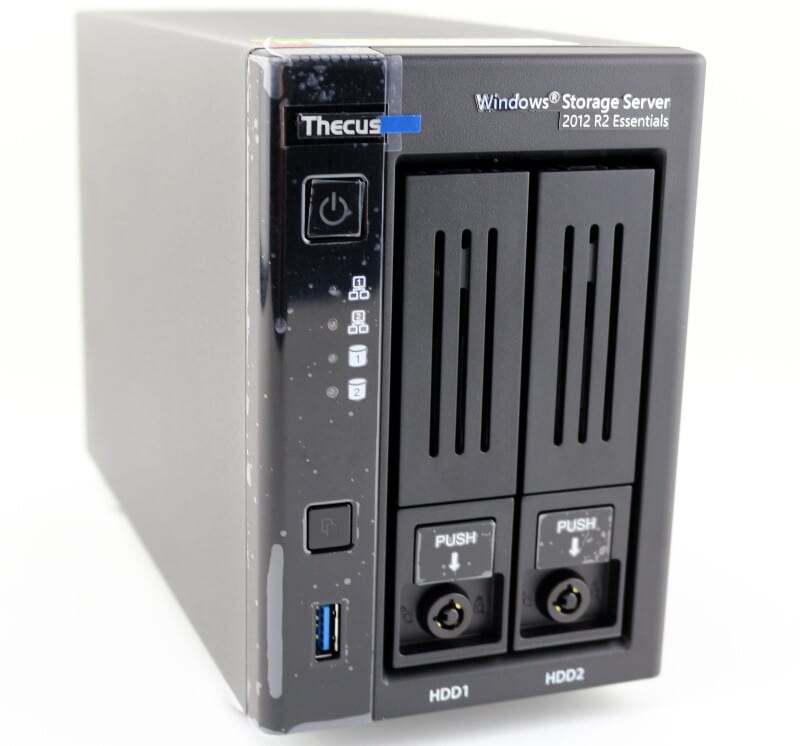 Inside the box, we find a LAN cable, a PSU brick, power cable secure tools, keys for the drive bays, and warranty and installation guides. There are also screws in case you need to install 2.5-inch drives in the otherwise tool-less drive bays.