Thermaltake Announces Pacific RL360 Plus RGB Radiator
---
---
---
Ron Perillo / 6 years ago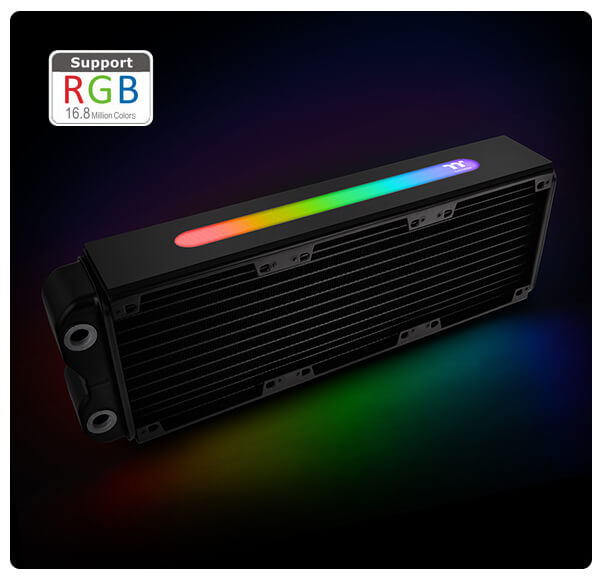 Thermaltake has a new 360mm radiator that shines quite a bit brighter than before. That is thanks to its built-in RGB LED. This radiator is made from premium-quality German zinc alloy aluminum and aerospace-grade materials. Furthermore, it is 64mm thick along with a double-row 13-set flat tube design. This allows the fluid inside to pass through the greater surface area evenly across and on both sides. Additionally, it uses standard G1/4 threads and is compatible with various Tt LCS products.
Thermaltake sells a host of compatible liquid cooling products in their Tt LCS series. This includes special coolants specifically made for the aluminum radiator. Other coolants can react negatively to aluminum when mixed with other metals.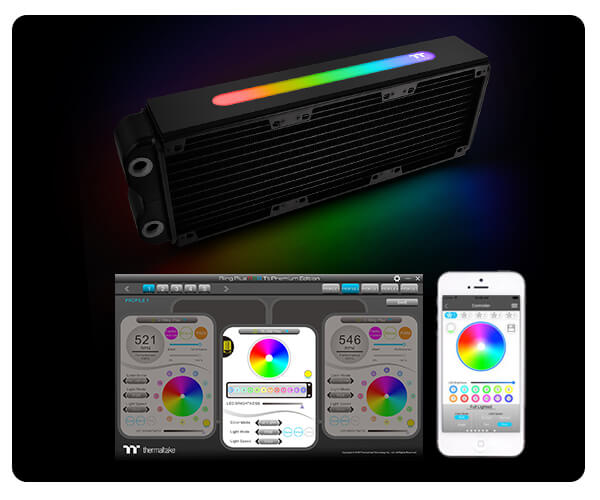 The LED itself is on a strip with 24-addressable lights. These are controllable via software but is also compatible with a Tt Riing RGB hardware controller. Users can download the Riing Plus RGB software for the desktop. However, mobile users can also download the app and control it via iOS or Android.
This lets users set the behaviour and adjust colors on the fly with a single touch, including various presets and brightness levels available. The LED can even act as a temperature indicator, changing as the CPU load temperature increases.
Color modes includes:
Copy Color – Seamlessly transfer lighting effects of the first fan across to other fans.
Full Lighted – A static lighting with your color choice, including RGB colors and single color.
Sound Control – Sync lights with your favorite music from your PC and see how they react to the beat.
Flow – Directional RGB colored flow across the individual LED of the ring.
RGB Spectrum – A seamless transition through the entire 16.8 million RGB color spectrum.
Ripple – Lights ripple out across the entire fan with your choice of 16.8 million colors.
Blink – Lights keep flashing on and off with single color or RGB colors.
Pulse – A slow fade in and fade out with your color choice.
Wave – A RGB wave flows across the entire fan.
Cross – Lights flow in opposite directions with single color or RGB colors.
Thermal – Make your CPU temperature visible, and track it easily. The software has a built-in temperature sensor that detects and displays changes in CPU temperature in real-time. The LED ring offers an additional visual cue. The color corresponds to the temperature, ranging from blue (CPU temperaure ≦ 40℃) to Red (CPU temperature ≧ 65℃).
Pricing and Availability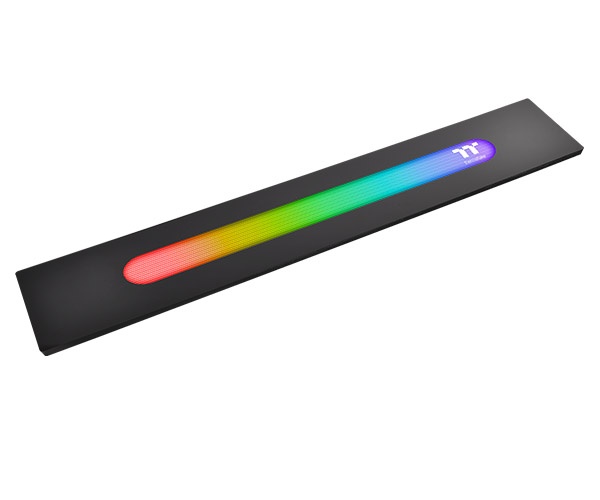 The Thermaltake Pacific RL360 Plus RGB radiator is now available worldwide for $109.99 USD from Tt Premium stores.