Thermaltake Display Their Latest Range Of Cooling Products At CES 2014
---
---
---
Peter Donnell / 8 years ago
CES 2014, we're back in the Thermaltake suite to take a quick look at their latest range of cooling products for 2014 and even just at a quick glance we can tell you that Thermaltake are going to make a big impact on the cooling scene this year.
First up (above) we have their two Pure 12/12 and 20/20 LED fans, their commander F5 five channel slider fan controller and their Matrix D Series dust filters for a wide range of fan sizes. All of which will go a long way to giving you cool, clean and quiet cooling performance.
If you want to add a touch of style to your coolers then their Luna 12 LED fans are a great choice as they offer a choice of colours and sizes to suit your build, but also come fitted with full rubber mounts on the corners to help reduce vibrations.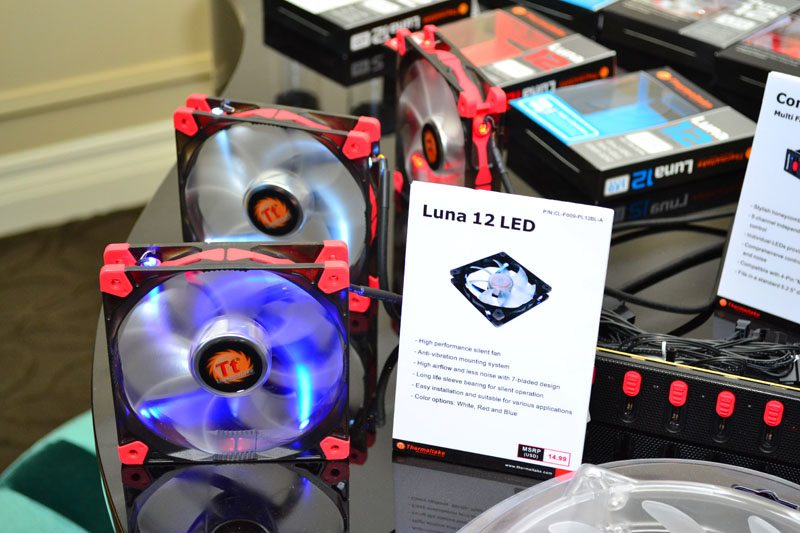 One of the best products we've seen are their new water cooling kits, which come with a sleek CPU bracket, a choice of two reservoir sizes, one of which comes with an integrated pump, and finally there is a 240mm rad. The kit isn't especially high end, but it is targeted at the mid-budget cooling market and it's all 100% Thermaltake manufactured.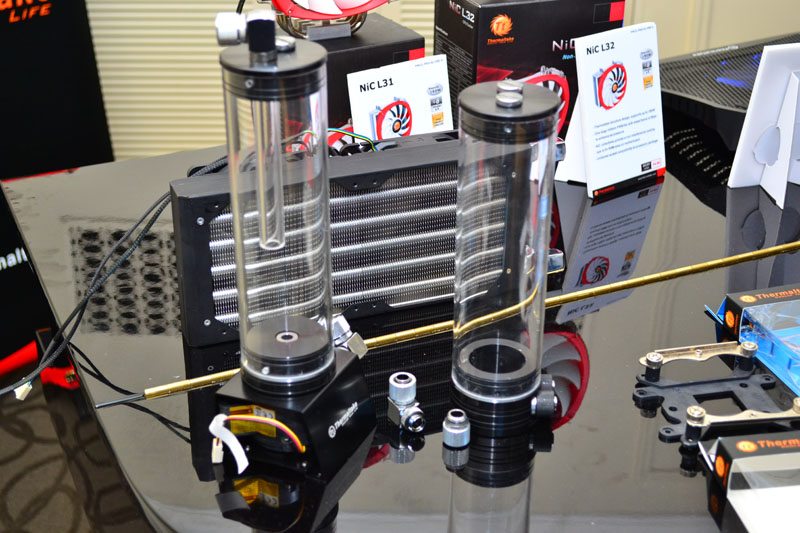 The fittings look fantastic and when combined with two 120mm Thermaltake fans the radiator has a nice clean look that should look great in almost any build, we'll have more details on price and release date very soon.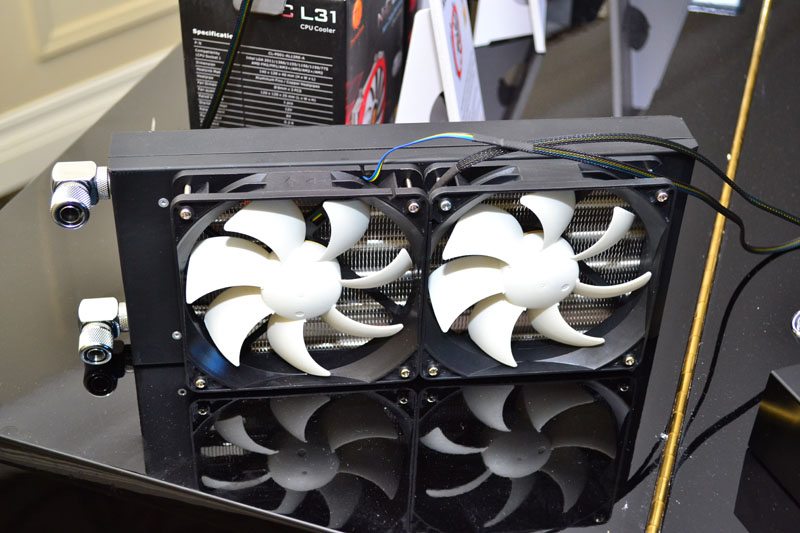 Next up we have their NiC L31 and NiC L32 CPU coolers, both come fitted with some gorgeous design white and red low RPM fans that really make them stand out against the clean looks of the cooling tower. Both products are NiC (non interference coolers) which promise to not conflict with your ram configuration and both come fitted with a triple heat pipe design. The L31 is fitted with a 120mm fan and will cool a CPU of up to 160w TDP, the L32 comes fitted with a 140mm fan and will support a CPU of up to 180w TDP.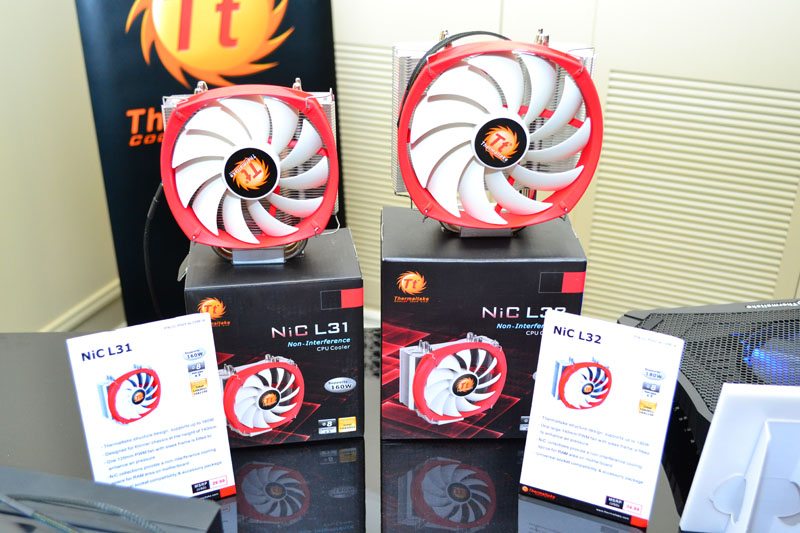 The Massive V20 notebook cooler will support a system of up to 17″, features a large 200mm LED fan that is speed adjustable thanks to a simple to use speed knob and the whole unit is priced at just $19.99.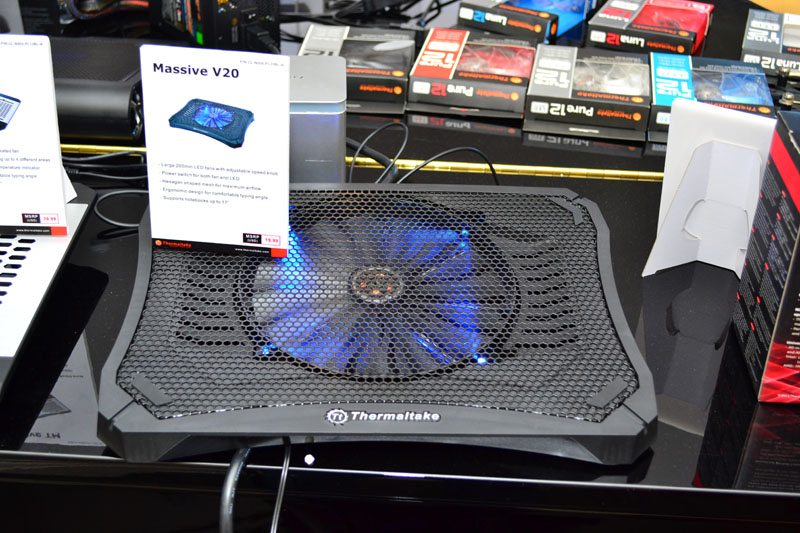 The Massive TM cooler also supports notebooks up to 17″, but comes fitted with a dual 120mm temperature regulated fan design, capable of monitoring up to four different areas to provide maximum cooling efficiency that makes it ideal for high power / gaming notebooks. The Massive TM looks great in terms of design and will cost you just $39.99.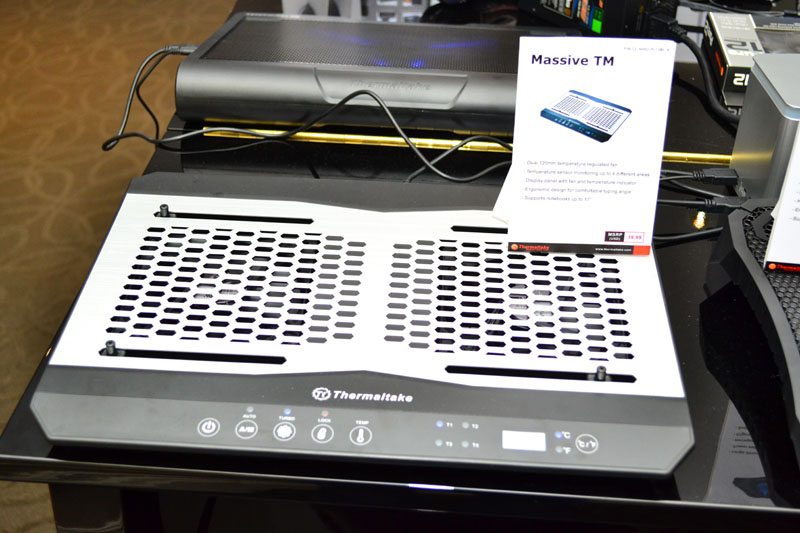 The Massive SP is easily our favourite notebook cooler on display here as it features a whisper quiet 140mm LED fan (speed adjustable), and a concealed power controller for both the fan and two built in speakers. It supports notebooks up to 17″ and will cost just $39.99, but the having the addition of two great sounding speakers makes this one excellent value for money.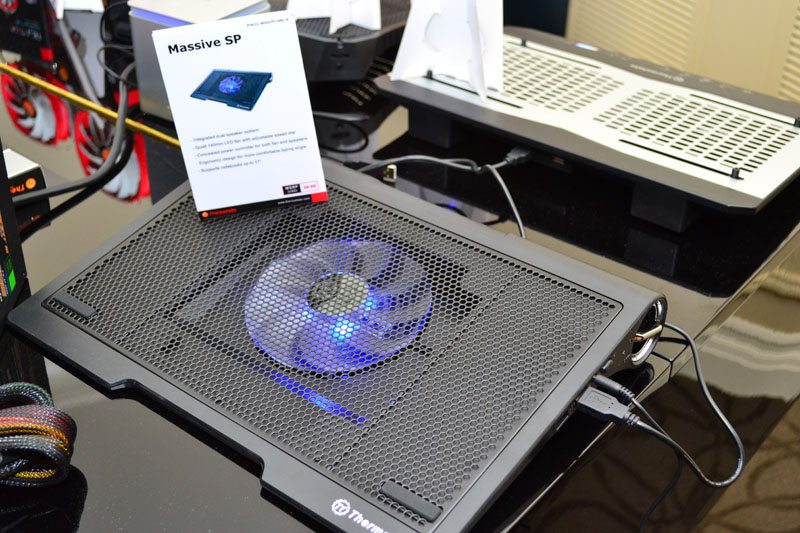 That's all from the cooling products in the Thermaltake suite, but we'll be back later today with more great coverage of CES 2014 and even more coverage from Thermaltake, their gaming brand TteSports and their mobile division, Luxa2.