Thermaltake Expands Divider Case Series
---
---
---
Mike Sanders / 1 year ago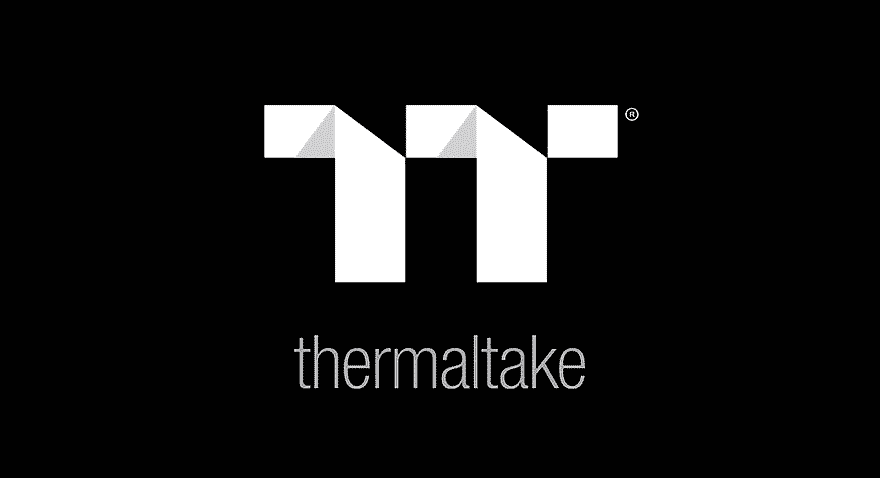 Thermaltake has announced the launch of an all-inclusive lineup of the Divider Series Chassis at the 2021 Thermaltake Expo June Virtual Exhibition. Included in the Divider showcase was the brand new Air Edition model, designed to provide users with a better chassis ventilation option. In addition, the Divider 500 TG ARGB is available for purchase during June.
The Divider 500 TG ARGB comes with three 120 mm preinstalled ARGB front fans are compatible with RGB motherboard software from ASUS, GIGABYTE, MSI, and ASRock. In addition, divider 500 TG ARGB offers high quality four 3 mm thick tempered glass window panel at the front, top left, and right. Both right and left-side tempered glass panels come with a special triangular design, and it includes an extra TG left side panel for a better view and extra steel right-side panel for better airflow. The crystal clear window design permits users to fully display and admire all the components of their liquid-cooled system.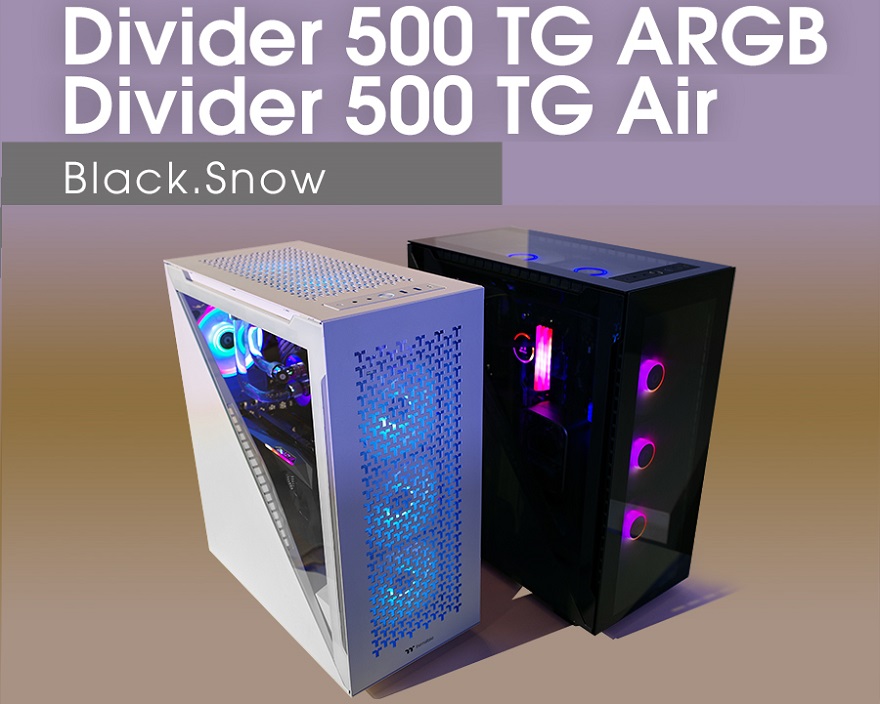 Thermaltake Divider Series
The Divider Series is famous for its inimitable body design, it's designed with symmetrical triangular pieces on the side panel and tempered glass on left and right sides. The series comes in Micro ATX and ATX form factors and the patented PCI-E expansion slots offer secure options for vertical GPU mounting or direct to MB with a variety of GPU length support across the series. (The Divider 200 only supports vertical GPU) The airflow can be improved by the built-in triangular side panel with side venting.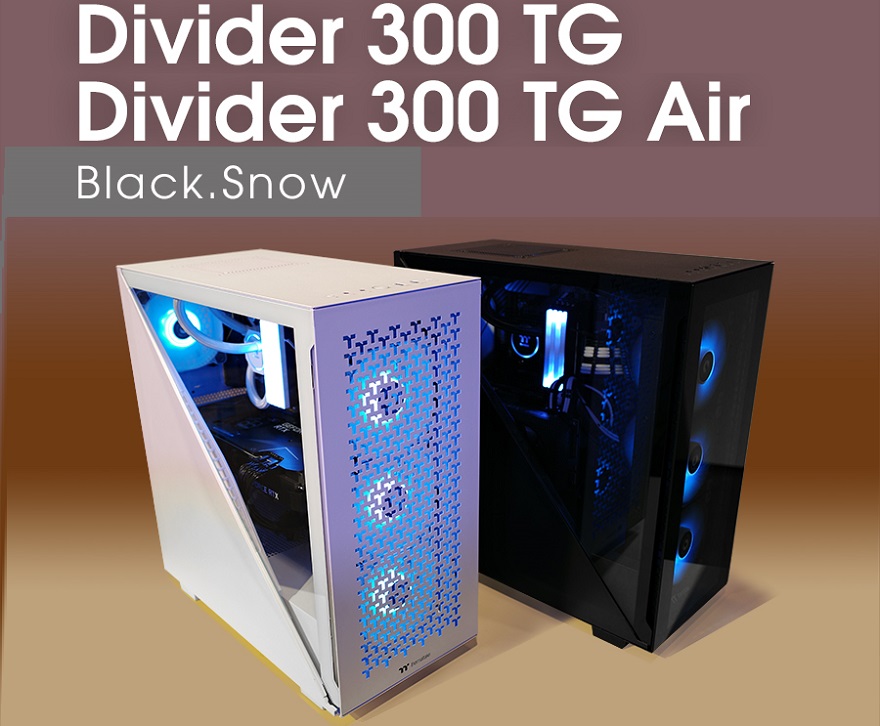 There are three different models of the Divider series: 500, 300 and 200 to let users choose their right fit. The Divider 500 is a mid-tower chassis that comes with two extra side panels, one is tempered glass, and the other is steel, allowing users to switch between semi-perspective to perspective. Other than that, it has better hardware backing and supports DIY liquid cooling solutions. The Divider 300 is also a mixture of open-frame styled elements with avant-garde style side panels and supports AIO liquid cooling solutions. Finally, the Divider 200 is a micro-case, giving more flexibility for users on space arrangement.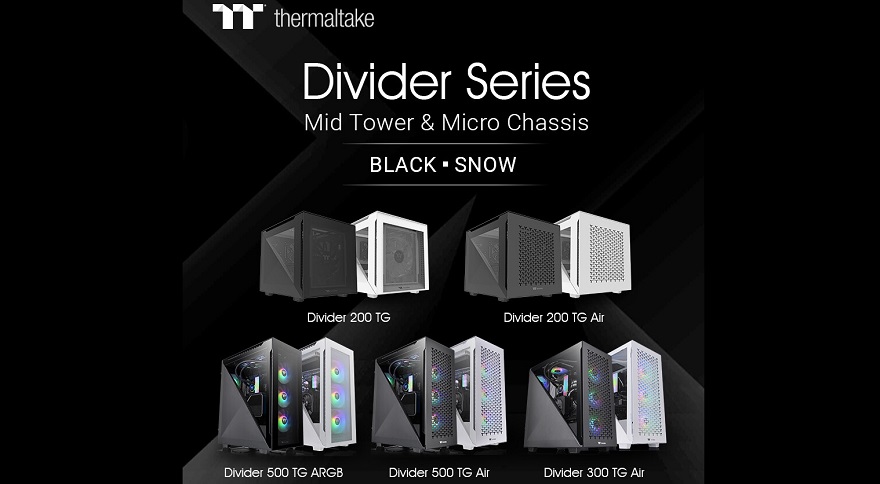 Divider Series- Different Editions
Apart from different models of the Divider series, Thermaltake has now launched different versions: the classic TG, the sensational TG ARGB with motherboard sync and the new variant Air which stands for airflow.
Divider TG ARGB Version- fascinating lighting effects and syncs with RGB motherboards
The Divider 300 TG ARGB Black/Snow and Divider 500 TG ARGB Black/Snow all come with three 120 mm preinstalled ARGB front fans which can sync with RGB motherboard software from ASUS, GIGABYTE, MSI, and ASRock. They are addressable and deliver 16.8 million RGB color illumination and unparalleled ventilation. The simple black and white cases bring out the dazzle of the fans.
Divider Air Edition- smoother airflow
The brand new Divider Air series is designed around airflow. The common feature of all models is that instead of glass there is mesh on the front panel, and is made of T-shaped holes which represents the TT logo. Compared to traditional panels made of glass or steel, the airflow is more direct and the heat can be extracted more smoothly; and together with two preinstalled fans at the front and the rear, the Air version is expected to reach better cooling results. Additionally, the Air comes in both black and white versions.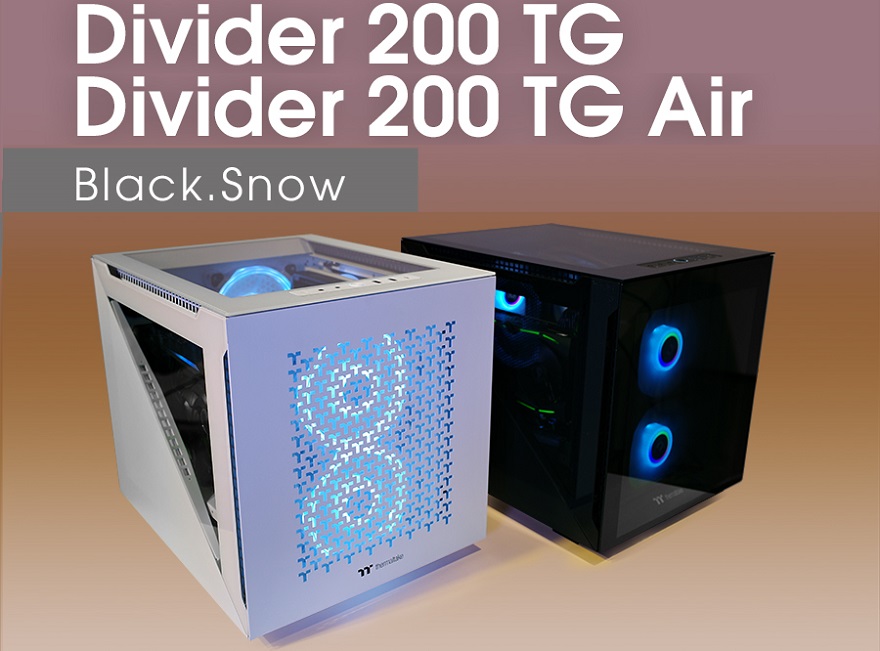 Where Can I Learn More?
In total, Thermaltake has confirmed the following product launches that have been added to its highly-popular Divider Series of PC chassis designs:
500: Divider TG ARGB (Snow), Divider 500 TG Air
300: Divider 300 TG Air (Snow)
200: Divider 200 TG Air (Snow) and Divider 200 TG (Snow)
If you do, therefore, want to learn more about these new case designs, you can check out their official EXPO June 2021 website via the link here!
What do you think? – Let us know in the comments!