Thermaltake Floe Riing 240 AIO Liquid Cooler Review
---
---
---
Peter Donnell / 3 years ago
---
Thermaltake Floe Riing 240
The all new Thermaltake Flow Ring is here, no wait, that's not right. The all new Thermaltake Floe Riing is here, and the second attempt is not a typo. I'm not sure where Thermaltake get their inspiration for naming here, perhaps autocorrect? Either way, I have been really looking forward to this cooler. Promising big performance, comprehensive RGB lighting customisation, and much more, the Riing looks set to be the new premium choice for AIO cooling. Can it deliver the performance we would expect from something labelled as a TT Premium Edition? Let's find out!
What Thermaltake Had to Say
"The Floe Riing RGB 240 TT Premium Edition is the world's first 16.8 million colors liquid CPU cooler with two 120mm Riing Plus RGB fans and a LED waterblock. This cooler series features its extraordinary performance and superior quality. The large surface radiator plus high-performance waterblock and pump guarantees ultimate CPU cooling. Besides, the waterblock and the fans are manufactured with multiple addressable LEDs that can be controlled by Riing Plus RGB Software. Functions within the software also allow users to monitor fan performance and track CPU temperature. Enjoy better cooling performance and greater CPU protection with one simple upgrade!" – Thermaltake
Product Trailer
Patented Riing Plus RGB TT Premium Edition Radiator Fan
"A high-static pressure fan with a patented 16.8 million colors LED ring and 12 addressable LEDs, the Riing Plus RGB utilizes compression blades, hydraulic bearing and can be controlled by the patented Riing Plus RGB Software and an exclusively designed mobile app."
Patented Riing Plus RGB Software & App
"Monitor the fan performance, adjust the fan speeds, and customize the lighting effects for Thermaltake Plus RGB liquid cooling products with the patented Riing Plus RGB Software and an exclusively designed mobile app. Choose a function from below and scroll down to read the details."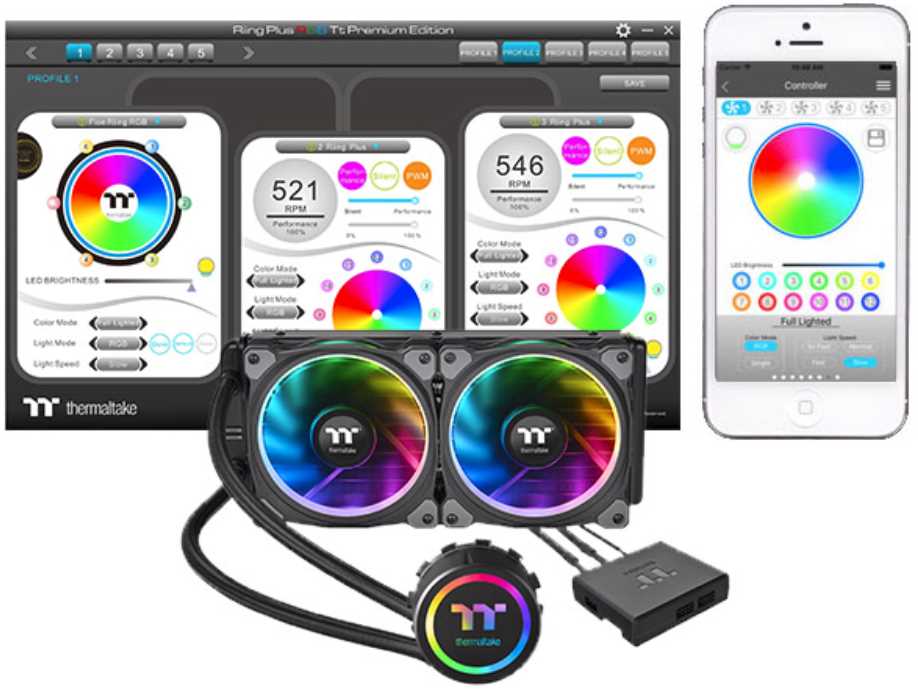 Digital Lighting Controller
"The controller is designed with a DIP switch on the back. Hence, you can set a number for each controller easily. You can add up to 5 devices to one lighting controller and up to 16 controllers to the software. The controller and the coding guide are included in all packs."
What's in the Box
In the box, you'll find a few extra bits of hardware, aside from the obvious stuff. There's a USB hook up cable, power cable, and both the Intel and AMD mounting brackets. Those we've used any Thermaltake AIOs in recent years will no what to expect here, and all the hardware is of a very nice quality. There's also a fan connection hub for the RGB and PWM controls. Overall, everything you could possibly need to get it hooked up.