Thermaltake Reveal Toughpower DPS Digital Controlled Power Supplies
---
---
---
Ryan Martin / 10 years ago

Thermaltake are the latest power supply vendor to jump onboard the digital power supply wagon. We have already seen digital power supplies from Corsair with their AX1200i and AX760i but now Thermaltake join that elusive and prestigious club. Their new Toughpower DPS (Digital Power Supplies) series will contain the DPS 850W and DPS 750W models with digital power controls and software to help tune them. Monitoring and user-control is provided by the Thermaltake DPS App .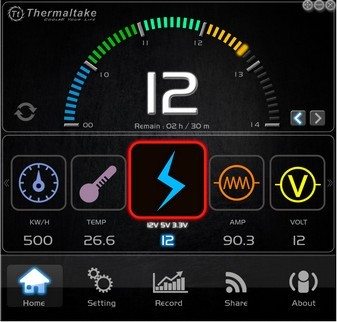 The monitoring of the app is one of the unique features of the Toughpower DPS series and it allows you to monitor voltages, temperatures, amps and kw/h of energy usage.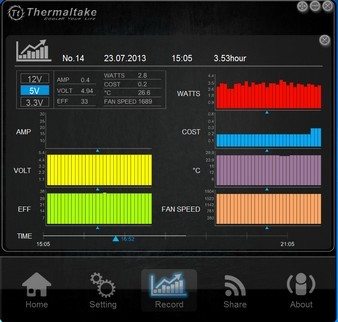 From that you can measure your energy usage, cost and even share those things via social networks.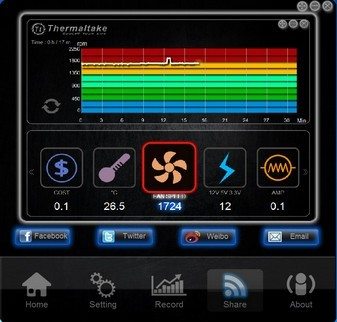 More details of the Thermaltake Toughpower DPS series can be found below:
Concept

Monitor the electricity cost of your PC to help users manage the power expense.
Record the status of your PC which enables active monitoring and the ability to organize the data to a quantitative database.
Sharing in the cloud to provide users the ability to share results with friends.

Smart DPSApp Software

The software enables users to digitally calculate the electricity cost, monitoring efficiency, wattage and voltage of the power supply with innovative technology.

Calculate the electricity cost
As the software digitally calculates the electricity cost, it can be helpful for expense control and management.

Monitor the Wattage, Efficiency & Voltage
The software enables users to monitor the wattage change, efficiency and voltage while using the computer, such as playing games, internet browsing, etc.

Sharing in the cloud
With no connecting boundaries, DPSApp provides users an impeccable function to share power usage results with friends through social network applications such as Facebook, Twitter, and Weibo, or by sending reports via e-mail.

Quantitative Database Management
Organize and save records to view within the database of usage in detail. Each record contains usage up to a 6-hour period.

Digital Fan-control
Monitor and adjust the fan speed of the Power Supply in either silent or performance mode through the DPSApp.

Fully Modular Cable Design
The fully modular cabling design allows use of cables users need resulting in improved optimal airflow and reduced system clutter.
The Product Pages can be seen below:
Images courtesy of Thermaltake