Thermaltake Riing Trio 12 Premium Fan Kit Review
---
---
---
Mike Sanders / 2 years ago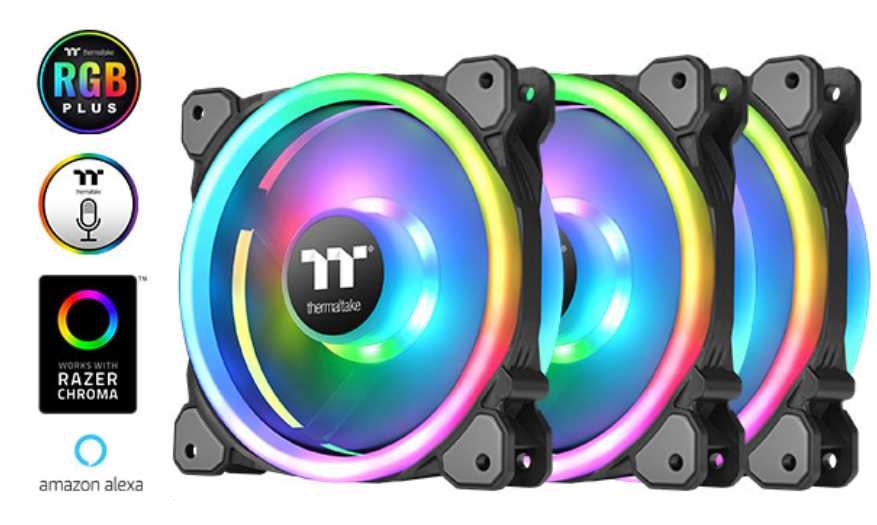 Thermaltake Riing Trio 12
Thermaltake may be, at least in comparative terms of other brands, pretty new to the Western market that hasn't, however, stopped them releasing an absolutely huge range of products. Between coolers, power supplies, chassis, fan kits and much more to come in the future, the company is very keen to make a big impact as a low-cost performer in the gaming PC industry.
Having reviewed many of their products in the past, we have never failed to be impressed with their functionality and performance. Particularly in combination with a price to suit all budgets!
With this in mind, we take a look at the Thermaltake Riing Trio 12. A 3-fan kit designed to replace the radiator fans on your existing cooling set-up. While they are marketed as radiator fans though, there is nothing stopping you either using these as an upgrade for your AIO liquid cooler or even potentially as system intake/exhaust fans.
With the full support of Razer Chroma, the fans also work with Thermaltake's RGB control software and, even more impressively, Amazon Alexa. Yes, with these, you can use Alexa to control your system fans! Pretty cool!
Product Features
Patented 30 LED ring & Software design.
Three individual addressable LED rings.
Supports up to 16 controllers, maximum 80pcs fans.
16.9 million colours RGB spectrum.
High static pressure fan design for radiator cooling.
Long life hydraulic bearing for reliable and silent operation.

What Thermaltake Had To Say
"Thermaltake Riing Trio 12 RGB is the world's first intelligent radiator fan with 3 independent 16.8 million colors LED rings design, featuring 30 addressable LEDs in total and support for Thermaltake's patented TT RGB PLUS Software, Amazon Alexa Voice Service and Razer Synapse 3 (Razer Chroma). The fan itself utilizes a PWM controlled 120mm high-static pressure fan, long-life hydraulic bearing and compression fan blade design, delivering remarkable cooling performance without sacrificing quiet operation – "Three-of-a-kind always beats two pair, Riing Trio!" – Thermaltake
Specification
For a full product description, please visit the official Thermaltake Riing Trio 12 website in the link here.
Packaging and Accessories
The external packaging carries all of the brandings you would expect from a Thermaltake product. It's bright, bold and gives you a clear image of what it can do at a quick glance. The front of the box is a particular highlight as it gives you all of the important information as well as a nice clear image of the fan itself.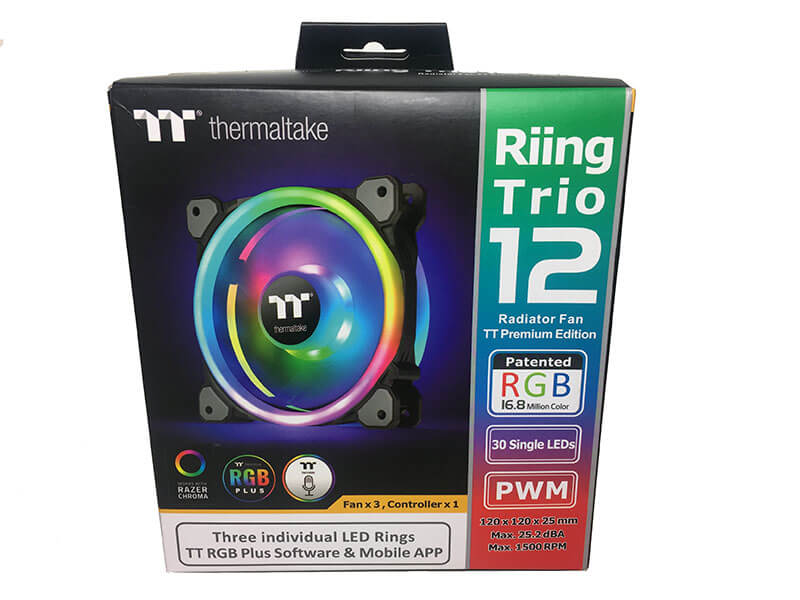 The rear of the packaging also managed to cram in a lot of good details surrounding the fan kit. This includes the key features, details on the Thermaltake software as well as a full specification of the fans.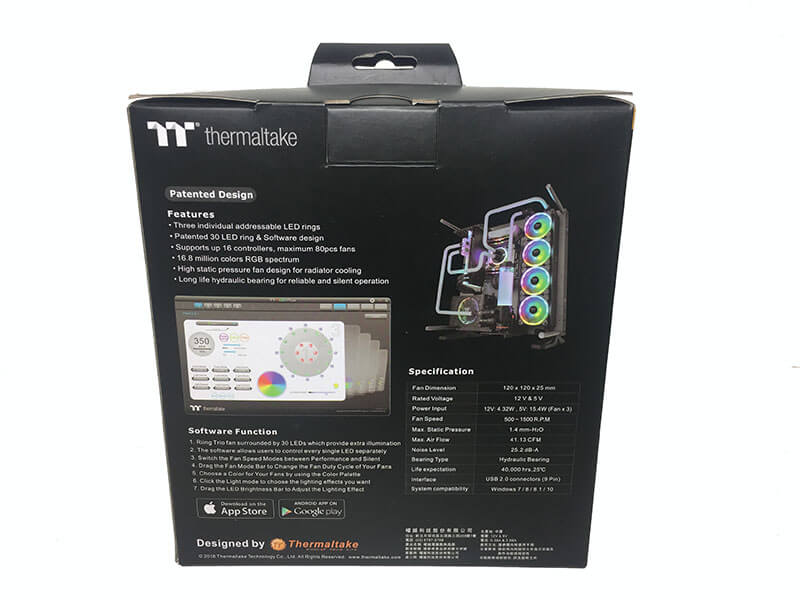 In a nice tough, the side of the packaging has been used to provide all the key information in alternative languages. It is nice (at least as an English speaker) to not see the packing crammed with multiple languages. The side of the box is a smart choice and one which I wished more companies would use.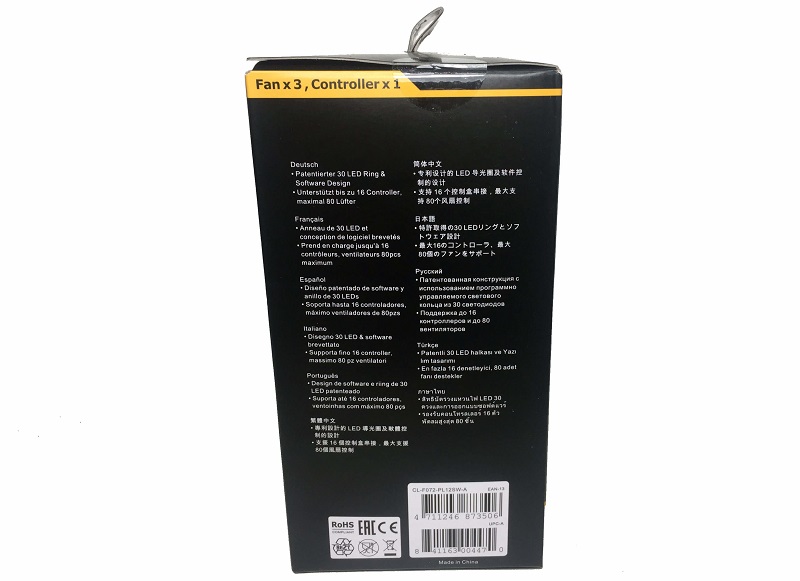 The other side of the packaging gives you three solid (albeit a little small) images of the fans. Whether these images are necessarily or not is a matter of debate, it is, however, nice to see the space used and for a good reason!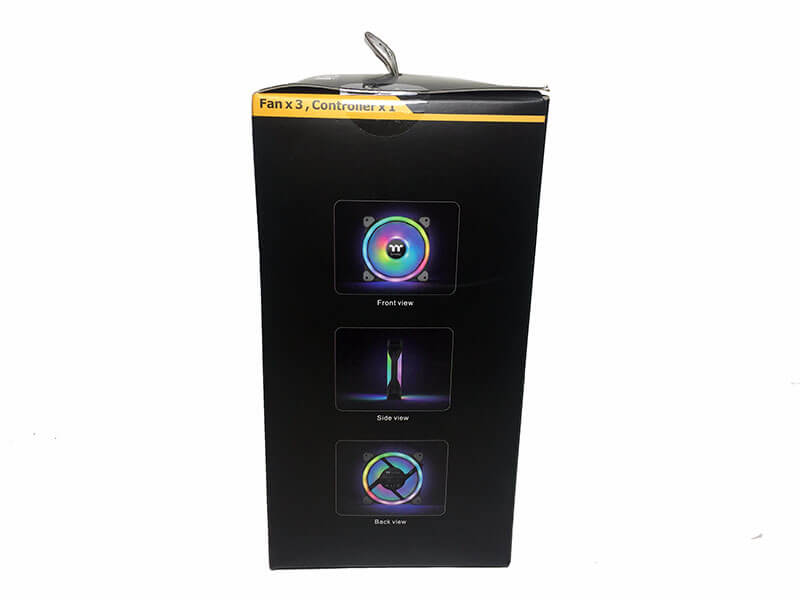 Out of the box, the internal packaging is excellent. The 3 fans are stores in the upper area with the cables nearly bundled to the side. In a boxed area to the base, you have all the technical aspects such as the controller, manual and all other peripherals you'd expect from a fan kit.