Thermaltake Smart BX1 RGB 650w Power Supply Review
---
---
---
Mike Sanders / 3 years ago
Introduction
---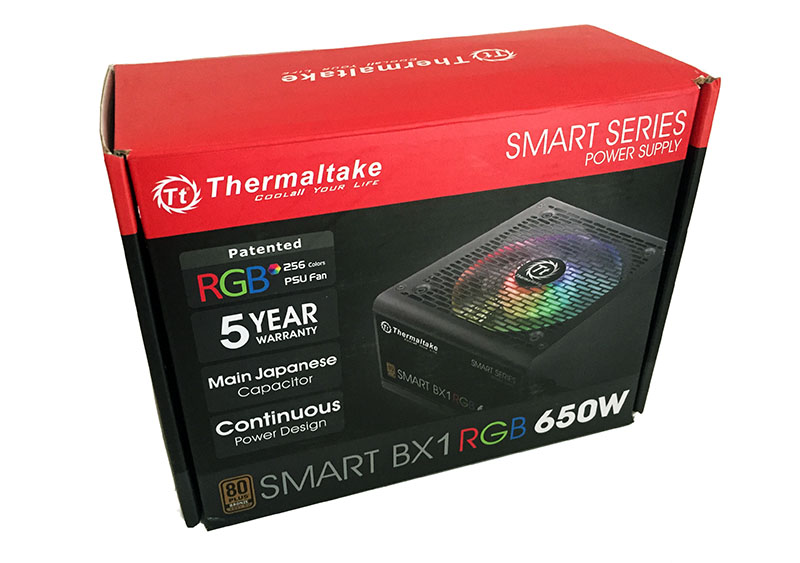 Smart BX1 RGB
Thermaltake is a brand that is rather quickly earning itself an excellent reputation throughout the world. In recent months we have seen a variety of their products come to the market. They are, however, making a particular effort to push their power supplies. There is no small coincidence that we've been reviewing so many of them in recent weeks.
Being one of the few manufacturers who apply RGB effects in their PSU's while this is clearly a standout feature, we have on more than one occasion been highly impressed with the exceptionally good test results their power supplies have given.
In this instance though, we take a look at their brand new Thermaltake Smart BX1 RGB power supply. The particular model we have is bronze efficiency rated to 650w which is the perfect level for most gaming systems. It is provided as a non-modular system with the cables being fixed and pre-installed. In addition to all of this, it is also provided with their unique RGB lighting effects which can be controlled by a button on the power supply giving a potential combination of 256 colours!
While we do like RGB lighting here at eTeknix, we're not ones to be dazzled by it. We have always considered the performance to be the key factor in any test we conduct. As such, lets put this power supply under the microscope and see if it could be a viable performer in your next system.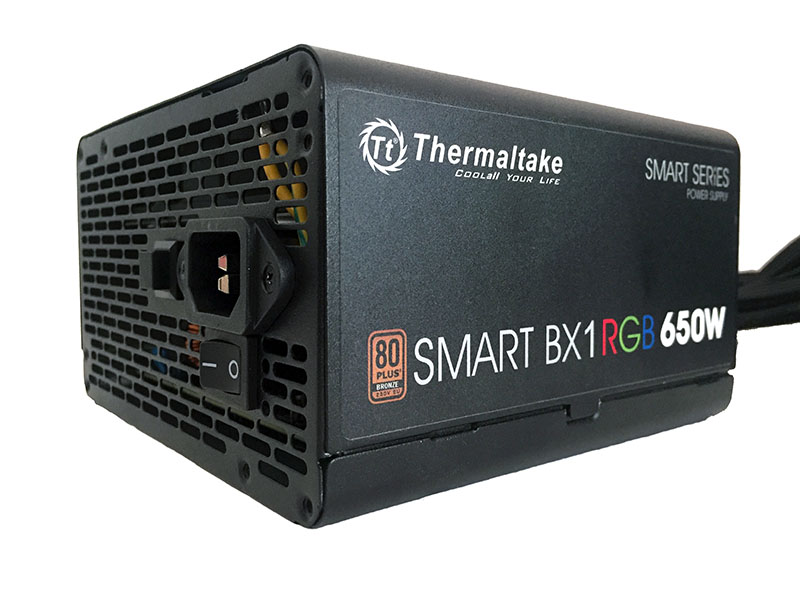 Features
The Thermaltake Smart BX1 RGB power supply comes with a single +12V rail which outputs 576w through a single rail.
As this is a non-modular power supply, all the cables come pre-attached to the power supply and can not be removed. Despite this, you are provided with a good variety that should suit the vast majority of gaming systems. It is, of course, always advisable that you check to ensure that you are going to have the right connections to suit your build.
The key features of the power supply include;
High amperage single +12V rail design.
80 PLUS Bronze 230V EU Internal Certified
All flat black cables and connectors
Provides 650w of continuous power at 40c
Easy to use RGB LED toggle button
The fan supports 10 LEDs for added effects.
Main Japanese capacitor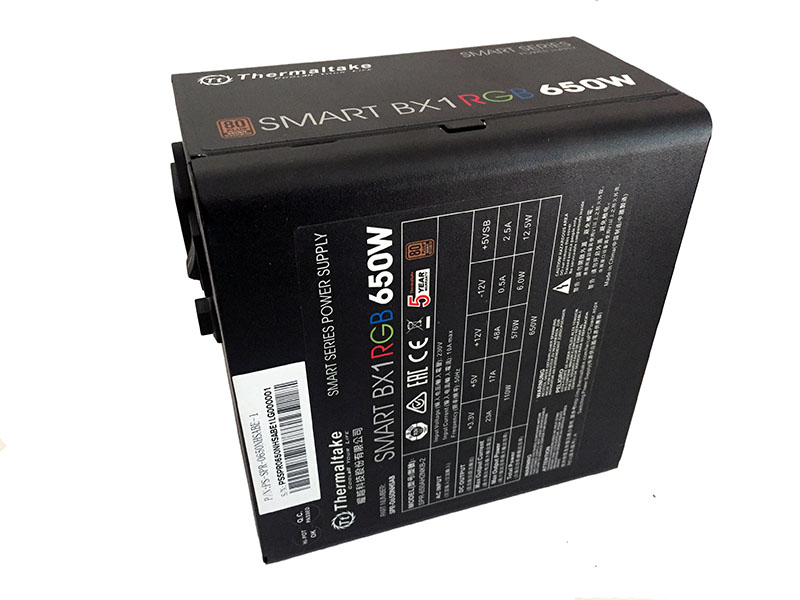 Smart RGB
The power supply comes complete with Thermaltake's unique Smart RGB design which allows you to have fantastic customisation options for the lighting effects. With 256 colours available, even the most hardcore of RGB fans (or haters) are not going to struggle to find an option that suits them here!
Cabling
With this being non-modular, it's important to know exactly what cables this power supply is provided with. Although this is detailed on the rear of the packaging we will detail it for you below.
1 x 20+4 main power connector.
1 x ATX 12 V 4 + 4 PIN
4 x SATA
2 x 6 + 2 PCI-E
4 x Molex
1 X Floppy Disk Adaptor
In terms of connectors, this should be more than enough to connect any standard gaming PC presuming your GPU doesn't require more than 8 PCI-E inputs. The cables themselves are provided with a nice thick black coated surface which is both tough and also easy to move. A major plus for any non-modular power supply!