Thermaltake Smart BX1 RGB 750w Power Supply Review
---
---
---
Mike Sanders / 3 years ago
Introduction
---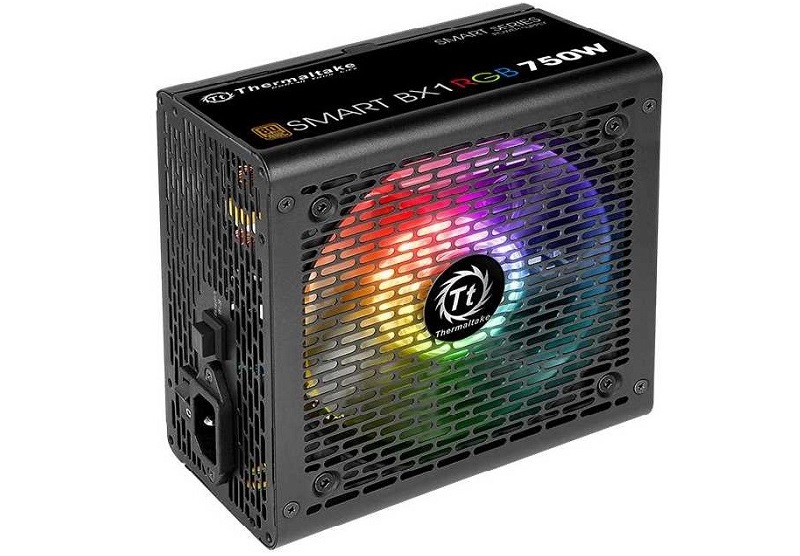 Smart BX1 RGB Power Supply
Having a good power supply is perhaps the most important single component your system can have. It's a sad fact, but when many people look towards system builds they can often overlook the significance a good PSU can have. Firstly, clearly, one that is well made will work well and generally be much more durable in the long term. Secondly, going for better efficiency ratings means that it'll run better and might even save you some cash on the electric bill. It's not much, but every little helps!
With this in mind, we take a look at the Thermaltake Smart BX1 RGB. This power supply is rated to 750w and comes with bronze efficiency certification. So far, all the things you'd want to hear from a power supply that suits a reasonable budget but still has plenty of performance to offer.
As this is a Thermaltake product, this power supply includes some impressive RGB lighting effects. This is particularly special as they are one of the few brands (at least that we are aware of) that incorporate RGB technology in their PSU designs.
A review isn't all about the light show though. This power supply still has an important job to do! Let's, therefore, take a closer look to see if this could be the next powerhouse for your system!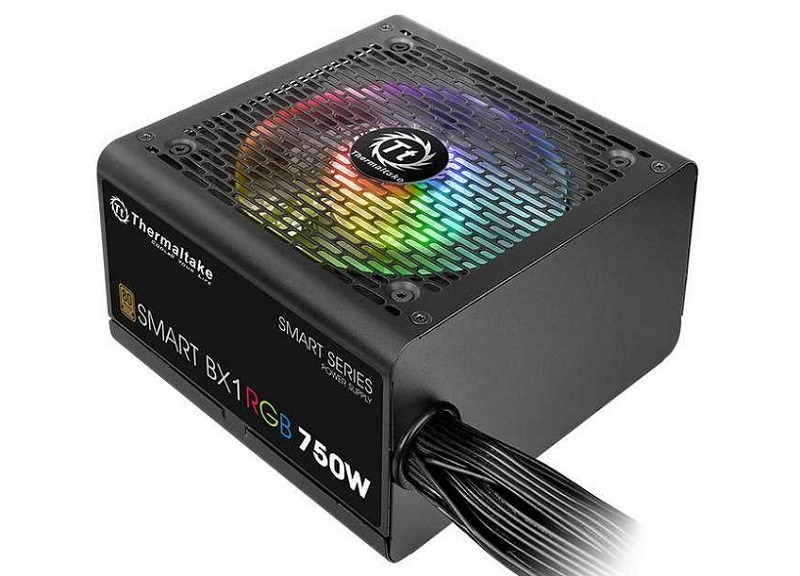 Features
The Thermaltake Smart BX1 RGB power supply comes with a single +12V rail which outputs 672w through a single rail.
As this is a non-modular power supply, all the cables come pre-attached to the power supply and can not be removed. Despite this, you are provided with a good variety that should suit the vast majority of gaming systems. It is, of course, always advisable that you check to ensure that you are going to have the right connections to suit your build.
The key features of the power supply include;
High amperage single +12V rail design.
80 PLUS Bronze 230V EU Internal Certified
All flat black cables and connectors
Provides 750w of continuous power at 40c
Easy to use RGB LED toggle button
The fan supports 10 LEDs for added effects.
Main Japanese capacitor
Please also note that this power supply also comes with a 5-year warranty. A definite testament to the quality Thermaltake feels is within this PSU.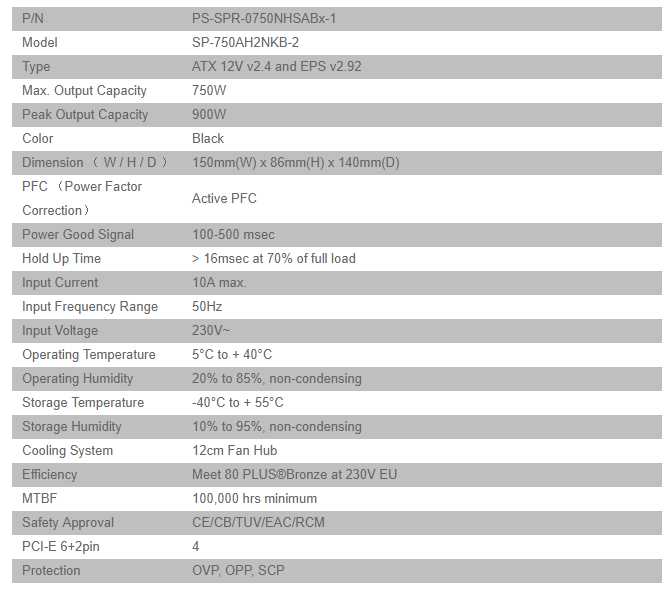 Smart RGB
The power supply comes complete with Thermaltake's unique Smart RGB design which allows you to have fantastic customisation options for the lighting effects. With 256 colours available, even the most hardcore of RGB fans (or haters) are not going to struggle to find an option that suits them here!
Thermaltake has provided a video showing this in action (as well as a product overview) below.
Cabling
With this being non-modular, it's important to know exactly what cables this power supply is provided with. Although this is detailed on the rear of the packaging we will detail it for you below.
1 x 20+4 main power connector.
1 x ATX 12 V 4 + 4 PIN
8 x SATA
4 x 6 + 2 PCI-E
4 x Molex
1 X Floppy Disk Adaptor
Compared to lower wattage models in the BX1 range, the 750w variant has about twice the number of peripheral cables. This should, therefore, suit almost any PC build and even dual-GPU set-ups.
The cables themselves are black and sleek. Although they feel quite strong and durable, they are also nicely flexible and a decent length which should make the installation straightforward.