Thermaltake Toughliquid 360 ARGB Sync AIO Cooler Review
---
---
---
Mike Sanders / 12 months ago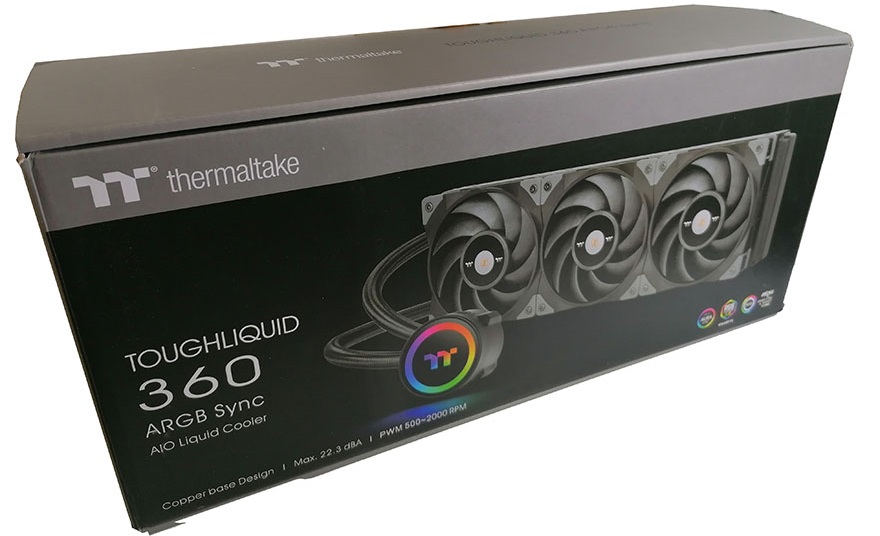 Exterior Packaging
The Thermaltake Toughliquid 360 ARGB Sync carries all the box work aspects you would usually, or perhaps more commonly, associate with their 'Toughpower' branding. It's predominantly black and silver which, for this AIO cooler, certainly contrasts well with that nice large image front and centre on the packaging.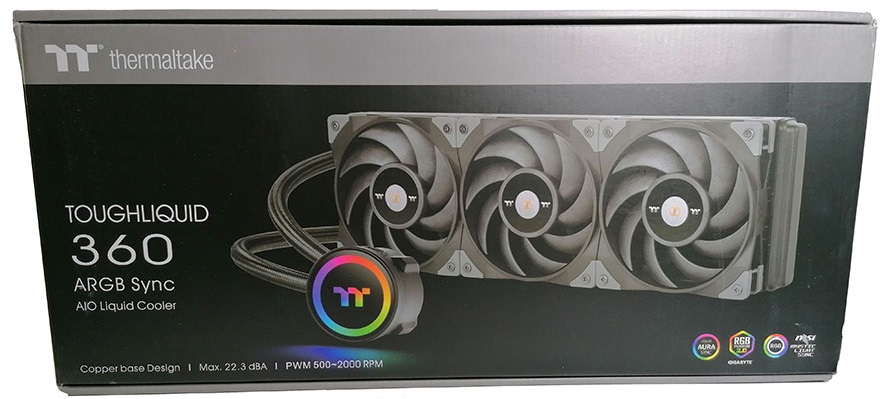 Sadly, the rear of the box work got a little obliterated due to the rather enthusiastic use of packing tape from the person who sent me this sample. The short version is though, this is a me problem, not a you problem and you can definitely expect yours to arrive in much better condition than mine because yours will come directly from the retailer. In contrast, mine has probably been through several hands all over the planet.
In terms of the information presented, the rear of the packaging tells you everything you could possibly want to know, including a nice number of diagrams and images of the cooler. The only mild criticism I could make is that it hasn't made the best utilisation of the space available. Put simply, both the text and images could've been larger. On the whole, though, it's a minor point and in terms of conveying all of this AIO coolers key features and design aspects, Thermaltake has, once again, nailed it!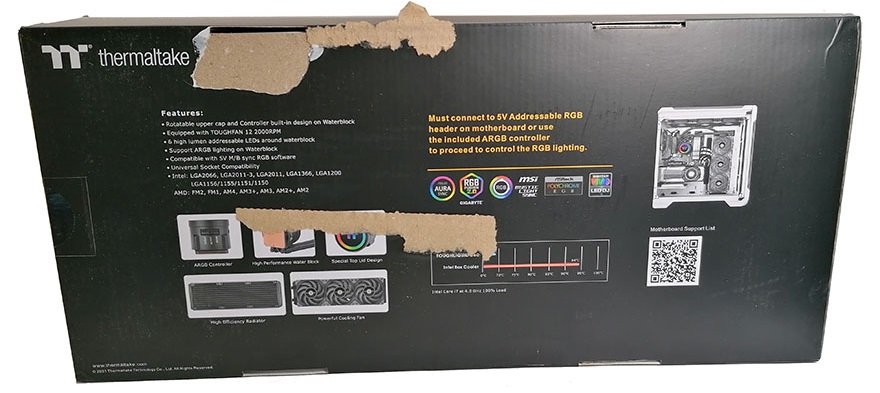 Accessories!
Given that this is a 360mm AIO liquid cooler featuring ARGB lighting, it's not exactly surprising to find that you're provided with a fair number of accessories. However, in terms of the individual components, everything has been well organised with the key parts for different socket types coming in separate packages. You're also provided with a SATA power adaptor for the ARGB lighting and a decent quantity of thermal compound which should be more than enough for 2 installations. Not, incidentally, that you'd have much cause to want to install this twice.