Thermaltake Toughpower iRGB Plus 1250w PSU Review
---
---
---
Mike Sanders / 3 years ago
Introduction
---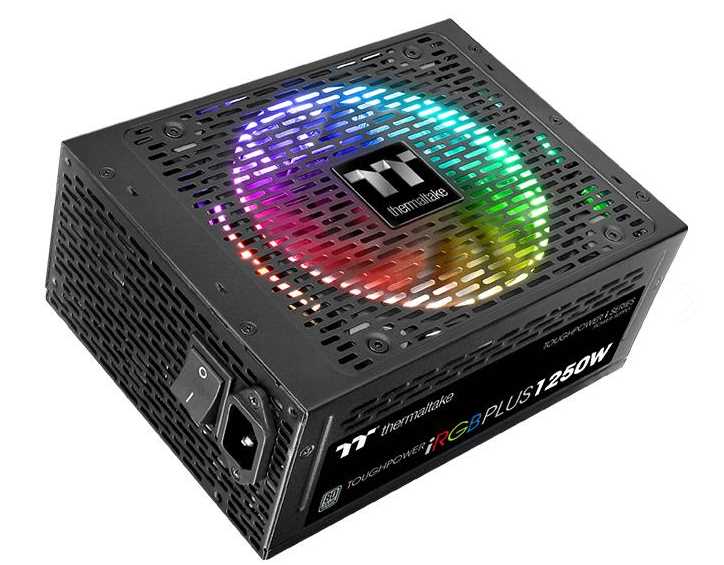 Toughpower Grand Series
Slowly but surely, Thermaltake is building an excellent reputation with their product range. Best known for their coolers, power supplies, chassis and gaming merchandise, while it may not be the first name off your tongue in terms of PC component manufacturers, there's no real reason why it shouldn't be. That aside though, the way they are going Thermaltake are doing everything possible to make that happen.
We have in the past reviewed many of their products and have always found them to be excellent. This time around though, we're looking at something particularly impressive.
The Thermaltake Toughpower iRGB Plus is a 1250w power supply. Not only that, it is Titanium rated. For those unfamiliar with power supply ratings, that's basically as good as it gets in terms of efficiency. In addition, this PSU also includes some highly impressive power management features which can be run via software and if that wasn't enough, RGB lighting. RGB lighting is definitely something Thermaltake take seriously!
Despite our ever-growing love for their products though, we don't take that at face value. Let us, therefore, check out this brand new product from top to bottom and put it through our rigorous testing to see if this is the powerhouse it claims to be.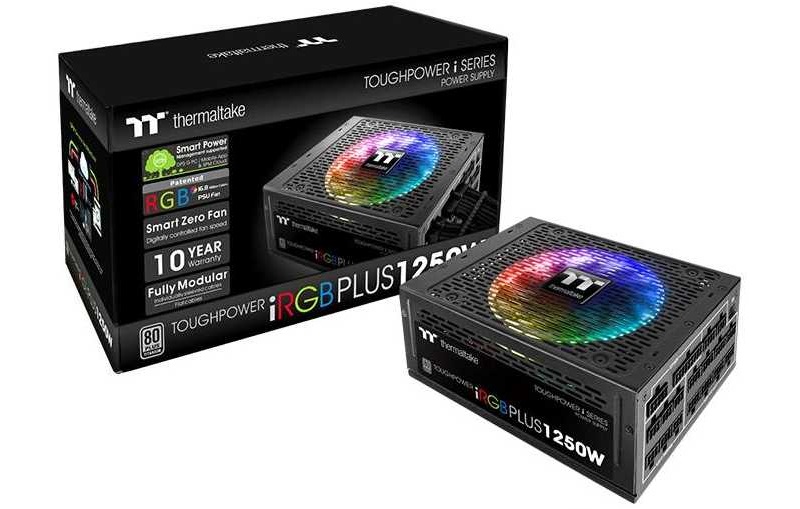 Features
This Thermaltake Toughpower iRGB Plus power supply comes with a single +12V rail which outputs 1248w through a single rail. Although this is getting to be a little more common in PSU designs, it is still nice to see. This is especially so in a power supply which clearly has a lot of output to give.
The fully modular cabling is again fairly common these days, but as above is always a relief to find with a power supply. It is, after all, better to fit the cables you need rather than having huge sprout of which you will probably only need a third.
Although Thermaltake doesn't make too much of a fuss about it on the box, the Toughpower iRGB Plus does come with 100% Japanese capacitors. For anyone in the know with electronics, this is always reassuring that quality components have been used.
Digitally controlled fan colour.
Kabylake and ErP ready.
100% high-quality Japanese capacitors.
32-bit microcontroller unit design.
80Plus Titanium Certified Up To 94% Efficient
Industrial-grade Protection Design; over voltage/overpower/under voltage/over current/over temperature/short circuit protection.
Inside the packaging, you will find the power supply wrapped in a Thermaltake covering with foam protectors. In addition, you will also find the product manual, warranty information (which incidentally is 10 years) and a canvas bag holding all the cabling you'll need to get started.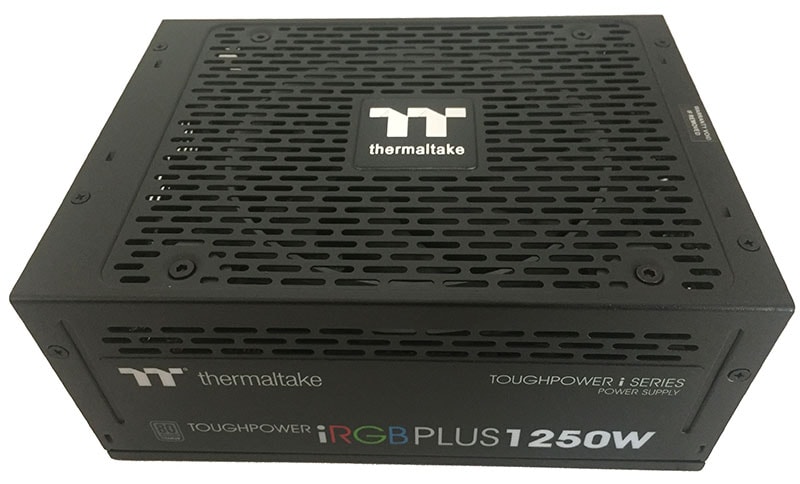 Specifications
For in-depth specifications, please visit the official Thermaltake Toughpower iRGB Plus product page here.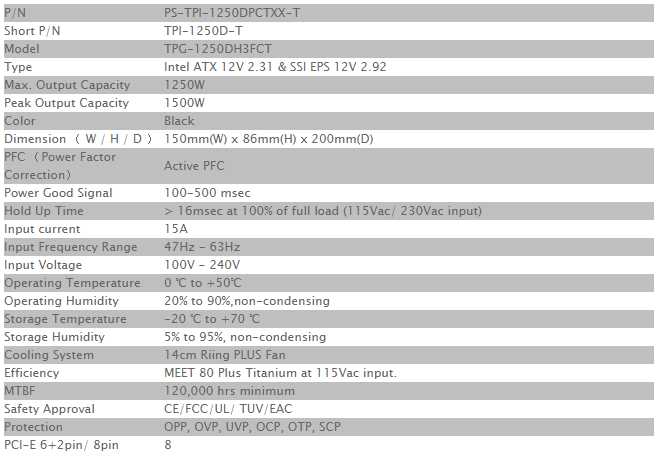 What Thermaltake Had to Say
"Thermaltake Toughpower iRGB PLUS Titanium Series features a patented 16.8 million colors RGB fan, 12 addressable single LEDs and high-tech components. With the support for three Thermaltake's intelligent platforms – DPS G PC APP, DPS G Smart Power Management (SPM) Cloud and DPS G Mobile APP– Toughpower iRGB PLUS Platinum Series becomes the world's first voice controllable digital power supply that enables users to access power supply's current status, CPU/VGA/RAM key parameters, control over RGB fan lighting mode and fan speed , along with the real-time alerts covering major PSU abnormalities, and eventually save energy and reduce CO2 emission." – Thermaltake
Smart Power Management
One of the main key features of the Thermaltake Toughpower iRGB Plus power supply is its Smart Power Management. This system is designed to give users full control over their power supply. This is not only for efficiency but also provides warnings and alerts if something doesn't seem quite right on your PC in terms of the power outlay.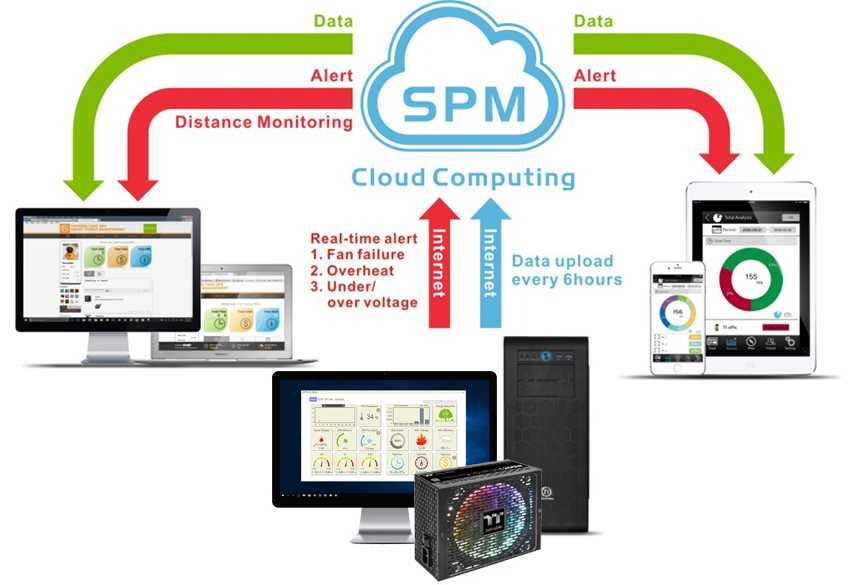 The software is available to download onto your smart device or even your PC so that you can monitor your power outlay with precision. This will also allow you to regulate it to potentially save a few pennies of electricity where you can. The software is both easy to use and highly informative. Thermaltake has provided a brief video below which explains the software in detail.
Cabling
As you can appreciate, for a 1250w power supply, you're not going to really buy this unless you have rather a lot going on inside your system. With that in mind, Thermaltake has provided you with more than enough cables to make sure that even the most well-equipped systems should not have any difficulties getting everything hooked up.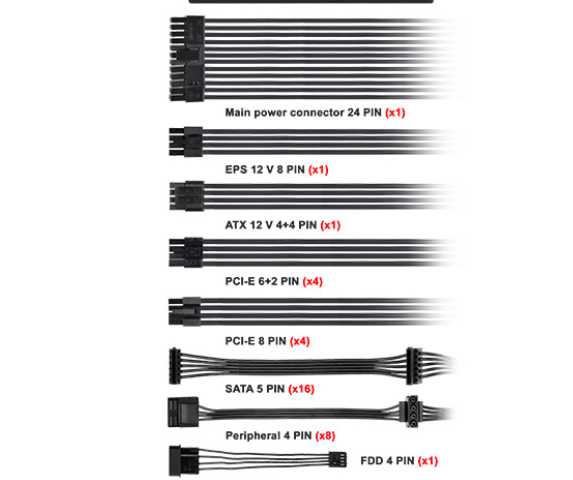 RGB Lighting Effects and Controls
Thermaltake is a brand well known for their excellent RGB lighting options and this power supply is no exception. It is a little unusual to see this in a PSU, but don't let that put you off. Thermaltake have pulled no punches here and the options on offer are pretty fantastic. Thermaltake has created a video below to showcase this PSU in its full glory. Why, after all, have me write about what it looks like when you can just watch a video?