Thermaltake Tower 100 Now Used In Pre-Built Systems By AWD-IT
---
---
---
Ben Enos / 2 years ago
Thermaltake Tower 100
The Thermaltake Tower 100 is a vertical mini-ITX That offers viewing into the case from three different sides. While this case has been out for a little while now, we are still seeing some nice builds in it and now even System Integrators like AWD-IT are using it! With its unique design, 3 tempered glass side panels and plenty of airflow, the Tower 100 is a great option for those who want an amazing looking PC that isn't overly massive. Those looking for something a bit beefier may want to check out Thermaltake's Tower 900 which is designed for E-ATX motherboards and massive custom loop cooling builds.
AWD Dark Tower Ryzen Desktop Gaming PC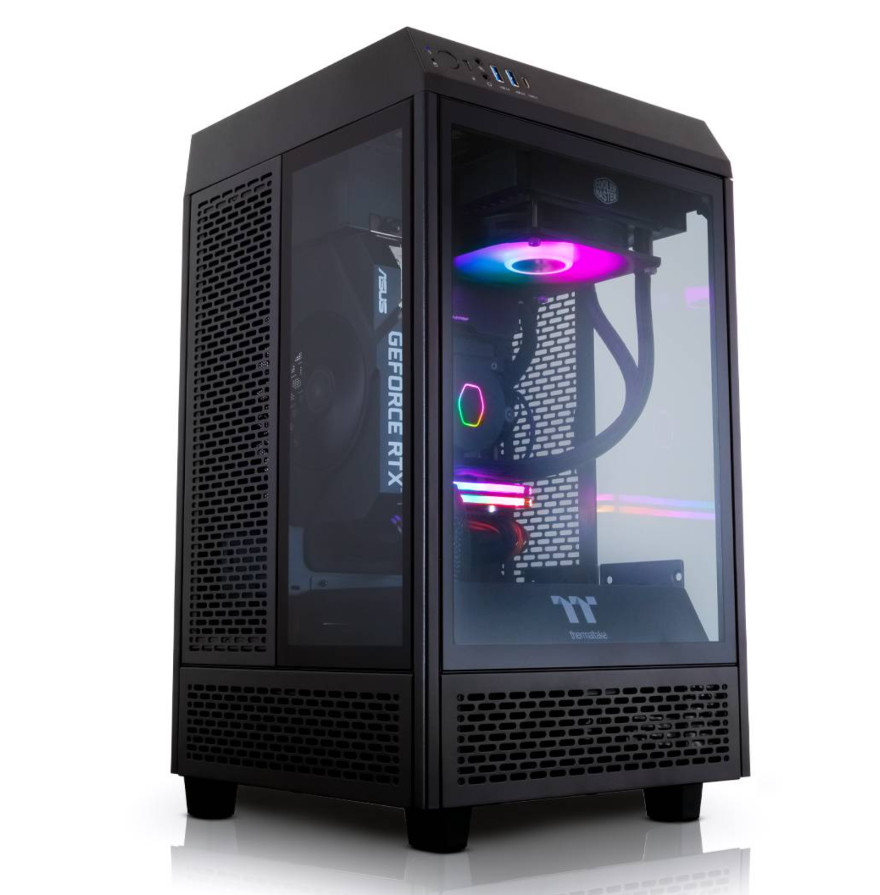 The AWD Dark Tower Ryzen 5 3600 6 Core 4.2GHz NVIDIA RTX 2060 6GB Desktop PC for Gaming is currently available to purchase from AWD-IT with a build time of around 8-10 Working days. That's not bad at all and you can even upgrade some of the components if you wanted. For instance, instead of the 3600, you could go with a 3800X for an additional £139.99. Need more storage? Not to worry, there is an upgrade for that as well! It seems at the time of writing you can upgrade almost everything except for the Case, GPU and Motherboard which seems pretty fair to us! On the components, you can upgrade, AWD-IT has a good selection to chose from so there should be no issue finding what you want for your next build!
Want some even better performance? Look at their AMD 5000 series model the AWD Dark Tower Ryzen 5 5600X 6 Core 4.6GHz NVIDIA RTX 3060 12GB Desktop PC for Gaming. Again, this can have upgraded parts depending on your needs and budget and has the latest RTX 3060 GPUs in it for those all-important frames!
Why Not Go For A Complete Setup?
Not only does AWD-IT offer some amazing pre-built PCs such as the AWD Dark Tower Ryzen Desktop PC For Gaming, but they also sell peripherals and everything you would need to make a complete setup. Looking for a new monitor? AWD-IT have you covered with their new range of Xperience monitors. The Flagship XRGB27WQ is a 27″ 1440P Gaming Beast with a 165Hz refresh rate! If that is a bit much for you and you are looking for something more basic, they have you covered there as well don't worry.
Thermaltake Tower 100 Big Case Small Footprint
Price & Availability
The Dark Tower Ryzen 5 3600 variant can currently be had for £899.98 Including VAT before any upgrades are done. The Ryzen 5 5600x model with a RTX 3060 comes in at £1,149.98 which is still a fair price, especially in today's market. AWD-IT is currently saying it will take 8-10 business days to build the PC. You will then also need to account for your preferred shipping method as well to get an idea of how long it will take you to receive your new PC. So, all in all, you should be looking at around 2 weeks tops from the time you order it until the time you can use it, which isn't bad. Remember AWD-IT will not only need to build it, they will also like need to test it to make sure everything works as intended before you receive it.
Our Thoughts
The Tower 100 was already an amazing case but being used by AWD-IT just adds that something extra to it. The Tower 100 won our Editors Choice award in Pete's review and he had some very high praise for it, stating " this is one of my favourite cases ever." There is no denying that it is a unique case and seeing companies like AWD-IT using it in their pre-built PCs only helps to solidify its place in the market. Where will we see the Tower 100 case next? We don't know but are surely looking forward to finding out.