ThermoLab Trinity Ultra-Quiet CPU Cooler Review
---
---
---
Luke Hill / 12 years ago

ThermoLab may not be the first company that springs to mind when you think of a CPU cooler but that isn't to say that they are a new company on the market. They have had a few major releases in past years including the phenomenal ThermoLab Baram which dethroned the legendary TRUE as the king of the cooling world back in 2009.

Their aim isn't to flood the market with multiple coolers all in the same price band, but to work very hard on a particular cooler and make sure that they only have to release one which obliterates the competition. Today we will see if their latest cooler the ThermoLab Trinity lives up to the reputation its brothers have built for the brand.

The ThermoLab Trinity is a 'standard' design tower heatsink which fits every modern socket from Intel and AMD. It sports 4 6mm copper heatpipes positioned in a very unique orientation to offer "efficient heat exchange with minimal air resistance". The base uses a heatpipe direct touch (H.D.T.) design to offer what ThermoLab claim is up to a huge 220W of heat dissipation. ThermoLab have decided to use a 130mm fan which can reach a maximum of 1800RPM to deliver effective airflow through the heatsink.

So is the Trinity ThermoLab's new superstar and can it take the heat?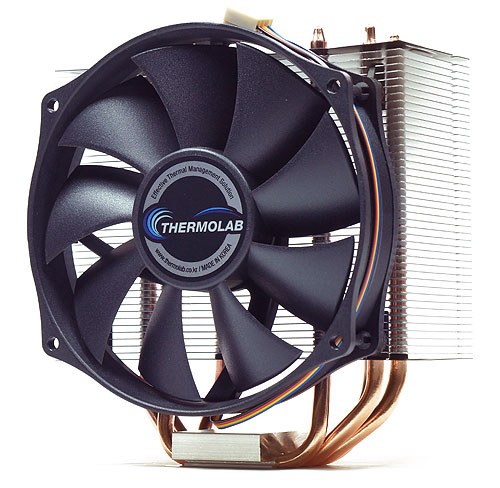 Specifications
[TABLE=class: grid]
[TR]
[TD]Product Name[/TD]
[TD]TRINITY[/TD]
[/TR]
[TR]
[TD]Dimensions[/TD]
[TD]150 × 136 × 85mm (H x W x L)[/TD]
[/TR]
[TR]
[TD]Weight[/TD]
[TD]735g[/TD]
[/TR]
[TR]
[TD]Material[/TD]
[TD]Pure Copper and Pure Aluminium[/TD]
[/TR]
[TR]
[TD]Heatpipes[/TD]
[TD]Four 6mm diameter copper Heat Pipes(Sintered powder type)[/TD]
[/TR]
[TR]
[TD]Dissipation Area[/TD]
[TD]7,050 cm²[/TD]
[/TR]
[TR]
[TD]Thermal Grease[/TD]
[TD]Color : Gray / Thermal Conductivity : 4.0W/mK / Specific Gravity : 2.6 / Operating Temperature : 0~150℃ / Capacity : 2g[/TD]
[/TR]
[TR]
[TD]Fan Dimensions[/TD]
[TD]130 x 130 x 25mm, 4-pin PWM type[/TD]
[/TR]
[TR]
[TD]Fan Bearing Type[/TD]
[TD]Long Life Hypro Bearing[/TD]
[/TR]
[TR]
[TD]Fan Speed (PWM Duty)[/TD]
[TD]600 – 1,800rpm ± 10% (0-100%) / Performance Mode
600 – 1,200rpm ± 10% (0-100%) / Silent Mode : +SC3[/TD]
[/TR]
[TR]
[TD]Fan Noise Level[/TD]
[TD]16-32 dBA / Performance Mode
16-24 dBA / Silent Mode : +SC3[/TD]
[/TR]
[/TABLE]