Thrustmaster 250P PlayStation 3 & PC Gaming Headset
---
---
---
Peter Donnell / 8 years ago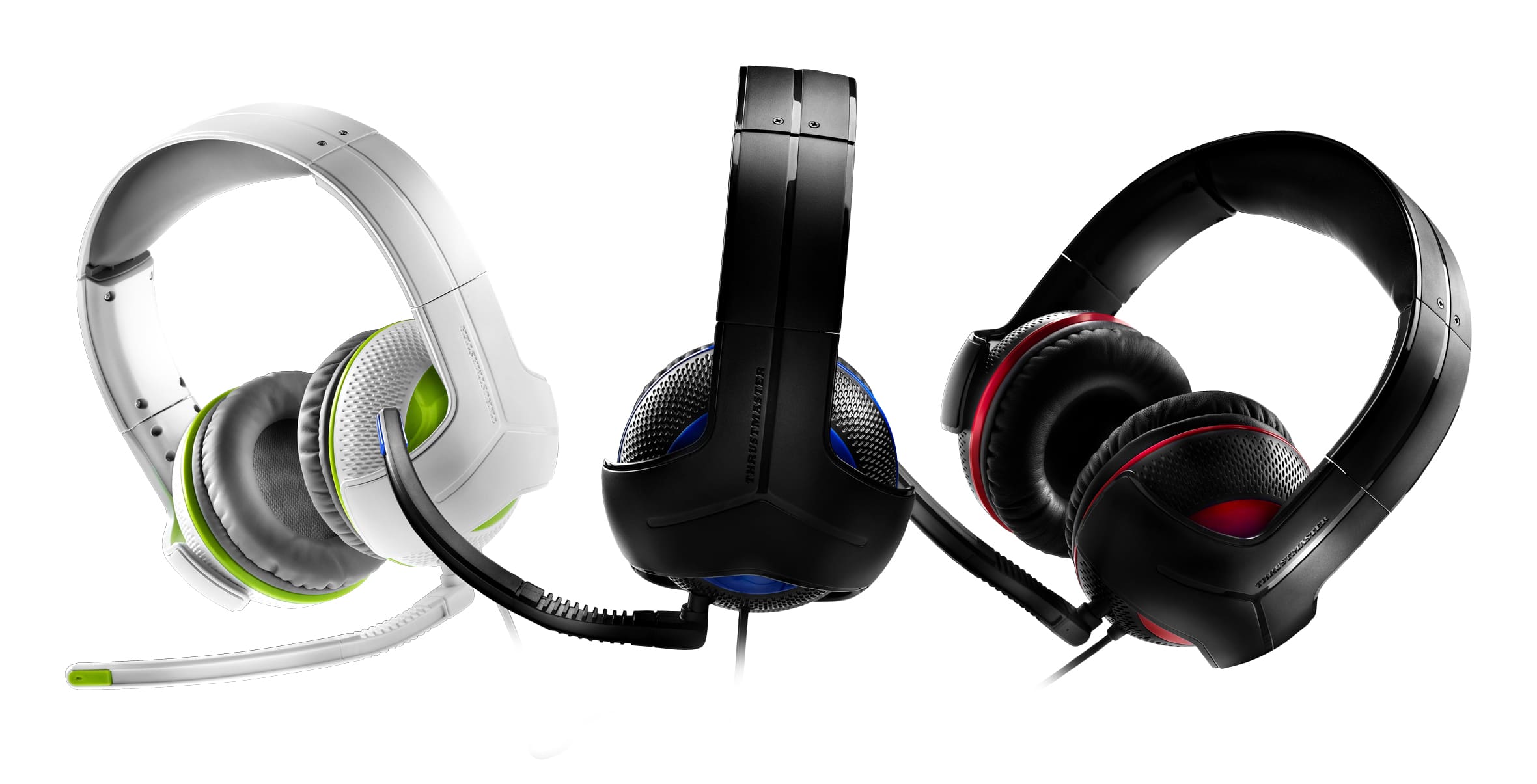 Today I will be taking a look at the 250P gaming headset from Thrustmaster and while this range does include models that are designed specially for both the Xbox and the PC, the model I am testing today is for PlayStation 3 and PC.
Thrustmaster has a long history with games consoles, peripherals and by association, audio products, which comes from the Hercules brand. Thrustmaster is part of the Guillemot Corporation, as too are Hercules and with such a specific history behind the two parts of Guillemot I have high hopes for the performance of the 250P headset, both in terms of how well it applies to gaming and how it holds up terms of audio quality.
However much I expect from this headset I can't really ask too much of it, with a price tag of around £45 from many major online retailers I doubt that its going to be setting any new records in terms of design, performance or build quality. This might not sound like a promising start, but that's ok for so many reasons. While we would all love high-end gaming peripherals, high spec gaming headsets and a budget to match, that really isn't how the real world works and there is no denying that the market for a budget friendly headset is huge. It's also common knowledge that the PlayStation 3, unlike the Xbox 360, doesn't come with a pre-packed headset, not even a really cheap one and for some people, they simply want something cheap that will work, either way, there is a lot of room in the market for both high-end and budget friendly models.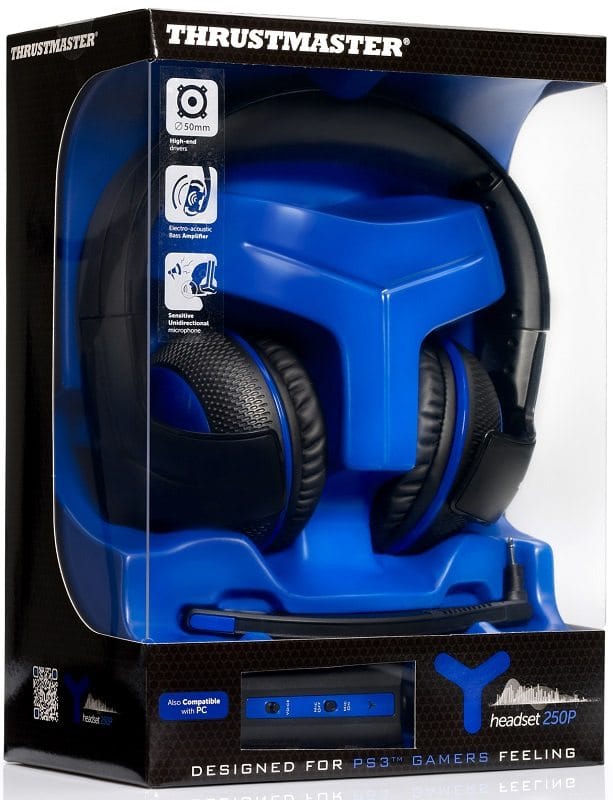 The 250P comes packed in a windowed display box, nothing fancy but it does give us a good look at the headset, its microphone and in-line controller.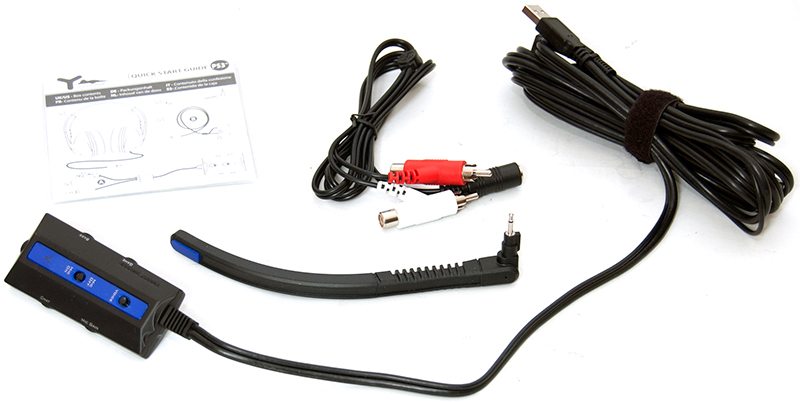 The headset comes with everything you need to get setup for both PC and PlayStation 3, this includes a simple user guide, extra long USB / Audio cable, 3.5mm to RCA pass through cable and a fully detachable boom microphone.

The microphone doesn't look too bad, it features a bendable joint near the jack plug and while it doesn't allow much in the way of repositioning the microphone its flexibility should make it less likely to snap if knocked.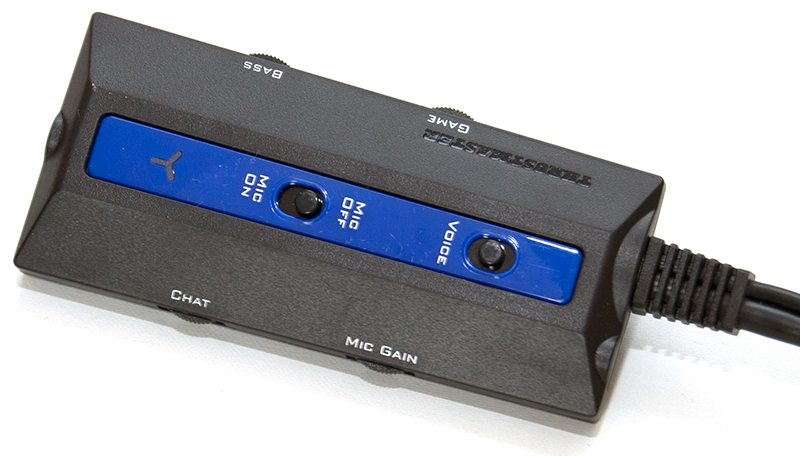 The USB / Audio cable features a hard-wired in-line control and while it is a little bulky it does pack a fair few features, having access to two mute toggle switches and four volume / EQ dials should give you great flexibility while gaming and its rare to see so many controls on a headset within this price range.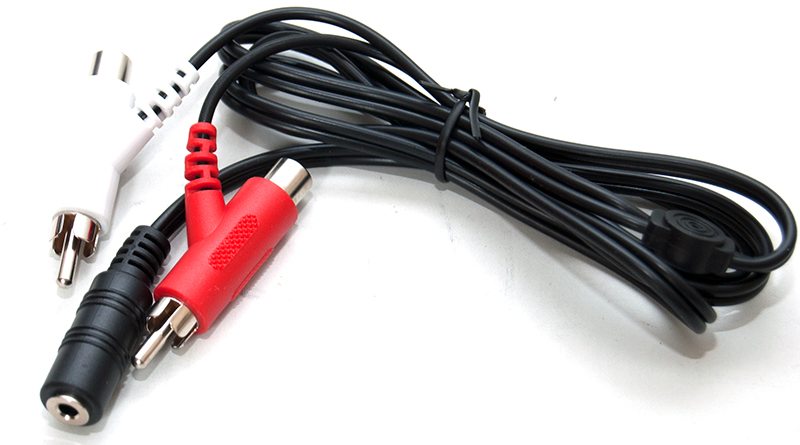 The pass through cable is fairly standard but a vital tool non the less, this is used to get the game audio from your PlayStation 3, where as the USB will provide chat functionality.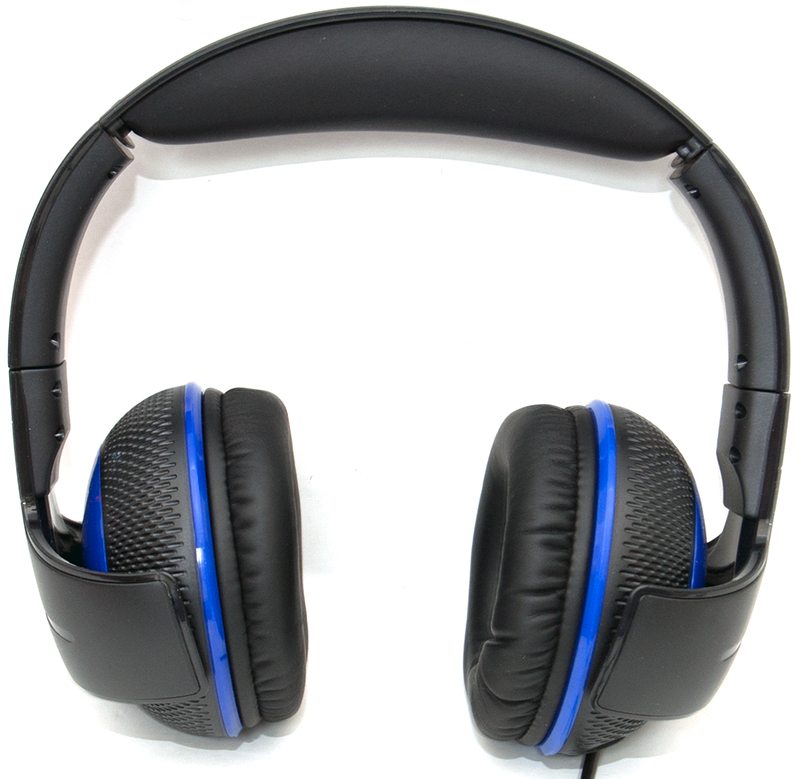 The headset its self features a very curved and rounded design, there is a lot of fairly cheap feeling plastic in the construction but as I said before this isn't a terribly expensive headset and the choice of plastics is on par with many others in the same price range.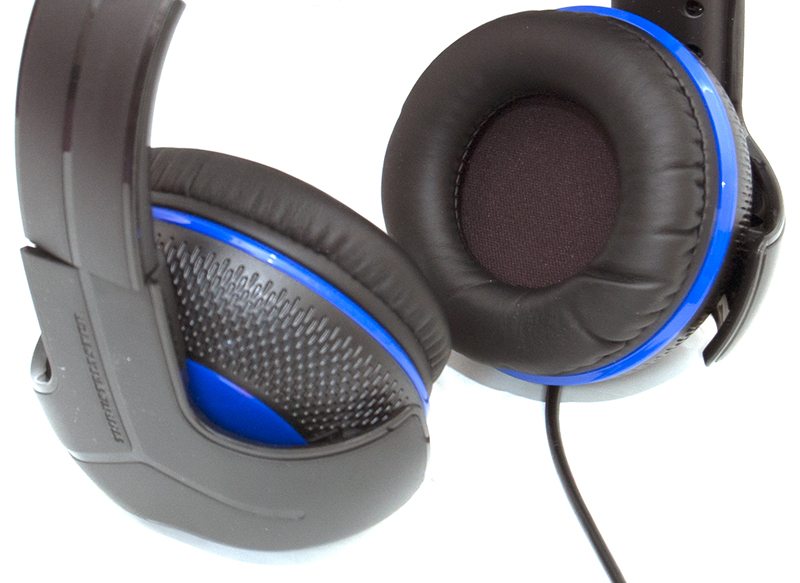 The over ear design ear cups come finished with some blue plastic highlights and soft leather covers that should provide good long-term comfort.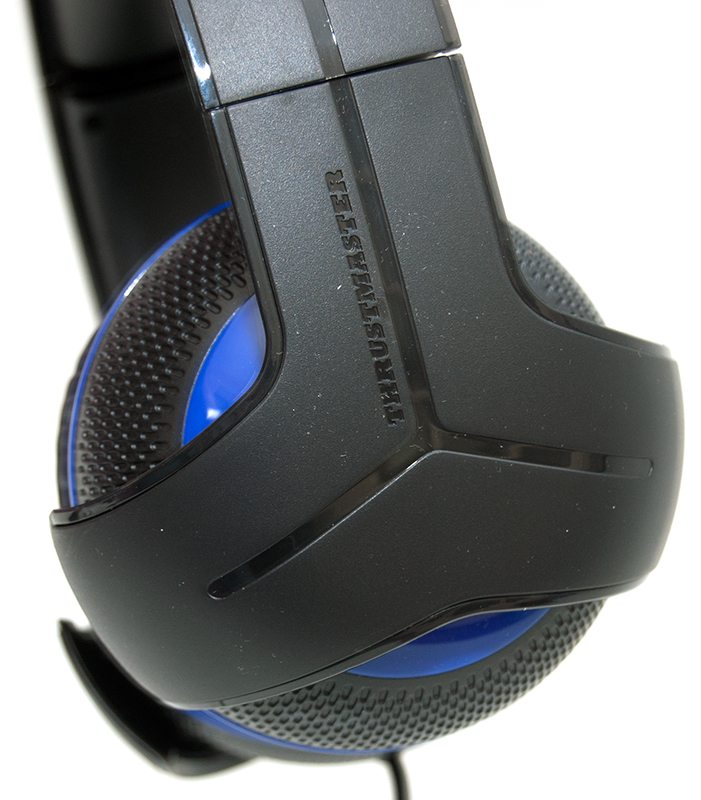 One thing I'm not so sure about is the brackets for the ear cups, they seem a little over sized and there is just too much plastic. They do however allow you to swivel and tilt the ear cups slightly, which should help provide a more comfortable fit.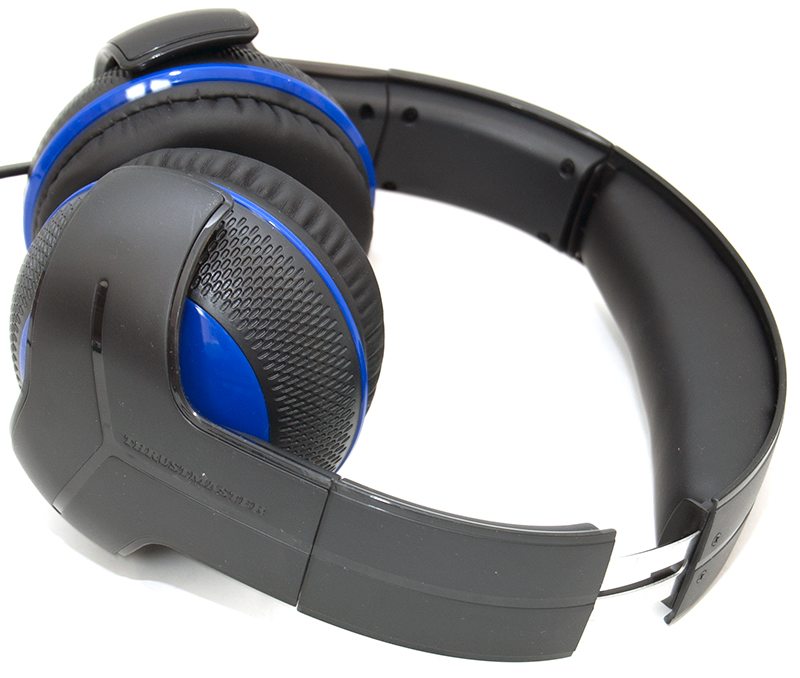 The headband is pretty good, featuring a large amount of soft padding and good quality extendable arms.

The headset comes hard-wired with a 4 point 3.5mm jack plug that connects directly to the in-line remote. There is also a small shirt clip that will help keep the in-line control within reach while gaming.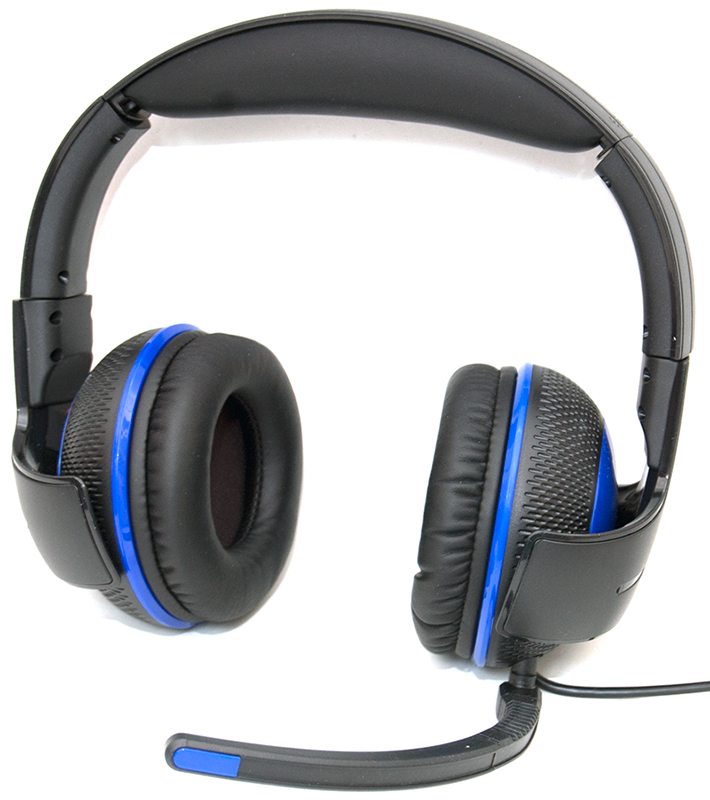 Setup & Installation
I find that wired PlayStation 3 headsets are a massive pain to set up, there is essentially no way of making the cables look organised and having cables running from your AUX cable to the headset, plug another from the USB port, then your inline controller and to the headset can just be messy, but this isn't any fault of the 250P, this is true of any wired PlayStation 3 headset. It took a couple of minutes to get everything wired in a working and on the plus side there were no issues getting the set up and running. Of course when it came to testing them on the PC it was as simple as plug and play.
Performance
This headset was never going to blow my mind in terms of performance but it's not without its charms. A few games on Uncharted, God of War and Battlefield 3 proved to me that the drivers in the headset are fairly standard but still competent as far as headphones go, the sound is distortion free and offers up plenty of volume but it's completely middle of the road, nothing that makes you go wow, but nothing bad. The inline control does change that somewhat and having bass and volume controls on hand really helps you tailor the sound to your liking, so much more than you would normally be able to archive with a budget headset so that is of course a good thing.
In game chat is the strong point here and the microphone is plenty good to chat with friends in Battlefield 3, being able to adjust the volume of chat and game volume is always a welcome feature too as you can tune out either your annoying team mates or the game dependent on your situation.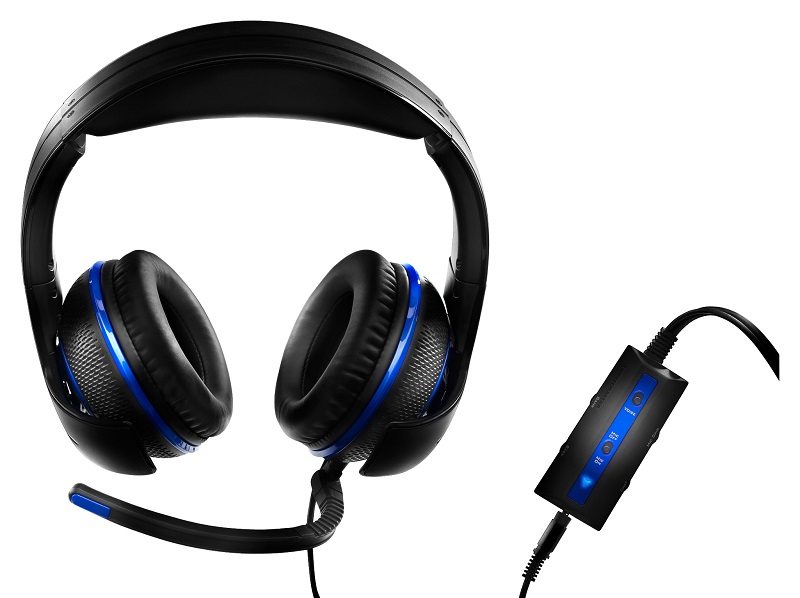 Overall the 250P is a fairly standard headset, but it does also come with a fairly standard price tag to match and that's something that will reflect well for a lot of consumers. £45 is not a lot of money for a gaming headset but it can still be a big investment for a lot of people and no matter what their budget, everyone likes to see a good return for their investment.
The headset has fairly good build quality, in the sense that I don't think its going to fall apart from day-to-day usage any time soon. I can't however say I'm all too confident that it would survive more than a few months if you're a bit heavy-handed or you're the sort of person who would regularly drop it on the floor. It's not so much that its cheaply constructed, but it is made of fairly lightweight plastics, of course if you want stronger build quality, expect to spend nearly twice as much.
Audio quality isn't too bad either and its perfect for those who just want to use their headset every now and then to play with friends, those who are looking to get heavy gaming usage from the headset may want to look for something a little more refined as I did find the ear cups could become uncomfortable after 1-2 hours usage,  party due to their design being more suited to people with both a smaller head and smaller ears than myself.
The 250P headset misses out on one of our awards this week, and while it may not be award worthy it's not really a bad product either. If you're on the market for a headset under £50 then you're going to struggle to find anything better in terms of performance, but on the plus side I really do like the in-line controller as it packs more features than you typically find in this price range.