Thrustmaster Introduces the TS-PC Racer High-End Wheel
---
---
---
Bohs Hansen / 4 years ago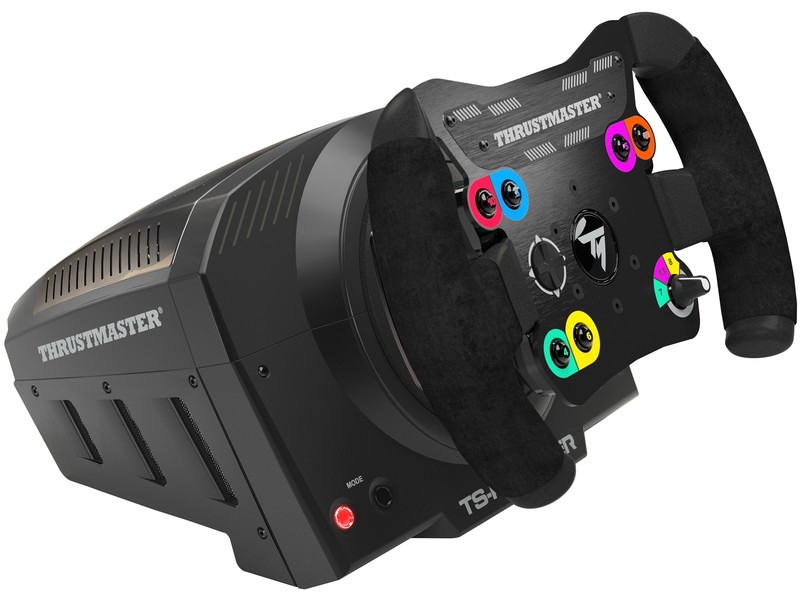 Thrustmaster has a lot of experience when it comes to racing-wheel sets and they've now released their latest take on this genre. The new TS-PC Racer high-end steering wheel is, as the name suggests, aimed at the enthusiast PC market. It is a beauty and it comes with all the latest technology packed together for the ultimate racing experience, but it does so at a price. The new TS-PC Racer comes with a suggested retail pricing of $499.00. That's quite a lot, but if you take your driving simulations serious, then it looks like a great choice.
This latest creation combines a base that incorporates next-generation technologies with Thrustmaster's first open-wheel design. While the open-wheel design is new, it is the base that holds the power. Thrustmaster's R&D department came up with a brushless 40-watt motor that provides exceptional velocity (dynamic torque) which can be fully manifested in all racing conditions, from long stall curves (STALL mode) to super-responsive zigzags (DYNAMIC mode). A motor can get hot, so the TS-PC Racer comes with built-in cooling called Motor Cooling Embedded (MCE) that ensures no overheating takes place and it remains silent doing so. This results in a 50% more dynamic response rate and 4 times greater stall force compared with Thrustmaster's other Force Feedback wheels. F.O.C. algorithm (Field Oriented Control) boosts the precision of Thrustmaster's H.E.A.R.T (HallEffect AccuRate Technology) system providing a 16-bit resolution (65,536 values), dynamically optimizing the response to intense precision demands. The motor also responds dynamically and swiftly to increased torque requirements, thereby offsetting and preventing losses in terms of power.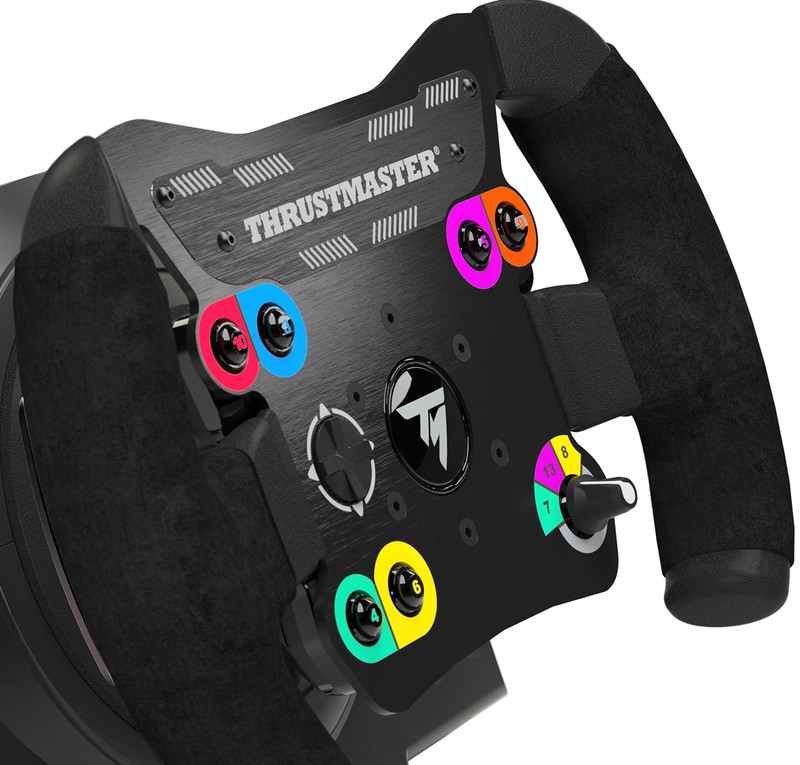 Great hardware at the base is vital, but so is the part that you're actually going to hold in your hands. The TS-PC Racer's open wheel features an ergonomic design with 6 buttons located in the central area and very easy to access, as is the 3-position rotary selector with a push function. The wheel's grips are covered with suede for an optimal feel while the faceplate is made of metal that both looks great and is sturdy. The wheel-mounted sequential paddle shifters are made of polished and brushed aluminium. Depending on the game you play, it's also great that you can adjust the TS-PC Racer's rotation angle between 270 degrees and 1080 degrees.
All that hardware needs a good power supply too and the TS-PC Racer has a whopper PSU. It is designed with an external TURO power supply that can handle the peak power draws up to 400 watts coming from the TS-PC Racer. "The power supply's toroidal shape ensures optimized efficiency versus heat at 86%, thanks to its fanless design."
Another great feature is the customization ability with the rest of Trustmaster's racing ecosystem that is fully compatible, from shifters over pedals to wheel add-ons such as the ones from the Ferrari F1, Ferrari Alcantara, or the T500 RS GT.