Toshiba Memory Continues Investment Into Fab 6
---
---
---
Samuel Wan / 4 years ago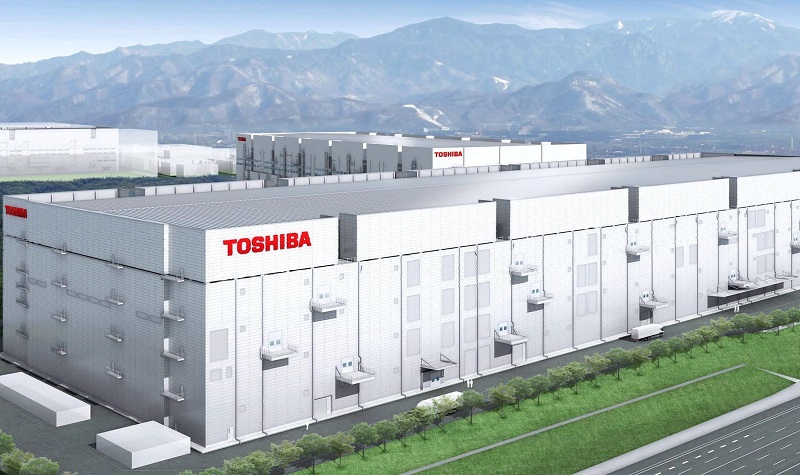 After a troubled year, Toshiba will be selling off their memory business. According to the latest details from the sale, the Japanese conglomerate will be keeping about 40% control of Toshiba Memory. Despite the sale happening, Toshiba will still be investing a lot in memory. From the latest press release, the company is investing in more production equipment for their Fab 6 plant at Yokkaichi. The total investment will come out to about 110 billion yen, just shy of $1 billion USD.
Toshiba' Fab 6 is primarily a BiCS FLASH plant, producing 3D Flash. 3D flash is one of the better ways to lower cost and increase density and capacity. Scaling the process node lower is hitting the limits of silicon. Toshiba obviously sees a lot of growth in this area as this is on top of a 195 billion yen investment earlier in the year. The company expects demand to continue to grow for consumer, enterprise and datacentre SSDs until 2018 at least.
Toshiba Investment Will Help With NAND Shortage
Due to the massive increase in demand, memory prices have started to increase over the past year. Unfortunately, supply has not been able to scale up as quickly. The current supply shortage is expected to last until 2018 when more facilities like Fab 6 ramp up. Toshiba has even increased and moved their investment forwards to meet demand. The company is also seeking investment from their joint partner SanDisk/Western Digital to invest in Fab 6 as well.
With all major memory producers increasing investment, the shortage will hopefully subside. Demand is only going to go up as more and more devices requiring DRAM and NAND flash are consumed. There is still a large market of hard disk drives that SSDs could be replacing. It is still a long ways ahead but SSDs may one day be price competitive with the old hard drive.