TP-Link Archer VR900 AC1900 Modem Router Review
---
---
---
Bohs Hansen / 7 years ago
Introduction
---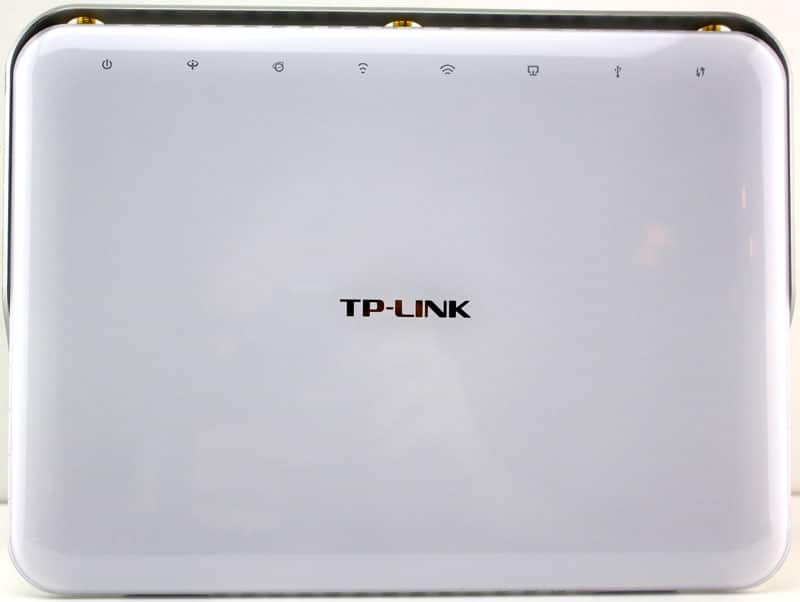 For today's review I am taking the TP-Link Archer VR900AC 1900 Wireless Dual Band Gigabit VDSL/ADSL Modem Router for a spin in our test area to see how well it performs, it surely sounds like a great device. While the Archer VR900 looks very similar to the Archer C9 that we reviewed not long ago, it's quite the different device and it also sports some general improvements over the C9.
Most noticeable is the built-in modem that allows you to connect it directly to your phone line when using that sort of connection. There is no need to keep the old modem around and couple a router on the back of it in order to gain the features and functionality you want; The Archer VR900 does it all. It supports all current ADSL as well as VDSL formats right out of the box.
TP-Link didn't just stop after adding the DSL modem to the VR900, they also made sure that it will work with pretty much any connection. At some point, and as it becomes available in more and more regions, there is a good chance that you'll switch from your DSL line to a more modern Fibre optical connection. When you do so, you don't need to replace the VR900 with something new as it also supports a direct WAN connection via the fourth LAN port. But once again, TP-Link weren't satisfied with the connection options, so they made sure that you're also able to connect it to 3G or 4G/LTE network via a USB dongle and the two onboard USB ports. All in all, there isn't much that this router can't do and connect to.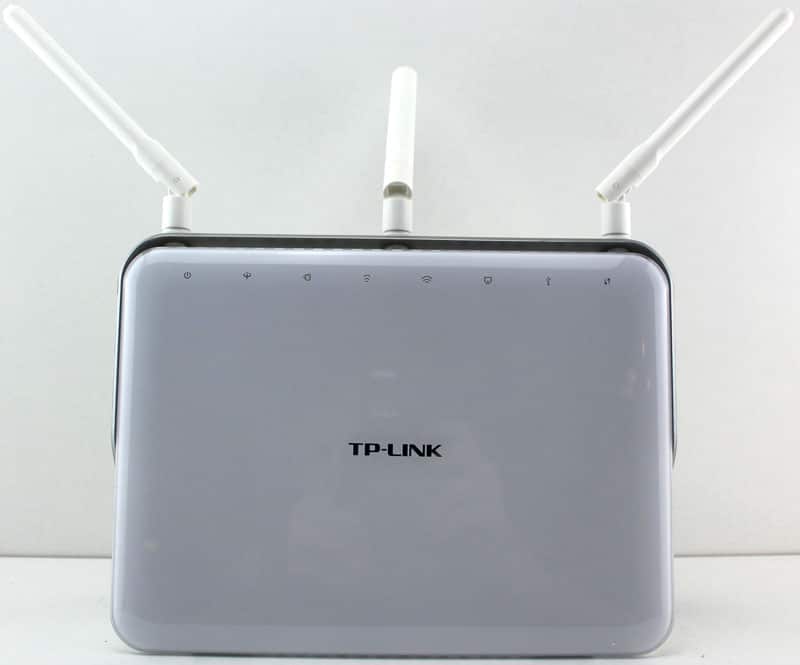 The TP-Link VR900 is an AC1900 dual-band router, meaning it can perform with up to 600Mbps on the 2.4GHz band and up to 1300 Mbps on the 5GHz band for a combined throughput of 1900 MBps. It has a great coverage thanks to the three 5 dBi omni-directional antennas. The wireless range and performance is further enhanced thanks to the beamforming technology that is applied on both wireless bands.
Inside the router is a 1GHz dual-core processor that makes sure that you don't encounter any bottlenecks as the router has to perform its tasks.
The wireless bands feature the normal 64bit and 128bit WEP, WPA, and WPA2 encryptions for secure connections and the WPS button makes connecting devices as easy as it can be. The software parts feature everything from Wireless MAC filtering, QoS control, NAT Firewall, VPN, Virtual server and Port Triggers, as well as any other function you could want from a router. Guest networking and parental control is also present and both are great features to have around.
Specifications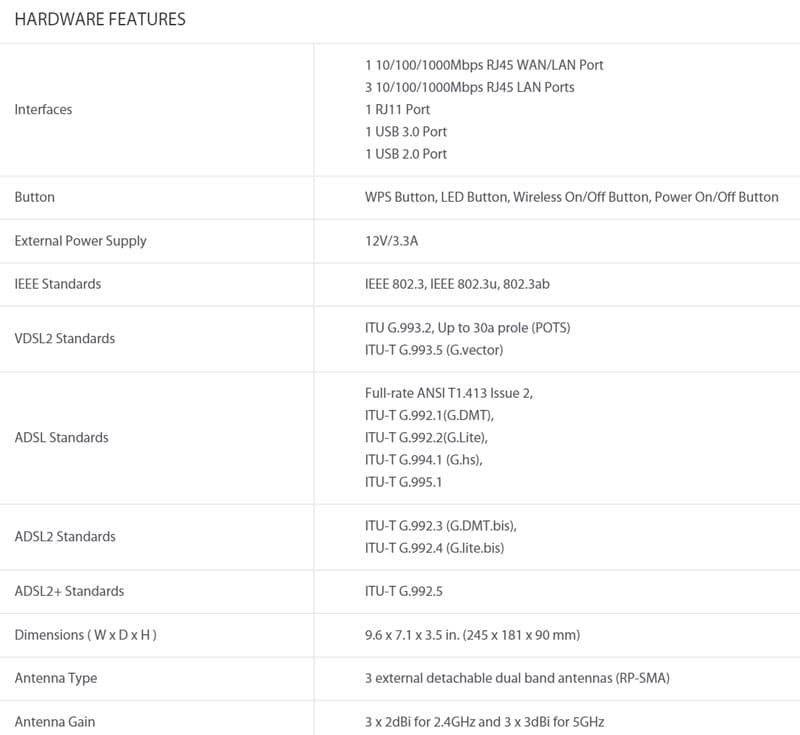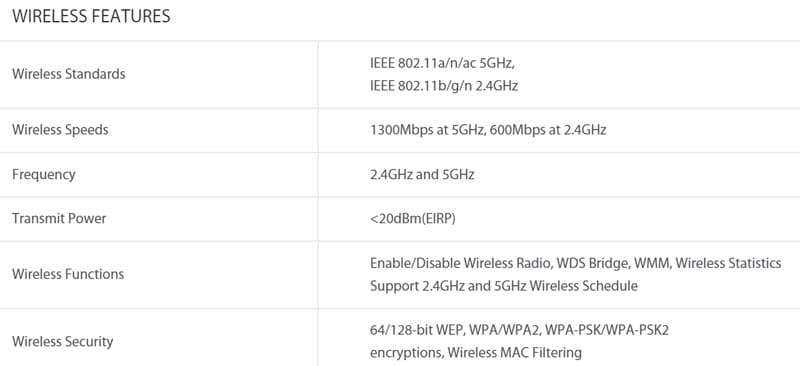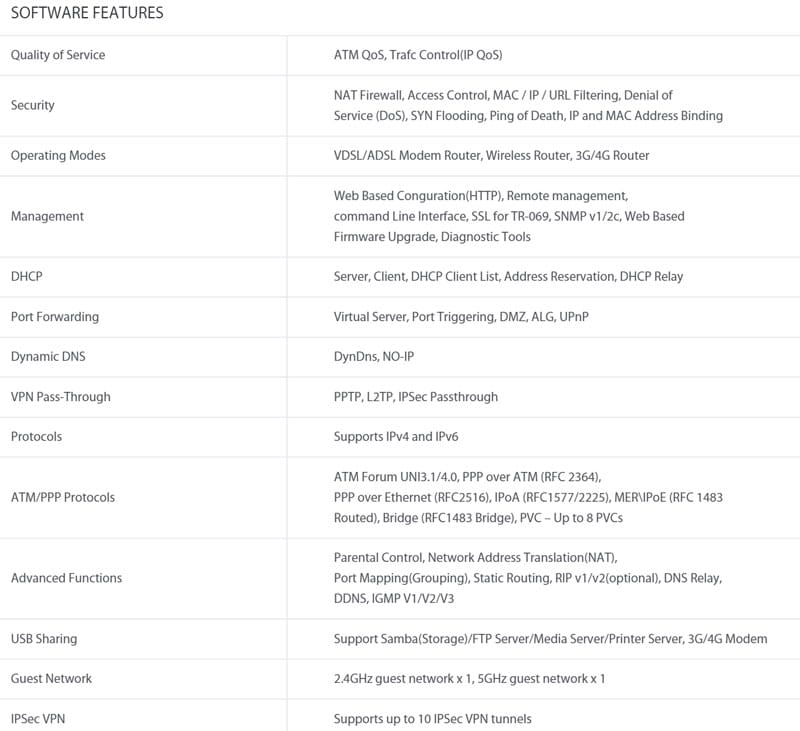 Packaging and Accessories
A great router like this also deserves a beautiful wrapping and TP-Link delivers that. The Archer VR900 has a simple yet very beautiful package. The front shows the device itself as well as providing all the basic feature information.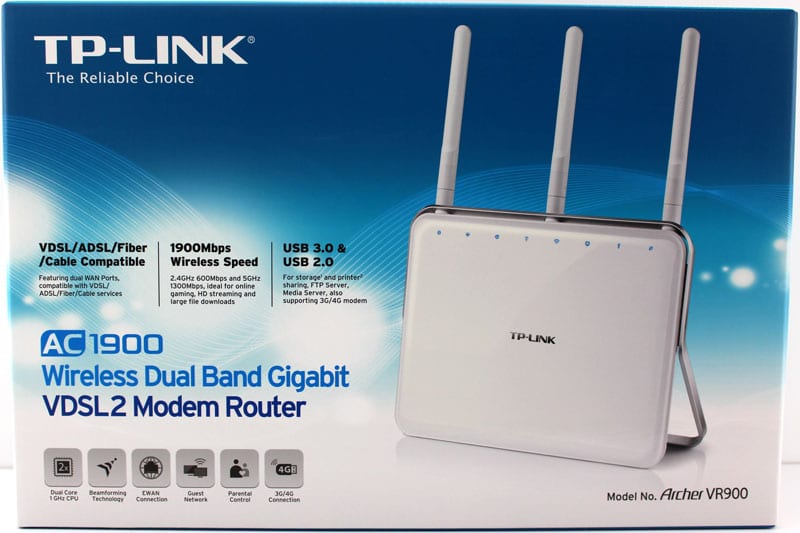 On the rear of the package, we find more details about the specific functions as well as a comparison table with other TP-Link devices. That way it's even easier to pick just the right model when you're visiting your local tech shop and have them all in front of you.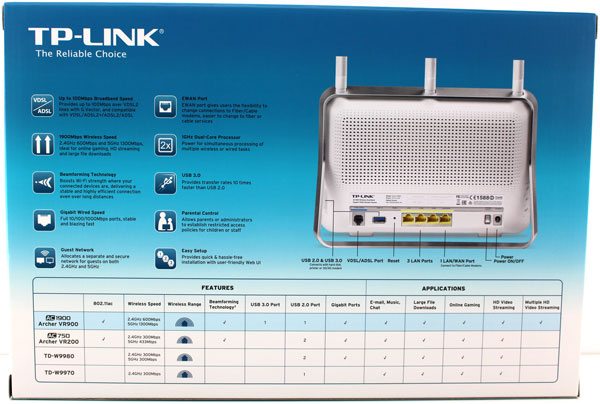 Inside we find everything we need to get it set up. The router itself and a power supply for it, two RJ11 cables and a splitter for your DSL connection, an RJ45 LAN cable, and the three detachable antennas as well as a quickstart guide and technical references.