Transcend Launches Complete Lightning Line-up for Latest iOS Devices
---
---
---
Bohs Hansen / 7 years ago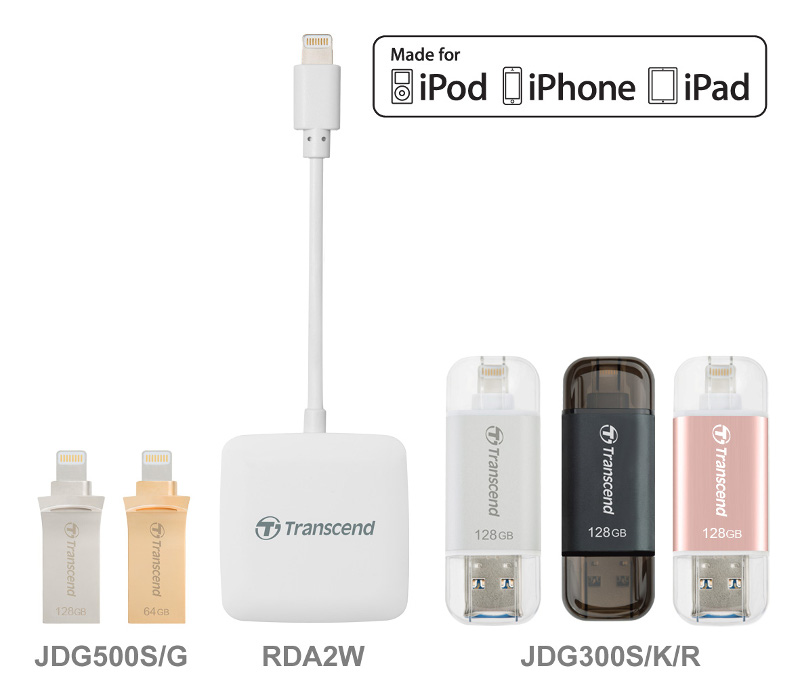 Apple's mobile devices are great as is, but they have one problem which has been there from day one and will stay there until the company is no more at some point – the difficulty of transferring files to and from the devices. Other mobile devices can simply be connected via a cable to your PC and you can copy to and from them without the need for specialized software, but Apple devices don't have that feature. But where there is an issue, there is a way to get around it and that's with external storage devices specifically built for this. Transcend has launched a full line of devices for this, a few common usage ones and a unique one – all with a lightning connector to plug directly into the iPhone, iPad, or iPod with lightning plug.
The JetDrive Go 300 and JetDrive Go 500 flash drives come with a lightning connector on one end and a regular USB 3.1 Gen.1 (5Gbps) connector on the other end, allowing you easy usage with both Apple devices and normal ones too. They provide a convenient way to backup files between your mobile devices and your PCs and other smart devices. The can deliver transfer speeds up to 130MB/s and come in capacities up to 128GB. For both JetDrive Go series, Transcend's JetDrive Go App offers an intuitive interface that provides simple data transfer, easy file management, and quick backup of data. You can also save photos shots directly to the drive when it's plugged in.
While the JetDrive Go aren't anything new as-is and we've seen similar drives in the past, the RDA2W is a little different and quite unique. The RDA2W is a smart reader equipped with a Lightning connector specifically designed for iOS devices and it features card slots for both SD and microSD cards. This is another feature that the Apple devices lack on their own as they don't allow for storage expansion through memory cards. It comes with useful features that include data backups, card formatting, file encryption, file compression and decompression, direct saving of audio recordings to memory cards, and easy access to cloud storage.
All of the above are officially MFi (Made for iPor/iPhone/iPad) certified by Apple, so compatibility shouldn't be an issue. The JetDrive Go 300 is available in silver, black and rose gold colors with 32GB, 64GB, and 128GB capacities. The JetDrive Go 500 is available in gold color with 32GB and 64GB capacities and in silver with up to 128GB capacities. Both RDA2W Smart Reader and JetDrive Go series are backed by Transcend's two-year limited warranty.